New Releases in this Update
Update ID
Type
Title
Functional Area
PRJ-493
Enhancement

Job Received Not Invoiced Report: Details to Show the date "As of Date"

Job Planning Lines

PRJ-563
Enhancement

Assembly BOM in Job Order

Job Material Planning

PRJ-604
Enhancement

Discuss and clarification to why a Job Task Must Exist in the Master in order to be used by Change Order?

Job Planning Lines

PRJ-634
Enhancement

JMP Worksheet is pulling in non-purchasable Resources

Job Material Planning

PRJ-704
Feature Change

Caption to be Change on Job Setup - Use Job Take-off Segment from Get Job Segment

Job Material Planning

PRJ-731
Feature Change

Replacement of Hyperlink on "Learn More" feature available on ProjectPro fields

Progress Billing

PRJ-751
Feature Change

Change the names associated with the Manager Job Status on Job Card (88)

ProjectPro Basic
PRJ-754
Feature Change

Changes in the Variance Report

Report and Analysis
PRJ-756
Feature Change

Shifting of "Auto Lock Planning Line" field from Job Quoting Fast Tab to General Fast Tab on Job Setup

ProjectPro Basic

PRJ-759
Feature Change

Shifting of Currency Related fields to Foreign Fast Trade Tab

ProjectPro Basic
Release Note Details
PRJ-563
Enhancement - Assembly BOM in Job Order
New functionality of having Assembly BOM is added in Job Card, which enable the capability of having Assemblies and Sub - Assemblies to the Job Planning Lines which will further placed all the subcomponents to the Job Material Planning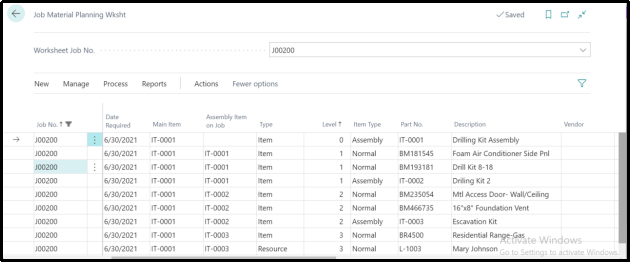 PRJ-604
Enhancement –Validation or Message Pops-up when someone try to enter New Task No. to the Sub-Job or Change Order which is not there is Master Job
1. While attaching a Sub Job to Master, system will not do anything but if someone try add a new task to the Sub Job then system would POP a Message "The Task No. ---- doesn't Exist in the Master Job No. ---- . Do you want to Continue?"
2. Same thing happened if user create a Change Order and then user tried to a New Task no. to the Change Order

PRJ-634
Enhancement -JMP Worksheet is pulling in non-purchasable Resources
If the "Resource is Purchasable" check is marked as TRUE on the Resources Card, then it will not picked up the JMP worksheet.
This happened in all the below mentioned cases on where Job Planning Line are to fetched on Job Material Planning Worksheet.
Copy Job Planning Lines
Get Actual Job Material
Update Job Planning Lines
PRJ-704
Feature Change - Caption to be Change on Job Setup - Use Job Take-off Segment from Get Job Segment
Caption is changed from "Get Job Segment" to "Use Job Take-Off Segment" on Job Setup

PRJ-731
Feature Change – Replacement of Hyperlink on "Learn More" feature available on ProjectPro fields
Changed the Website or Portal displays while clicking on the Learn more option on the ProjectPro fields
Portal / Website - Construction Accounting Software - ProjectPro (projectpro365.com)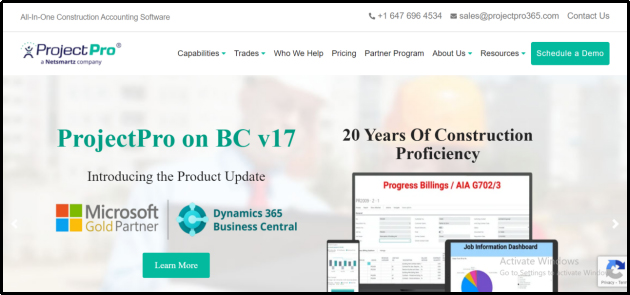 PRJ-751
Feature Change – Change the names associated with the Manager Job Status on Job Card (88)
Option changes on field "Manager Job Status"
Manager Job Status -> Job Card (88)
Reporting Status -> Subcontract (14021300)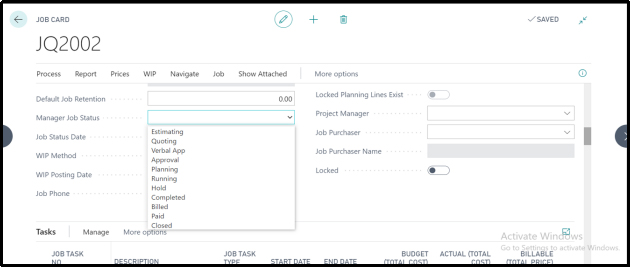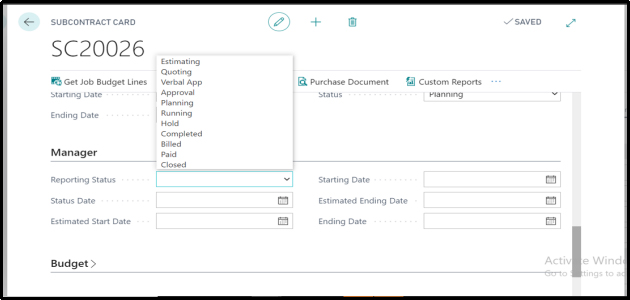 PRJ-754
Feature Change –Changes in the Variance Report
Some new changes made in the Variance Report related to formatting

PRJ-756
Feature Change – Shifting of "Auto Lock Planning Lines" field from Job Quoting Fast Tab to General Fast Tab on Job Setup

PRJ-759
Feature Change – Shifting of Currency Related fields to Foreign Trade Fast Tab on Job Card
All the Foreign Currency related fields is now available on the Foreign Trade Fast Tab on Job Card

| Update ID | Type | Title | Functional Area |
| --- | --- | --- | --- |
| PRJ-713 | Hot Fix | Balance vs. Balance Due on Customer Card | Report and Analysis |
| PRJ-753 | Hot Fix | Updated Currency Factor | Progress Billing |
| PRJ-761 | Hot Fix | Default Job Planning Lines (Editable) - Hide/Unhide Fields | Job Planning Lines |
| PRJ-762 | Hot Fix | APO Links made Editable in Ribbon of Job Card | ProjectPro Basic |
| PRJ-774 | Hot Fix | When trying to create a New Revision for a Job Quote, System updated | ProjectPro Basic |
Release Note Details
PRJ-713
Hotfix -Balance vs. Balance Due on Customer Card
Balance ($) is showing the total of Amount ($) for all Open Entries
Balance Due ($) is also showing the total of Amount ($) for all Open Entries but filter out the entries based on Date Filter you applied

PRJ-753
Hot Fix - Currency Factor wrong calculation
This is being fixed
PRJ-761
Hotfix –Some changes in the Default Job Planning Lines (Editable)
If Dimensions on Job Card are not defined on the General Ledger Setup as a Shortcut Dimensions, then
Line Job Description
Unit Of Measure Code
Gen. Busi. Posting Group
Gen. Prod. Posting Group

PRJ-762
Hotfix - APO Links made Editable in Ribbon of Job Card
Enabling of APO Links on Job Card

PRJ-774
Hotfix -When trying to create a New Revision for a Job Quote, System updated
This is being fixed
Understanding Construction Forecasting with ProjectPro