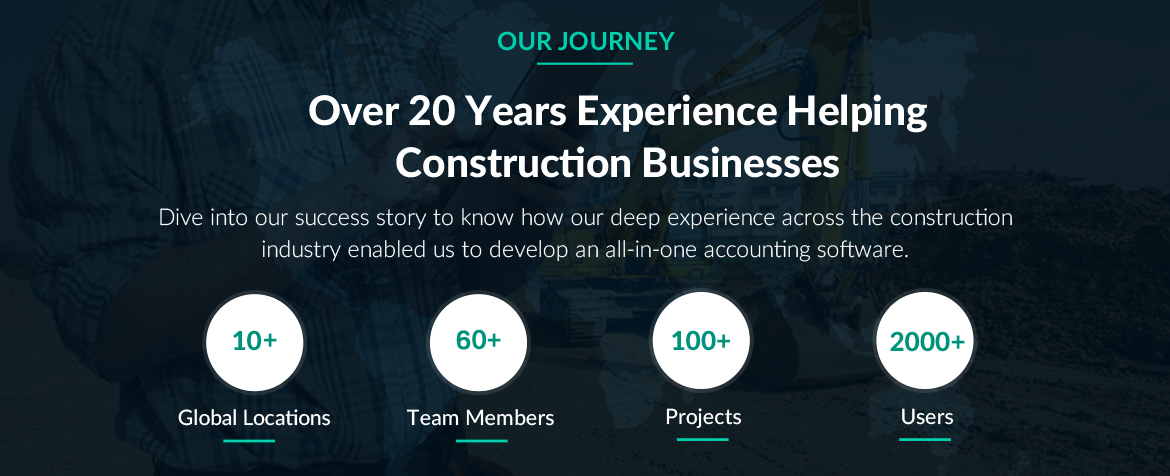 Over 20 Years Experience Helping Construction Businesses
2023

Integration with Integrity Payroll Now for seamless transfer of employee time from Crew Time Sheets to Payroll.
Integration with ExpandIT Mobile App for transferring Job & Service Hours from ExpandIT to ProjectPro's Crew Time Sheets.
Job Quoting enhancements for Quote Categories for calculating additional costs and markups based on specific entries. Also added Bonding and Maintenance Plans to quotes.

2022

ProjectPro – Revenue Recognition enhancement for generating General Journal and calculations for either Over & Under Billings or Net Revenue methods.
Advanced Job Quoting enhancements for Markups and Allocating pricing across both Items and Resources. Also, Resource costs can be associated with an Items quantity.

2021

ProjectPro exceeds 2000 users on Business Central.
Microsoft certified ProjectPro Cloud Worldwide version on Appsource.
Adds Certified Resellers to their partner channel.
ProjectPro team expands to over 45 employees.

2020

ProjectPro transitions to a full cloud solution.
Microsoft certified ProjectPro for Business Central Cloud and is now fully available on Microsoft Appsource.
ProjectPro enhances the Job Forecasting Methods.
2019

Netsmartz LLC acquires ProjectPro solution and existing client base.
Netsmartz migrates Dynamics NAV code to Dynamics Business Central On-Premise.
The ProjectPro team expands to over 20 employees.

2017

ProjectPro releases Work Order within Jobs with enhanced resource rates and markup by cost categories.

2016

ProjectPro release of Job Forecasting and Project Management enhancements takes place.
ProjectPro expands globally to Australia.

2015

ProjectPro receives recognition from Microsoft.
Achieves the Certified for Microsoft Dynamics (CfMD) accreditations for version 2013r2.
ProjectPro Job Quoting, Indirect Burden, Job Material Planning, ADP Payroll Interface is released.
Partnership with Netronic for Fully Integrated Visual Job Scheduler Add-in
ProjectPro releases enhanced Time & Material Module.
2010

ProjectPro announces integration with Serenic Payroll Modules.
ProjectPro announces integration with Microsoft Project application for Project Scheduling.

2009

ProjectPro releases the Role Tailored Center (RTC) version for Dynamics NAV.
It replaced the Classic Style "Forms" with new "Pages".

2008

ProjectPro releases the Subcontract Management module with Lien Releases and certificate of Insurance trackng.

2005

ProjectPro converts from its own proprietary objects for Project Costing to using the NAV Job Cost Module.
2002

Microsoft acquired Navision Software in July 2002.
It changes the name to Dynamics NAV.
Microsoft approves ProjectPro as recognized ISV solution.

2000

ProjectPro is registered as a Construction Product for Navision Software version 2.6 a.

1999

ProjectPro was founded by Ed Williams on April 2, 1999 in Rochester, NY.
Top Construction Companies Believes in ProjectPro

ProjectPro Product Overview