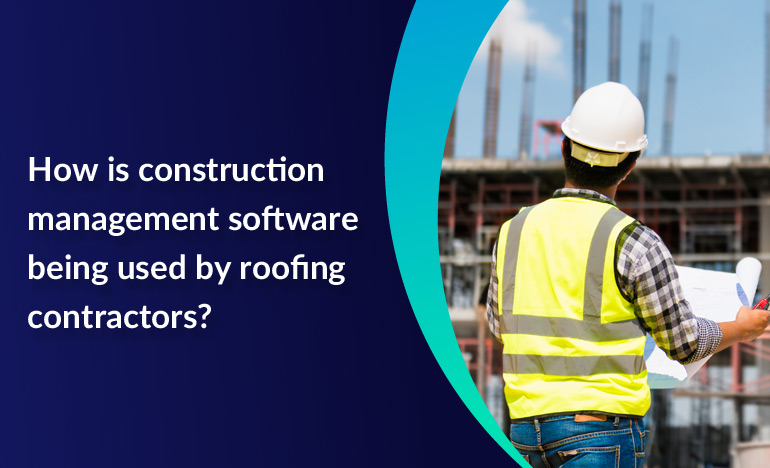 If you're a roofing contractor who is always on the go visiting multiple sites, you need the freedom to stay focused on getting the job done with accuracy. This may seem challenging but not impossible. With the advancement of technology— handling massive paperwork, keeping track of workers or maintaining notes of customer requirements— has become a thing of the past.
You can benefit from an all-in-one construction accounting software designed for roofing contractors—ProjectPro. A well-structured software powered by Microsoft Dynamics Business Central to manage the administrative aspect of your roofing projects while you focus on your expertise.
Why do you need ProjectPro in the first place?
Accounting, CRM, and ERP are the crucial components of any roofing contractor business. ProjectPro is eventually transforming the roofing industry. It simplifies project management and streamlines processes, allowing field contractors to work efficiently. This software enables roofers to become more competitive against others who don't use such practical tools.
ProjectPro proves to be the most reliable business management tool combined into a single platform. An integrated cloud-based software does not require you to load numerous programs. And, computer-based programs depend on users to return to a computer to use them. Cloud-based software like ProjectPro allows users to access the system anywhere, anytime, using an internet connection.
Today, the roofing sector relies heavily on technology to deliver excellent solutions to its customers. This is where ProjectPro comes into action. We can do it all, from creating job quotes to proposals to managing inventory and customer requirements. We ensure that customers get quotes faster and make better decisions at a faster pace.
Another reason to use contractor-specific ProjectPro is the capability that enables it to work according to your specific needs. ProjectPro allows you to manage multiple roofing projects on a single platform. It combines all these features into one software instead of various programs to track customers, schedule appointments, make reports, and order components.
Using the software on the job site is easier and faster, providing better customer service with one central system.
What are the Capabilities of ProjectPro?
1) Job Quoting & Proposals
Get a seamless job quoting experience like never before that enables you to create and convert job quotes. Also, develop assemblies of items, equipment, labor, and subcontract entries within a bid item. ProjectPro offers easy-to-use job quote templates as well as smooth access to reports.
2) Job Purchasing & Procurement
Get instant access to inventory and purchases as ProjectPro enables users to purchase directly for jobs by enhancing the job purchasing process. It allows users to maintain a list of items needed to be purchased and also suggest items to be purchased with job material planning.
3) Job Material Planning
Add convenience to managing material resources and track actual materials and resources seamlessly. You can also control what specific items are required on the job by "Required Dates." Get to know what items are already maintained in your warehouse and get automatic suggestions for purchasing the items.
4) Subcontract Management
ProjectPro lets you quickly manage roofing subcontracts from change orders to vendor and job reports. Moreover, you can manage multiple subcontracts concurrently.
You can access subcontracts based on categories and create assemblies of items, equipment, labor, and subcontract entries, all behind a bid item. And keep track of subcontract data based on job reports for streamlining activities for timely deliverables.
5) Timesheets
Now keep all your roofing projects managed with ProjectPro. We enable you to record resource hours and create timesheet batches for the specific job. Moreover, you can authorize timesheets and accounting entries individually by using job quote templates. You can easily transfer timesheets to 3rd party payroll services
6) Project Management
Keeping your project aligned with resources and activities is no more a hassle for roofers. Let ProjectPro help you. It ensures timely execution and deliveries, allowing you to achieve recognized revenues and profits. Simply track costs and billable activities by accessing the list of available cost categories.
7) Progress Billing
There are no more difficulties in managing bills for lump sum roofing contracts or unit consumption. ProjectPro allows you to bill as you progress on the project and create AIA-compliant billings.
Benefits of ProjectPro for managing your Roofing Project
1) Cost-Effective
ProjectPro is an integrated cloud-platform that ensures you manage your roofing projects from any part of the world with a mobile connection. Powered by Microsoft Dynamics Business Central, ProjectPro is one of the cost-effective solutions that allow users to manage accounting, customers and projects efficiently. Retrieve data whenever you need it and strengthen control over your project.
2) Streamline Roofing Processes
ProjectPro is a fully-integrated platform that offers real-time data to roofing owners and labors. In this way, you can establish a good communication with your team and streamline processes seamlessly.
3) Better Security
ProjectPro is a fully secured software that ensures your project details are secure with us. Being a Microsoft Dynamics Business Central product, you can trust our platform and manage your project's accounting, customers, inventory, and much more without worrying too much.
4) Boost your Productivity
Automation is one such aspect that helps you to boost your productivity by simplifying processes. This is where ProjectPro comes into play. An integrated platform that aims to streamline complex industry processes that are repetitive and time-consuming.
5) Scale your Roofing Business
Missing out on your bid is simply impossible with ProjectPro. A cloud-based construction management system that is designed to help roofers with managing their project and meeting deadlines.
Conclusion
ProjectPro benefit list does not end here, there are more. And this is why roofing contractors should not think more for switching to a cloud-based platform like ProjectPro. No matter how big or small your roofing business, we have your back. Our end-to-end project management solutions ensure that you stay ahead of your competitors and the most preferred company among your client base. For more details, please schedule a demo today.