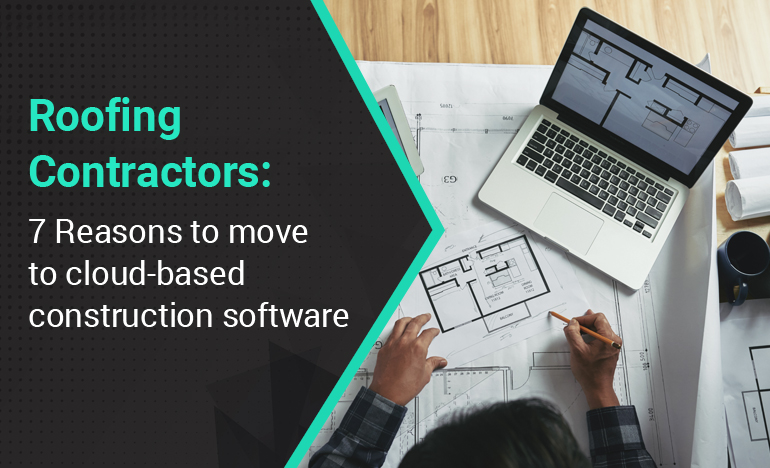 Looking to scale your construction business? It's time to switch to cloud-based construction software for continued success. For a roofing contractor or any other speciality contractor, you need to collaborate to make your construction project a success. Construction presents unique challenges and to do away with confusion and miscommunication it is important to have a single source of truth.
The reason you should move to cloud based construction software is because construction involves tracking data, keeping tabs on emails and spreadsheets. To make real-time decisions from disjointed processes can be hectic and quite difficult. This is why roofing contractors who specialize in roof construction and carry out replacing of roofers, install and repair the roofs of buildings, using a variety of materials, including metal, shingles and bitumen stand to benefit from a cloud-based roofing contractor software.
With the help of construction technology, it is easier to bridge the gap between office and the field. Nonetheless, the real power lies in the cloud as roofing contractors get quick access to data that helps them make decisions. By moving to a cloud based system, you can experience flexibility like never before as it is a great connector of data and workflows.
When you deploy technology it makes operations efficient and by providing standardized and shareable data, the cloud can provide you a way to automate and streamline your construction processes. Although there are concerns over moving to the cloud and it's understandable to be a bit hesitant over such a big change, it is great to have information at your fingertips. A cloud based system allows you the flexibility to access, analyze and act upon data from anywhere, anytime. It empowers you to scale your construction business and take it on a global stage.
Here are the seven reasons why roofing contractors need to move to cloud today:
1. Boost construction productivity
For roofing contractors, it is great to have access to real-time data and information that connects the back office to the job site. Operations tend to get more streamlined and it is easier to manage workflows and roofing contractors can focus on high quality projects. Having robust roofing construction software, ProjectPro with Business Central allows you to scrutinize your workflow and stay focused on boosting productivity.
By choosing to operate on cloud, you and your team can work better together, move faster and rely on accurate up-to-date data. It also allows you to realize new efficiencies. When you are able to work faster and increase efficiency on your projects it impresses your clients and that leads to repeat order. It's like being able to achieve more by winning more projects. This can help you scale your roofing business as well.
2. Modernize to become more demand-driven
To meet the modern data demands of construction business and reporting requirements, it is imperative to move to the cloud as it has fast become a global requirement.
Roofing Contractors need to provide real-time data and updates and these are accessible on the dashboard. Cloud provides the flexibility to access construction data anytime, anywhere and helps you make informed decisions in the moment.
3. Becoming a data-driven Roofing Contractor
For a roofing contractor, moving to the cloud can reap significant benefits as you make informed project decisions and enjoy complete control over each phase of your roofing project. The real- time capabilities of a cloud based construction software helps in achieving construction business intelligence. A cloud-based roofing contractor software can provide modern analytical tools that can empower you to make your business more profitable.
4. Say No to cumbersome Manual Processes
Construction businesses continue to rely on bills, drawings, paper work, and invoices but with roofing software you can upgrade to automating your key tasks. With software equipped with Project management capabilities or on-prime ERPs, you can leave a more digitized construction footprint with the help of cloud. Having an easily-searchable software system that provides data storage and backup, it will reduce your workload any day.
5. Easier to manage IT resources
By moving to a hosted cloud environment, you rely on a trusted software vendor rather than relying on IT resources to reduce the burden of tasks. This way you can focus on innovating your roofing processes and workflows.
6. Protect Your Data
Moving to the cloud keeps your roofing operations safe as it provides more data security than any other on-premise software system. Having a connected cloud solution helps you stay on top of your roofing business and protect data from hackers.
7. Save Money
Choosing to deploy a software solution is always a heavy investment but the savings it generated are unparalleled for your construction business. Having a cloud-based management suite of solutions may seem like a huge investment but in the long-run it is here to generate savings for roofing contractors.
Why choose cloud-based ProjectPro with Business Central?
In an era of data breaches and rapid changes, you cannot afford to be left behind. For roofing contractors who are looking to take their business to the next level, moving to a cloud-based system is the way forward. In order to stay competitive and handle the rapid changes that abound the complex construction landscape, it is time to say yes to cloud-based solutions.
With our web-based software ProjectPro, you can easily access data with a click of a button! Retrieve data whenever you need it and strengthen control over the organization's projects. ProjectPro powered by Microsoft Dynamics 365 Business Central provides the most extensive cloud software construction experience. To boost productivity, security, efficiency, and accessibility, cloud technology in construction is the answer to many existing woes.
Moreover, it is the only solution to scale your business today. Our cloud-based ERP solution provides immediate access to your construction data with a simple dashboard to help you check project progress at all times.
Call us today to help your team achieve higher profits, better productivity, and scalability +1 647 696 4534.
Want to learn how cloud-based ProjectPro software is a worthy investment for your construction firm? Schedule a demo.