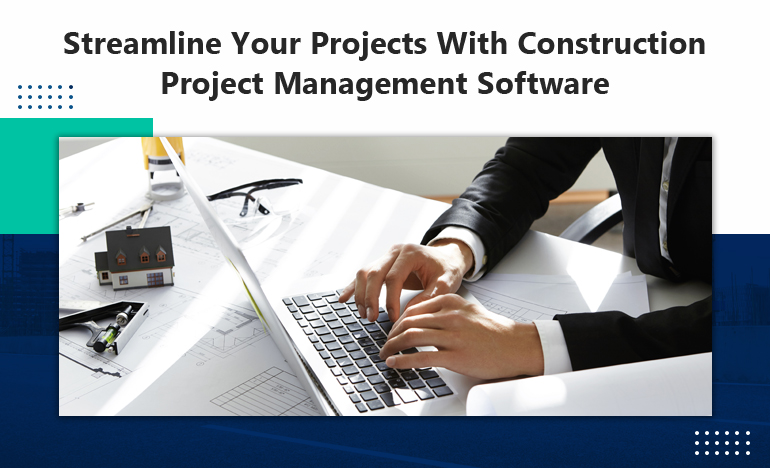 Construction projects always involve timeframes that are to be met, large teams where stakeholders need to be informed. All in all it is always about meeting lengthy timelines, which can be quite challenging when you are looking into each aspect of project management.
Staying ahead of the competition in a complex construction landscape can be quite a task. You have to stay on top of deadlines, bids and manage subcontractors. It is also about monitoring developments on the job site and carrying out office paperwork that can be overwhelming for most contractors.
Some of the best construction project management software offer solutions to simplify projects and help contractors to stay on track, within budget and meet their deadlines. You can streamline projects with construction project management software, know all the details with a click of a button.
To successfully complete a project, you need to lay the groundwork i.e. have a single source of truth for all information. You can assess and analyze financial risks associated with the project with the help of a software. It will help you predict and plan for challenges and mitigate risks before it snowballs into a bigger problem.
Therefore, you must establish a yardstick or a benchmark for success and measure milestones regularly such as :
Accomplishing scheduled tasks within budget

Achieving client satisfaction

Tracking the project's timeline
This will ensure to keep your team updated and your crew is informed about materials, launch of new products, building codes and have knowledge about the lead times for the materials at the beginning of the job.
Here what you need to do to streamline your Projects:
Develop a solid framework
As far as project lifecycle is concerned, the best way to forecast results is by following each stage of project management:
Initiation

Planning

Launch

Performance

Closure
Thus, each stage of a project will help you define your goal and mission. This will also help you build incremental deliverables at all times and assess each stage of the project and see how it is evolving.
With ProjectPro powered by Microsoft Dynamics 365 Business Central, you can plan and execute tasks efficiently. You can take command on resources, budget, and construction activities whenever you want.
Improved Communication
For a project to be successful, it is important to schedule meetings with stakeholders on a regular basis. Keeping everyone updated and informed is important today. Therefore, construction managers can save time on emails and conference calls, if they have construction project management software.
ProjectPro provides the project management tools necessary to plan each phase of construction and timely execution of projects. This helps in improved communication and revenue recognition.
Better Team Collaboration
Team collaboration is also important when it comes to timely delivery. A construction manager listens to what the team has to say and seeks their advice from time to time. With a construction software that has the added capabilities of project management, you can do a lot more.
ProjectPro with Business Central, provides you the ability to true-up projects on a timely basis. You can track the estimated costs of the project resulting in recognized revenues and expected profits. This way you can brainstorm with your team and collaborate easily when you have a single source of truth.
Helps you stay organized
The best part of having construction software with project management capabilities is that it helps you stay organized. Even when contingencies happen or unforeseen issues crop up, you can track timelines, tasks, workers and deliverables, all that is essential for project management. This way you can make modifications and adjustments to your agenda as soon as changes take place.
ProjectPro helps you stay organized as it is an all-in-one construction software and shares every aspect of a project's life cycle. It has simplified managing construction business by offering adequate control by coupling the operations of the field and the office. You can manage all areas of operations as ProjectPro streamlines your business and strengthens control over your organization's projects.
Get ready to roll with the changes
A good construction project management software helps you deal with setbacks whether it is related to procurement or design issues. As construction projects become increasingly complex, the key to success is adapting and planning for the changes whenever they occur.
To hold onto your existing set of clientele, carry out financial analysis, ProjectPro can help you prevent profit leaks and stay ahead of the competition.
Way Forward
With construction project management software, managing your construction projects is a lot easier for you and your team. ProjectPro helps you keep your project aligned with resources and activities:
Achieve recognized profits and increased revenue

Ensure timely deliveries and execution

Maintain access of the list of available cost categories at all times

Keep tabs on billable activities and track costs
You can get better insights into resource requirement & allocation, overall project costs by getting precise and timely information. It helps you integrate all of your management, project accounting, labor & resources management, customer relationship management and material planning, through a dedicated solution backed by Microsoft itself.
Now reduce the time and effort it takes to make better business decisions. To discover how fully scalable software platforms can streamline your next project, reach out to us anytime on +1 647 696 4534.
ProjectPro brings you the most refined and responsive solutions to meet your construction management needs. ProjectPro powered by Microsoft Business Central allows you to act with agility and insight, improving your business performance.
With the all-round ability to work on project management goals, ERP, CRM, and construction accounting, moving to ProjectPro is the most satisfying technology-related decision our customers claim to make. To help you make your journey to ProjectPro with Business Central as clear and transparent as possible, we are offering you the power of unique capabilities to prepare you for the future ahead.
Ready to take your construction business to the next level? Schedule a demo with our trusted construction experts to scale your construction business today!