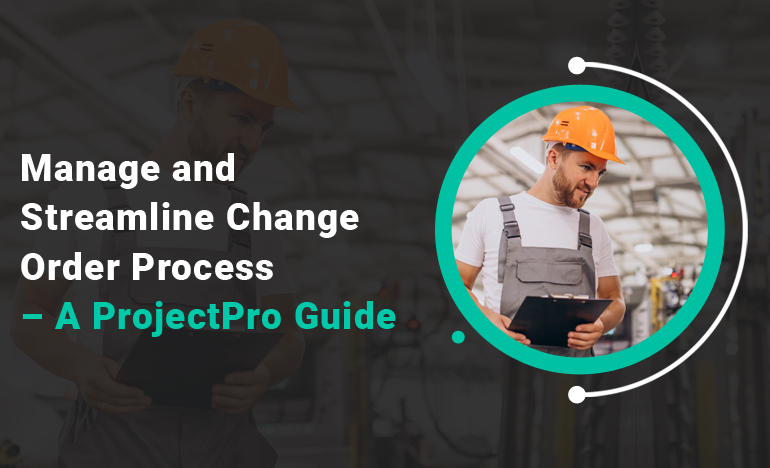 When it comes to construction, change orders are a significant part of the process that contractors and project owners need to manage in order to drive successful deliveries. With working on so many tasks simultaneously, even on the best-planned projects tend to have changes in job scope.
Infact change orders are part and parcel of any construction project. Moreover it has to be identified, changed and tracked in such a way that it is acceptable to all parties. Most of the time it means including time required and added costs to implement a change.
Besides you all know construction projects are complex endeavours. Most of the time it is difficult to anticipate what changes may impact the scope of the project. Hence the need to control and manage projects arises and capturing the requested changes is also important. This is where construction software assists construction managers to gain control and better insights on overall project costs.
Also, the sudden spread of the pandemic at the global stage while it still continues to loom its shadow, has multiplied the likelihood of managing change orders. The low bids of the competition and the reduced workforce regulations have all created a need for a more refined change order process that can help contractors with timely payments.
The Pandemic and Its Effect on Change Orders
The outbreak of COVID-19 turned to be a major event in history that caused a major economic downturn, almost as sudden as the Great Depression. The situation not only created delays and cancellations but forced contractors to bid on more projects than usual in order to secure a backlog.
This has not only increased the competition but has made contractors win the work, for a lower price. The low bid proposals have made contractors work with lower profit margins while relying on change orders to increase revenue and profit margins.
ProjectPro with Business Central powered by the latest Microsoft technologies can help process change orders and keeps the process running efficiently. Besides, it assists decision makers to carry out financial risk analysis and streamlines the accounting process. So having an integrated, accurate and in real-time access allows construction managers to have visibility over financials and job costs.
The Introduction of Remote Work
The spread of COVID-19 forced the contractors to call off workers from job sites due to the social distancing protocols issued by the health authorities. Therefore, more and more contractors had to turn to collaboration tools for maintaining the connection amongst the teams.
This has not only added to the capital investment for contractors but has made daily progress reports more significant than ever. From project managers to contractors to the project owners, all must now rely on documentation tools in order to be informed of the issues and progress at the job site.
Apart from this, construction accounting software with project management features help in managing submittals, ASI, RFQs, Notices, Issues, Pending Change Orders, RFIs. With in-built alerts and email tracking functions, document planning capability of a technology solution leads to added efficiency.
Also, in such times you must deploy technology to ensure the existing change order process is not bringing your company down. Overall, having a valuable solution that can deftly handle changes is invaluable for a firm.
Design-Build Projects and Change Orders
Design-build teams are meant to plan the project in various stages to ensure the timely completion of project goals. This creates a disadvantage for the subcontractors to operate on different designs of each stage with varying trade bids.
Also, working with the design process requires contractors to document the entire project while working on the design changes that come throughout the project. It can even create trouble for contractors to encounter risks with the change work since it may create chances of exceeding the planned costs.
Managing Payments with Change Orders
Considering the present situation, it has been extremely important to work on payment management and change order plans. Moreover, it is necessary that contractors should have a well-defined solution in place to keep the change orders transparent while streamlining payments; managing this process on manual technology makes the process cumbersome.
While labor and materials cost keep increasing, construction projects are becoming increasingly complex. Besides, there is an issue of strict timelines so you can no longer rely on traditional methods of change order management anymore.Moreover stakeholders add more pressure and to navigate the complexities you need to rely on software solution.
Also, using an intelligent tool like a construction accounting software prevents change order related information to slip while working on multiple aspects of project management such as:
Documenting Work
Creating and managing change orders requires office teams to understand the bid proposals and the actual work being completed, which often makes it difficult to command the process and documentation. In addition, working on multiple tasks simultaneously also adds a layer of difficulty to the process and can cause things to be missed in the billing process.
Since field teams are heavily occupied working on project development activities, documenting the work gets sidelined. But using a modern construction project management solution could help contractors and field supervisors share real-time information quickly. Further, this information is gathered by office teams from the data available on the cloud, which can help plan the next steps accurately.
With the help of job forecast worksheets, cost projections become more precise. Apart from this, change order processing helps construction firms avoid costly errors.
Creating A Standardized Process
Using construction project management software helps project managers create standardized templates to process change orders. Users can simply create proposed costs for every line item along with reports, time cards, and other data. Such arrangements help the entire project team to stay aligned and have visibility for all change order requests, resulting in timely approvals for payments.
It helps project team to operate efficiently by automating workflows. Besides allowing both parties to understand scope of work, you get to access quick and precise information. Overall, a dedicated solution helps you thrive in a competitive construction ecosystem where margins are razor thin and cutting down unnecessary costs is important.
Real-time Budget Tracking
One of the most prominent red flags that contractors and project managers need to look for when preventing payment loss with change orders is the inability to have real-time tracking of the project. Also, the loss of time tracking delays the approvals while increasing the chances of rework and delayed payments. Nevertheless, using construction accounting and project management software allows users to keep track of change orders, the activity status, and the impact it creates on the budget.
The Crux
When you need to stay aligned with the project progress while keeping your revenue protected, managing change orders is crucial. Using construction accounting and project management software, like ProjectPro, allows effective documentation and communication for added transparency.
All in all, using integrated technology allows you to keep track of change orders and their related information. It eliminates the stress of working on manual spreadsheets or managing piles of documents.
If handled properly, change order can boost your profit margins and revenue. A cloud-based solution like ProjectPro can provide software workflows and construction management solutions. As it is designed for contractors, it is an integrated and flexible system that can facilitate project changes within minutes.
Construction businesses using specific construction accounting software with robust reporting capabilities can capture and update the project costs whenever needed. This is why experts recommend ProjectPro as it has been purpose-built to remove change order burden and help decision makers with meaningful insights.
Are you a construction contractor who is struggling to manage change orders? Consider making a switch to an integrated construction project management software that can meet your needs related to change orders for quicker payments and higher revenue. Call today!