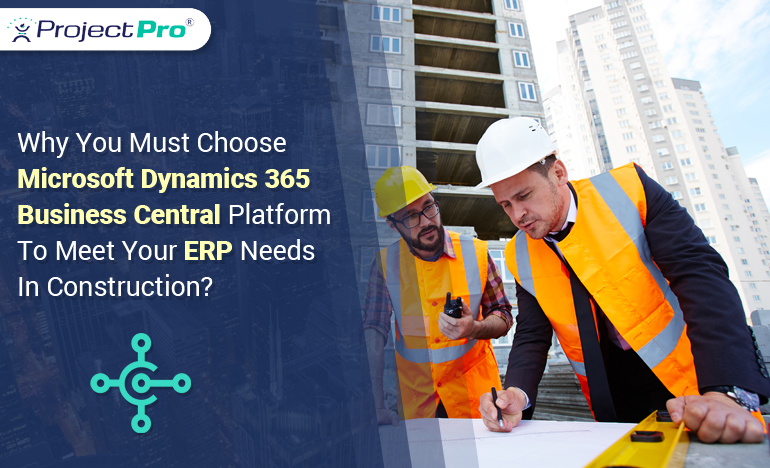 Managing ERP Needs With Dynamics 365 Business Central
When it comes to construction, achieving project success requires you to monitor all running operations. This not only helps you to drive the progress of the project but also to look for any changes that are essential to maximize revenue.
However, the process of increasing revenue and determining any changes that can add value to business demands technology such as construction accounting and project management software.
Over time, solutions like Microsoft Dynamics 365 Business Central have come a long way in enhancing the visibility of operations as well as establishing control over projects. to have the ability to manage costs and design profit margins are some other beneficial features that have made Microsoft Dynamics 365 Business Central a prime choice for most contractors.
But before we dig down deeper to explore the capabilities of construction ERP software based on the Microsoft Dynamics platform, let us have a detailed insight on how visibility and project control offered with ERP solutions could be translated to better revenue and returns.
The process to drive revenue and a higher return on investment requires close monitoring of projects. This, in most cases, is done to identify the chance for opportunities that can eliminate wasted time, add effectiveness, and improve financial stability. Thus, to ensure a clear understanding of the operational progress and the development path, most contractors rely on an integrated construction project management and ERP software solution such as ProjectPro.
With extreme capabilities to serve the ERP needs of construction contractors, these solutions add to productivity through project control, resource management, thin overheads, and ultimately improve cash flow. One key issue where most contractors lose their lead against the competition is finding the right platform for their ERP requirements.
Which platform is right for you?
Choosing the right ERP software is one of the most significant decisions to make since lack of compatibility of the technology with your requirements could result in loss.
Also, investing in a solution that brings with it expensive upgrades or reimplementation after every few years is not a wise decision to make. Thus, to avoid over-expenses with the technology, it is necessary to research a solution that is forward-looking and brings you affordable and necessary performance upgrades.
And when we say an affordable and reliable solution, most of the industry experts and contractors often prefer to go with Microsoft Dynamics 365 Business Central. Based on the legacy platforms by Microsoft, it is designed to meet all the technological and innovative needs.
What makes Microsoft Dynamics 365 Business Central an essential technology partner for the construction industry?
Microsoft Dynamics 365 Business Central as an ERP system has the capacity to serve the unique needs of the construction industry, irrespective of the contractor's business. However, one factor that can make a difference is to choose a solution provider who does not have enough familiarity with the industry or an industry expert like ProjectPro.
Consequently, it is essential at the contractor's end to research, explore demonstrations, and find a solution that is suitable to the shared requirements. Since it is a critical business decision, make sure you go with a brand that has a proven track record.
In case, you are wondering why we emphasize on Microsoft Dynamics 365 to be the ERP platform you use for your construction business, we have some solid evidence to back our confidence in Microsoft Dynamics 365 Business Central and ProjectPro:
1. Efficiency at its best
With the power of Microsoft Dynamics 365 Business Central, ProjectPro brings all the essential and added functionalities that are vital for the success in the construction industry. Since it is an integrated solution, it allows you to take control over time and budget while giving complete visibility to the progress at the site. The best part is that it brings you all key operational qualities within an integrated system including Accounting, CRM, and Project Management that can help facilitate successful deliveries.
2. Command on Decision-making
When you start working on Microsoft Dynamics 365 Business Central, it brings you essential support that you need for impactful decision making. From access to real-time data insights or project progress reports, the innovative Power BI and Office 365 features make it very easy to identify red flags. This helps you to avoid any decisions that may lead to financial downturn or reduced cash flow, while paving the way for growth-oriented decisions.
3. Ease of Use& Support
One thing thatmakes it very convenient for new users to get familiar with Microsoft is the use of legacy design and interface. From easy to explore dashboards to excel based reports, it reduces the time for a user to get accustomed to the features and user-interface. Moreover, the all-time availability and quick support from the Microsoft community helps to cut the time on learning the software and can even provide additional integrations with a faster turnaround time.
4. Enhanced Productivity
When you start working on construction ERP software based on Microsoft Dynamics 365 Business Central with an industry expert such as ProjectPro, the chances of costly system, estimating and processing errors are all but eliminated. It helps you to process routine operations with automation, which spares you enough time to concentrate on business leads and securing potential opportunities. All in all, it helps you to stretch your profit margins to the fullest while giving complete control of existing and upcoming projects.
Good Luck!
Are you a construction business owner who needs an effective and cost-friendly ERP software solution? Experience the flexibility and performance-driven capabilities of ProjectPro with our experts. We leave you no stress to deal with hardware, licenses, or subscriptions. Schedule a call for a demo today !