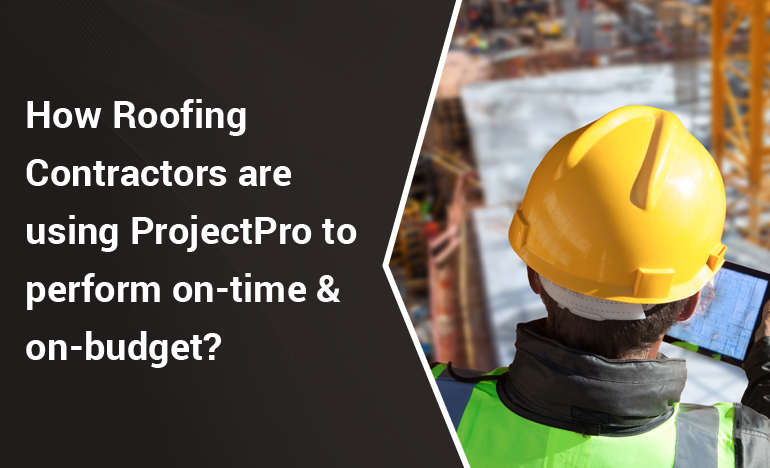 Most roofing contractors are quite busy micro-managing, scheduling crews, ordering materials and managing equipment allocation. Besides this, budget and scheduling are also one of the common challenges in the roofing industry.
But the uncertainty of the pandemic has affected several business owners to rethink their relationship with the latest technology. Presently, roofing contractors are emerging through the bad days of pandemic and genuinely considering how technology can help them survive through the "new normal".
As per the survey conducted by IDC to see the digital transformation journey of roofing businesses, the results were unmissable. It showed a strong association between high performing companies and owners who are leveraging digital solutions like integrated software ProjectPro. Mostly, ProjectPro users or any software users were higher performing than other owners who are still working manually.
Let's dive into the blog to know how ProjectPro can help roofing contractor to accomplish their task on-time & on-budget:
Reduce Cost Escalation with ProjectPro
Always keep in mind, manual processes or paper & pen usage are one of the biggest culprits in exceeding project budgets. Undoubtedly, a few manual processes include digital technology, like Dropbox or Excel sheets.
However, they're completely disconnected from the rest of the departments in the organization, providing virtually no support when it comes to tracking or reporting. This is where ProjectPro comes into action.
ProjectPro is an integrated, cloud-based software powered by Microsoft Dynamics Business Central that enables you to automate processes and keep track of everything seamlessly. With its features like timesheets, you get easy access to detailed reports to make the best decision for your business. Moreover, managing change orders and inventory of your roofing business becomes quite seamless.
Significance of Standardization
ProjectPro is one of the trusted software that helps roofing owners to achieve standardized processes, more formal, and controls project management efficiently.
According to survey reports, the higher-performers were more likely to have standardized processes in place for things like cost reporting, bidding process compliance, incident tracking and safety management, as well as pre-construction planning, tender management and submittals.
ProjectPro is your one-stop solution that enables you to gain control of your roofing project like a pro. It allows you to scale your roofing business by increasing overall profitability and efficiency. You can make accurate estimates and job quotes for your roofing projects.
Manage Schedule with Ongoing Tasks
ProjectPro allows you to create a schedule for your subcontractor to plan numerous roofing tasks and set up deadlines for their job accomplishment. In this phase, as a roofing contractor, you will pin down interdependent tasks. Some of these tasks may get stuck, which means that they can be performed within a great time window.
ProjectPro helps you design the shortest construction duration that's feasible, which is termed as the "critical path". Each critical path activity must be accomplished before the next one begins. Therefore, ProjectPro allows you to set achievable timelines for all these tasks. This is key to planning a realistic goal for the project.
Having established a critical path, the roofing contractors can streamline their tasks that are not interdependent on one another, or do not impact the critical path and may run all at once. This all-in-one construction accounting software helps to devise an effective strategy, ensuring that non-critical path tasks do not end up affecting the schedule.
Keep an Easy Track of Project Lifecycle
Generally, most roofing projects vary from the approved design to some degree. Chances are that modifications may occur from design flaw, client's design changes, or an unforeseen condition.
In any situation, changes to the contract's schedule, price, or budget may affect the finish date; this is particularly true when the task in question falls on the critical path.
As ProjectPro helps you design a thorough schedule, develop an effective strategy to reduce the time delays in the change events. While accelerating, or concurrent scheduling the contractor may attempt to "disrupt" the schedule. This typically involves allocating more resources to the critical path activities.
In other scenarios, the contractor may suggest you sacrifice parts of the scope or forgo certain design requirements. Ultimately, ProjectPro aims to help you accomplish your project with the most time savings at the lowest possible cost.
ProjectPro is one of the best integrated platforms among roofing contractors when it comes to accounting. You can streamline your business by automating workflows of your roofing business. Also, ProjectPro helps you create initial invoices and manage expenses, generate professional financial reports and file taxes without any hassle.
ProjectPro also makes your document storage quite seamless. As it developed on cloud, access and storage to the documents became extremely easy. Moreover, ProjectPro has the capability to integrate with third-party payroll apps that enable you to manage everything at a single-platform, eliminating the struggle to manage project management tasks on different platforms.
Bottom line
In a nutshell, every roofing business needs to stay ahead of their routine tasks, establish proper communication, information, and diligence during planning. This leads to a project that is more executable and realistic within the planned cost, scope, and schedule, enabling roofing owners for a higher likelihood of successful project delivery.
We know that schedule and cost overruns are a unique place in construction, there's an apparent difference between companies stuck in manual project management processes versus ones that adopt digitization.
To know how ProjectPro can do wonders for your roofing business, schedule a demo now.