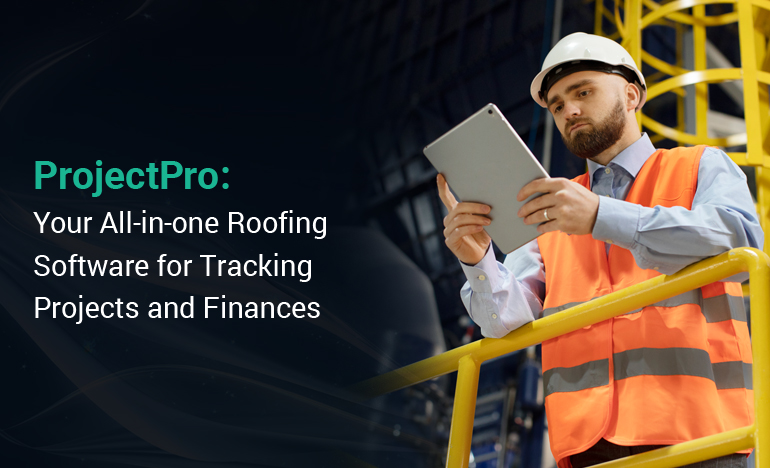 When it comes to choosing the best roofing software, many contractors face the challenge of their business lacking visibility and not knowing much about Roofing CRM software. The reason could be unreliable reporting, inconsistent communication and inefficient processes. To streamline your operations and to stay updated on what is happening with the jobs you have taken upon and to track your business results, you need all-in-one construction software designed for roofers- ProjectPro. Here's how ProjectPro with Business Central will help you track your projects and finances:
Solve challenges related to Project Management
The biggest challenge that roofing contractors face is when they refuse to automate tasks and rely on manual processes such as bookkeeping, depend on time-consuming spreadsheets, organize in person meetings with homeowners and accept checks and cash rather than have payroll software.
Although these processes are traditional ways of working and may sound pragmatic to you, ProjectPro offers you to plan and execute tasks for timely deliveries. It offers you a way to carry out tasks more efficiently, in turn assisting your business to utilize more resources and time to grow the firm.
As you are aware that paper files can easily be lost and get damaged if they are passed to and fro within departments or taken from a job site to the office. There are chances of errors and double entries if you do not automate or continue to rely on manual data entry.
ProjectPro will not only help you automate but will also reduce your dependency on physical files due to the ability to store everything in the cloud and help you access everything whenever you want. You can easily track documents such as ASI, RFI, Notices, Issues, Submittals, Field Orders, RFQ, Pending Change Orders. Get notified via alert or you can easily track emails with our software.
Not only does ProjectPro with Business Central keep your files organized and safe, it also helps you strengthen control over projects. Powered by the latest technologies of Microsoft, it helps you provide better insights into the overall roofing project costs, resource requirement & allocation, and offers precise and timely information.
With our Project management feature, you can easily track resources and budgets, and plan activities for improved management. It provides you project management tools to manage subcontractors, track the estimated costs of projects resulting in revenue recognition.
To run your roofing business efficiently, it is important to consider how efficiently your business will run when you deploy roofing software. It also depends on how you are accepting payments. You may fall behind if you are only accepting checks and cash. ProjectPro allows you payroll integration as you can integrate with multiple payment solutions such as Paylocity, Certified Payroll Reporting, ADP, Paychex, Payroll NOW and more.
ProjectPro assists you to work on multiple projects at the same time which means you can easily keep a check on all the payments associated with active jobs. Moreover, it helps you to stay connected with all your accounting data through timesheets to streamline the entire task of Project Management.
Goodbye to Inconsistent Communication with Team
To know what is happening on the job site, it is necessary that you have access to improved communication with your team and crew . It may not be possible for owners to drive to the site or make a myriad of phone calls but with roofing crew management software, such as ProjectPro with Business Central you can exercise greater control into your job sites without much extra effort.
You can easily communicate and couple the operations of the field and the office. Whether it is resource management, material supply, or accounting, ProjectPro will help you integrate all and provide a centralized database that can be retrieved anywhere anytime. This improves communication and keeps each stakeholder informed.
You can carry out productivity analysis, manage inventory, monitor overall progress by work units completed. A simple dashboard that keeps the right resources scheduled to their respective jobs. Other than that, you can monitor resource utilization easily by what resources are used or not used on job sites. ProjectPro assists you in linking employees to resources as well for tracking specific employee usage on projects and service jobs.
By utilizing inventory management features , you can benefit from quick access to both required stock by locations as well as visibility of what items are needed to deliver to jobs.
Do away with Inefficient Reporting Process
For contractors in the roofing business, it is critical to understand business data so that you can provide actionable insights and make better business decisions. Your software should assist you in identifying new opportunities and even help you reduce costs wherever possible. To scale globally you can no longer rely on spreadsheets to analyze and track data as it may have errors and information on the same may not be reliable.
ProjectPro powered by Microsoft Dynamics Business Central has robust accounting and reporting capabilities as it offers a seamless way to track and report data. You can get alerts and track emails and stay up-to-date easily. This assists you in spotting issues right away and having a single source of truth. You can schedule tasks and with the help of a simple dashboard you can view resources and items across a job view by the hour, day, week, month, or yearly. Information is also available in the form of histogram also.
This helps you in streamlining operations and having a yardstick to measure what is happening within your business.
ProjectPro- Your all-in-one construction software to maintain visibility into your projects and finances
ProjectPro is the roofing technology that will provide you visibility into your finances and projects. All relevant information, from inventory management to document tracking , is stored in our cloud-based software so that you can access information about a job easily and from anywhere in the world.
Through capabilities such as project management, accounting, CRM and ERP, you can increase your efficiency and gain greater visibility into key performance indicators.
Want to learn more about how ProjectPro can help you gain visibility into your finances and projects? Schedule a quick demo and see these features in action.