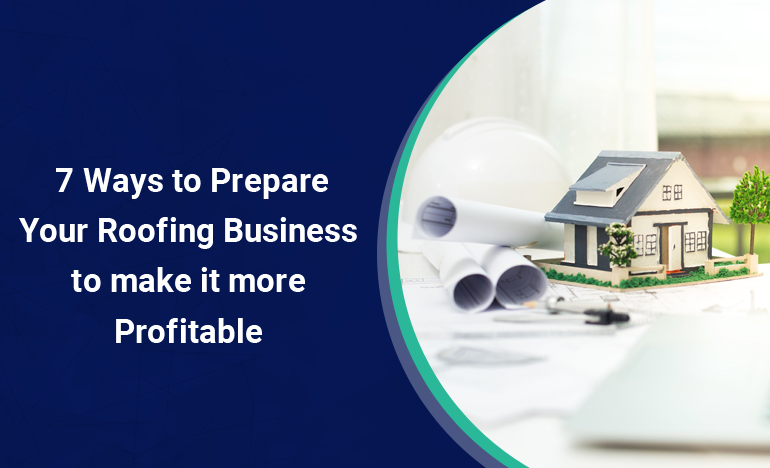 Whether you are planning to set up your roofing business or brainstorming on how to grow your roofing company, you have every reason to boost roofing revenue this year. There are many ways to do this and roofers should consider to advertise better, think in terms of improving productivity and reduce overall costs in 2022.
In order to turn 2022 into a year that will result in maximum returns and revenue recognition, here are few tips for contractors:
Become a data driven Roofing Contractor
To prepare for future success, it is essential to know how your roofing business performed within a year. If you are tracking key performing indices (KPIs) then you will be aware of the areas where your business needs attention and where it is doing well. This is why data, reports and document tracking becomes important. With ProjectPro you have access to integrated data, make use of intelligent transaction processing, and enjoy robust analytical and reporting capabilities of our software.
The best part of roofing software is that you can automate certain specific reports and your accounting process. Some roofing software provide real-time updates in the dashboard, and you can keep each stakeholder informed by sending automatic reports.
Keep track of Key Performing Indices to know your Progress
ProjectPro with Business Central can streamline operations, assist you organize and provide meaningful insights to make better business decisions. This capability will help you understand your business performance last year and help you devise ways to stay profitable in 2022 by getting better insights on job costing and getting a consolidated payroll processing report.
Robust reporting techniques help in reflecting how much time does a task take to move through a pipeline. This also helps in improving the bottom line and in identifying bottlenecks in the current operations. For instance, you can take charge if the report reflects that invoices are not paid on time. Therefore, you can take action and send reminder emails to clients to urge them to pay within the time period.
You can even assess the Job profitability report and check whether it meets the estimated profit or not. In construction where margins are already thin, a report can help you identify gaps in your projections, breakdown who is doing well in sales in terms of profitability. This will also provide insights on who needs training in your team and which location is crucial for your success so that you can improve your profits this year.
What are the marketing roofing revenue tips for contractors?
To become more profitable you need targeted, effective marketing techniques to become more profitable in 2022. It's time to update your marketing strategy to increase profits and revenue.
Give Referral-based Marketing a try
If you are new in the roofing business, you should consider referral marketing as a strategy. This marketing toolbox will help you fetch a higher conversion rate than any other channel. Ask for referrals from your clients, customers who are happy with your service. By utilizing this strategy you can generate more referrals in a quick span, and also offer incentives in the long run to businesses.
Say Yes to Digital Marketing
Your customers are online and so should you be as well. Having an online presence can do wonders for your roofing business. Set up a website and ensure that all business related information is easily available for the customers. Make sure your contact information, services , photos of the past work, testimonials from customers are there to generate interest in your roofing business.
Apart from this, your social media presence matters! Ensure you have listed your roofing business on YouTube, Instagram, LinkedIN, Facebook, Pinterest. Post regular updates as this is the easiest way to get noticed in front of a large set of audience. Make sure that your business profile is listed on Google for potential customers and keep a track of reviews to analyze the quality of services that you are giving.
What are Software Roofing Revenue Tips for contractors?
The software you deploy can be quite a significant investment so make sure you choose the right fit for your business. Your roofing software should help you track your leads, assist you in communicating with your crew and eventually make you more profitable. The software should simplify your day-to-day tasks and streamline your operations.
With ProjectPro you can run your business more efficiently and automate your processes. It will help you streamline your accounting process, assist you in saving money and reduce the number of tools to run your business.
Say yes to Cloud-based software
With our cloud-based software, ProjectPro, you can save and retrieve information anytime you want. This helps you scale your business to a global level and you can keep track of important documents, reports and contractors no matter where you are on the globe. You can access the job file and look for information whenever you need it.
Improved Communication between staff and homeowners
For your business to be profitable, you need to establish clear lines of communication. With ProjectPro you can keep accounting streamlined and this helps in keeping everyone on the same page. You can remind homeowners when the upcoming bill is due and make sure there is a single source of truth to help you focus on other aspects of your business.
Integrate with Multiple Payment Solutions for Easy Payment Management​
ProjectPro as a construction accounting software offers multi-channel payment integration which allows you to integrate with potential payment solutions like ADP, Paychex, Payroll NOW, Paylocity, and more. Automate your payment process with payroll integration and help your construction business stay competitive.
Be More Profitable in 2022 with ProjectPro
If boosting your roofing revenue is a goal in 2022, ProjectPro should be your first choice. ProjectPro with Business Central powered by the latest technologies of Microsoft is specifically designed for roofers. Schedule a demo to know what ProjectPro can do for you and get advice from top construction experts today!