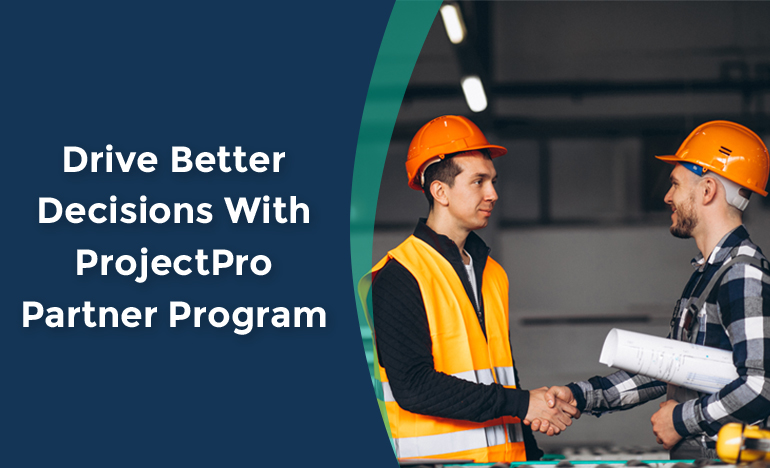 Are you a construction business looking for new growth opportunities? Partner synergy is crucial for success in the construction ecosystem. To modernize the everyday life of the construction professional you need a partner that can expand your construction capabilities.
When you wish to scale your construction business you need to take a lot of aspects into consideration. So if you are evaluating software solutions for your construction business, make sure you are investing in software that will support you in the future. This is why smart contractors prefer ProjectPro with Business Central.
At Project Pro we believe in partnering for success. We understand that successful companies can't do it all alone. That's why we welcome and together with our partners round out, improve, integrate and deliver robust solutions.
We help our partners drive better construction decisions with our ProjectPro Partner Program. As an award winning partner firm with a rich proficiency of over 20 years, ProjectPro is powered by Microsoft Dynamics 365 Business Central and is a long-term technology partner to ensure success for your construction business today and tomorrow.
It is powered by the latest technologies of Microsoft with a rich construction background and has been instrumental in providing continuous improvements to its construction partners. The unique capabilities together with construction accounting CRM, ERP and project management features are worth the investment in comparison to firms that offer no such assurance.
ProjectPro with Business Central offers the solutions, support, and opportunity to grow your construction business and also enables owners to make bold decisions.
At ProjectPro, we believe in delivering efficiency to our business partners. That's why we invite builders and construction professionals to partner with us so that with a dedicated solution like ProjectPro you can streamline operations, strengthen the accounting process and improve customer relationships.
We offer collaboration and a chance to uncover new construction opportunities. In fact, we invite construction firms to join our global Partner Program and gear up for success.
As a construction partner, we are focused on your growth and you can easily reap the following benefits:
Increase your Revenue

Get Support on Projects

Access to improved range of Solutions

Amplify your Partnerships

Improve your Performance and Sales
By unleashing the power of strong strategic partnership you can analyze and take careful steps to improve your offerings. Get the full array of software benefits including the ability to carry out financial risk analysis, for your construction business. This helps you make better decisions that are beneficial for your long term success.
Who do we help?
From General Contractor to Heavy Highway and Speciality Contractors we help them with Job Costing, Progress billing, Payroll, resource and equipment allocation and accounting operations.
The fact that ProjectPro with Business Central is designed for contractors, provides construction-focused solutions that are aligned with overall business growth. We integrate workflows and assist service contractors to get meaningful insights on the construction data.
To guide our partners along the construction journey, we often begin the conversation by asking about their needs versus wants- of whether they want to scale their construction business or not in the long run. By setting clear objectives and ensuring transparency as to what we offer, our team demonstrates how ProjectPro can be instrumental in achieving your goals.
Our team of construction experts can guide you how to approach your project in phases. We can help you analyze and streamline your construction accounting process. This is a noteworthy factor that can make a huge impact in the future.
Now customers in the construction and real estate space have an easier path to deliver construction success and grow their sales and witness increase in profits. As a cloud-based software, ProjectPro provides added flexibility to its partners to access data from anywhere whenever they want. This enables construction owners to make better decisions helping you plan for a future by planning project timelines. We ensure that partners are able to access meaningful information necessary to make good business decisions.
Why is decision making a key to construction success?
As you already know that a construction business has a lot of moving parts. The knowledge that you have a trustworthy construction partner that can assist you in times of need is priceless. It also involves taking a lot of decisions on a daily basis. This is where ProjectPro with its robust construction accounting features will help track and maintain transparency where your operations are concerned.
Our relationship-based approach keeps our partners and their best interests first and foremost in our minds. At ProjectPro, our team of seasoned construction experts are committed to the quality, respect, and clear communication so that you know the pros and cons beforehand.
We help you uncover untapped construction opportunities and have a quick and easy enrolling process for our partners. Our team is focused on helping you create less fragmented processes within your business.
Today construction businesses are required to be more collaborative and efficient and our partnership program is a real opportunity to deliver the best construction solution possible to the industry.
Way Forward
Whether you are a small, medium or a big construction business, you will want a building partner who will do whatever it takes to help you complete the project as per your satisfaction.
At ProjectPro we provide our partners with these benefits
Software Upgrades & Migration Support

Implementation Services

Extension Development

ISV Marketing

Service & AppSource Support

Purchase Software Cross Border
ProjectPro offers its partners a promise of innovation and collaboration- a win-win situation for everyone. Enhance your marketing and benefit from a hands-on strategic partnership. We have helped hundreds of partners who are growing their construction businesses and providing their clients with next-level results.
Join the growing network of construction professionals and get ready to scale your business to new heights today! With ProjectPro you get access to the support, training and resources to set your customers up to achieve resounding success and help your construction business grow and stand out in the industry. The edifice to all this is better decision making and we are here to help you with that and much more.
Ready for a partnership that drives success? So are we. We can't wait to partner with you. Talk to our experts to unlock the benefits of our partner program!