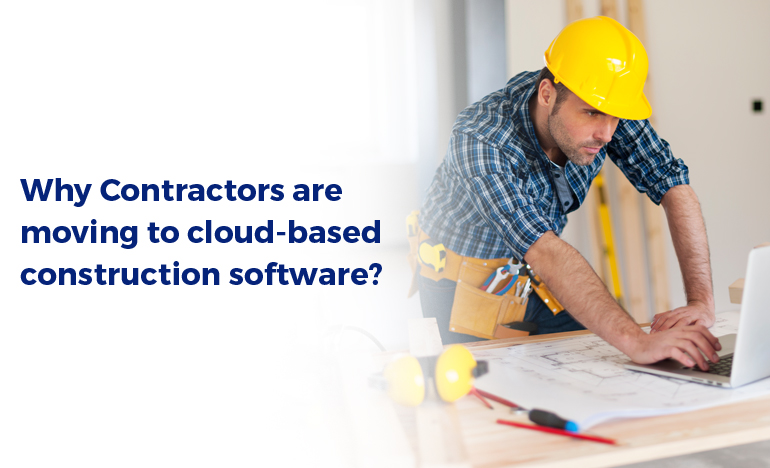 In today's world, more and more construction companies are adopting cloud-based solutions for their construction business. This has transformed the way contractors handle the firms. While many contractors are still finding their path through these changes but cloud adoption is leading to an increased amount of data collection and helping firms carry out an analysis.
By running software in the cloud is making construction companies ready for the future and no longer are construction managers worried about data storage facilities. Cloud computing is an upfront investment but it has great potential and holds a strong promise of significant returns.
The construction industry is regarded as slow and less keen on technology adoption. Digitalization in the construction industry is still a matter of research but more construction firms are now better positioned to deploy tech for profit.
While a project continues to progress, a lot of heterogeneous data is generated, and cloud computing offers a way to leave an impact on the profitability and performance of the project.
So how do you take advantage of cloud technology in construction for better performance and increasing returns? Let's read more to find out:
What is cloud technology in construction?
Earlier the construction businesses kept their data or rather the central repository for housing information was the main office. While this information was easily available to those seated within the office but not to those on the site and the rest of the team.
While the data was stored in a hard drive and was limited by the storage capacity of hardware- not much could be done during that time. When you ran out of space you had only two options- either buy external devices or delete files.
With the introduction of broadband internet, there was an increase in bandwidth and data could now be transferred many times faster. So cloud computing in construction made it possible to outsource data and it also improved the storage capacity of the firms.
It has enabled on-demand network access and is a convenient deployment model that requires minimal effort on part of management. Moreover, these are benefits of digitalization to contractors:
Security

Connected job sites

Powerful Data Processing

Increased Data Storage capacity

Advanced analytics

Easy sharing
Other than that the three main categories of cloud are as follows:
PaaS- Platform as a service

SaaS- Software as a service

IaaS- Infrastructure as a service
Out of the three, construction businesses have realized that SaaS (Software as a service) requires minimal investment and is the easiest way to secure gains from cloud computing than the other two.
Is cloud the new essential for construction firms?
Today the initial concern related to security issues and barriers to cloud adoption is no longer at the forefront. Thereby, more contractors are actively choosing cloud-based solutions now.
Although not an indispensable resource, but its importance has surely increased all this time. Many contractors have realized the need for jumping aboard this tech bandwagon. As cloud-based technology enables contractors to access data from anywhere, anytime.
It allows remote teams to collaborate in real-time and facilitates better communication. With less time spent on searching data, businesses can now access data to make more informed and insightful decisions.
While many continue to operate in the traditional way but as construction projects become more complex, cloud deployment becomes the only way forward.
To remain forward-thinking and competitive more and more construction firms are keen on cloud uptake as the benefits offered by cloud migration are many.
In order to reap the benefits, consider moving your operations to the cloud today!
What are the benefits of cloud technology?
Construction firms have realized that there are many reasons to move to the cloud as it is :
Cost-effective

More secure

Future-proof

Flexible
Besides, construction enterprises have a lot to benefit from the tech and many have realized that to stay competitive and viable they have to implement cloud technologies to march ahead.
Apart from this, contractors need construction-specific software to simplify complex workflows and thrive in a challenging environment. For this cloud technology forms the base for construction's digital revolution.
Why should you adopt cloud-based software for your construction business?
You can drive better decisions with cloud-based construction software and use data in a more meaningful way. It equips you to understand a wealth of meaningful construction data by helping you with subcontractor management, payroll processing, resource allocation, and carrying out predictive analysis.
Also, by analyzing data you can uncover patterns and look beyond indicators to better plan for future jobs and it will also assist with precise costs projections.
Besides, using cloud-based construction software gives you better insights as to what is going wrong and what's right across the organization. To be in charge and exercise control, contractors are better equipped to make smarter decisions with the aid of technology.
Monitor and Gain field control with ProjectPro
The most important thing is that the construction industry is in a perfect storm and those construction Enterprise Resource Planning (ERP) solutions that can integrate and process data in the cloud can achieve measurable business insights.
All-in-one construction-specific software like ProjectPro backed by Microsoft Dynamics 365 Business Central is a dedicated cloud-based system that has remarkable reporting, accounting, and analytical capabilities.
Apart from that, it truly assists you to handle financial risk analysis and can streamline your business. With remarkable project management features, it is an integrated software solution that can help you scale your business and establish economies of scale.
All in all, if you haven't moved to the cloud, now is the time for you to consider taking advantage of the most powerful software system like ProjectPro.

Way forward
The untold benefits of the cloud in the construction industry are many and allowing contractors to easily manage the project allows them to hold on to existing clientele.
For a small company, it may be difficult to compete with construction giants but they can utilize cloud-based systems which are the right fit for them.
Overall, the cloud computing movement is here, and to remain competitive and match the competition, make sure you have tools available that will help you add efficiency to your operations.
To know how an integrated cloud-based software like ProjectPro with Business Central can add value to your business, schedule a demo.