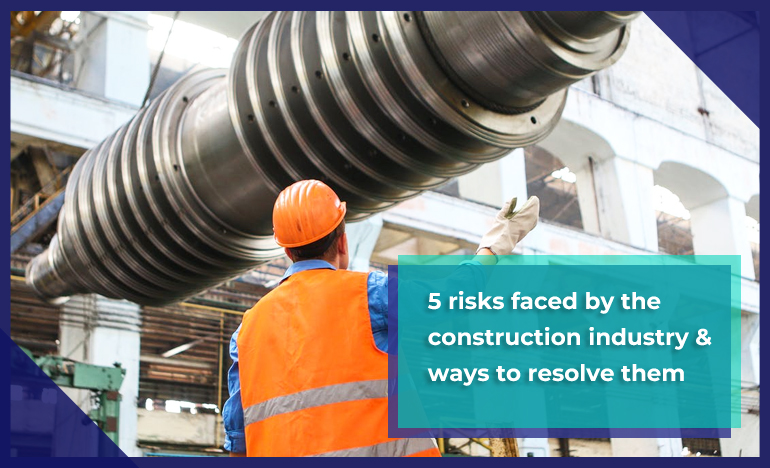 The construction industry can often be a challenging and volatile business. One of the most critical aspects for contractors is to identify risks and opportunities and manage them accordingly. And if risks are not managed properly it may impact your business negatively.
There are a lot of construction risks that contractors are unaware of until it's too late.
However, understanding the typical risks of building projects will allow you to recognize red flags and take preventive measures for any potential hazards to project security or finance.
Let's dig into this blog to see the top 5 risks faced by construction companies and ways to resolve them:
1. Project Delays
Delays are the most typical construction risks. Overlooking project delivery dates affects everyone on the job.
There could be several reasons for delays, such as change orders, mishaps, poor project management, material planning, and much more.
The best way to avoid delays is to be prepared. Communication should also consistently be open among the project's stakeholders to the cumulative impact of delays on a project.
2. Increasing Material Pricing & Unavailability
When a contractor enters a contract, materials pricing can be one of the most critical risks to the job's profitability.
Economical, political and environmental factors can impact the material costs. To be precise, the major reason for the cost rise includes:
Natural disasters

Trucking labor issues

Spikes in demand

Business closures
The above risks lead to an increase in prices of once cost-efficiently priced construction materials.
If the contracted markup can't absorb the price increase, every purchased item will cost the contractor more. Ensure that you account for these factors when preparing contracts.
3. Document Management
Managing documents manually is one of the biggest risks for construction businesses. Not only it consumes time but is also prone to errors. And managing documents in construction requires hundreds, maybe thousands, of documents that would take laborious effort to streamline.
Nowadays, contractors are shifting from paper documentation to digital documentation. Also, if you opt for a construction software platform like ProjectPro, it allows you to search for any document anytime.
Construction accounting and management software will eventually reduce schedule delays and accessibility in a prime document location.
4. Labor Shortages
Labor shortage has been the biggest challenge for the construction sector, regardless of project size.
Scouting trained employees that are reliable and hardworking can take time and effort. There's constantly a risk that the workforce lined up for a project might fall apart.
Smaller subcontractors don't hire staff full-time; rather they hire freelancers who can work on a project basis. It is one of the easiest ways to balance out things.
However, using the right software platform can also help you manage maximum tasks without any support.
5. Undefined Project Scope
Keeping a project on track is challenging when you need clarity on project updates. So you should specify the scope of work to avoid problems in the long-run.
If you're performing under a fixed price or lump sum contract, it's crucial to take note of items like:
Customer input

Materials pricing

Site conditions
These factors can increase project costs and decrease the profit margin.
However, there are mechanisms to use, like cost-plus contracts to avoid the effects of a job without defining a scope.
Bottom Line
These are some of the major challenges that contractors face, and overcoming these challenges by adopting the right technology is essential.
ProjectPro can help you by simplifying and streamlining your day-to-day challenges. Powered by Microsoft Dynamics Business Central, ProjectPro can take care of your construction project from start to finish efficiently.