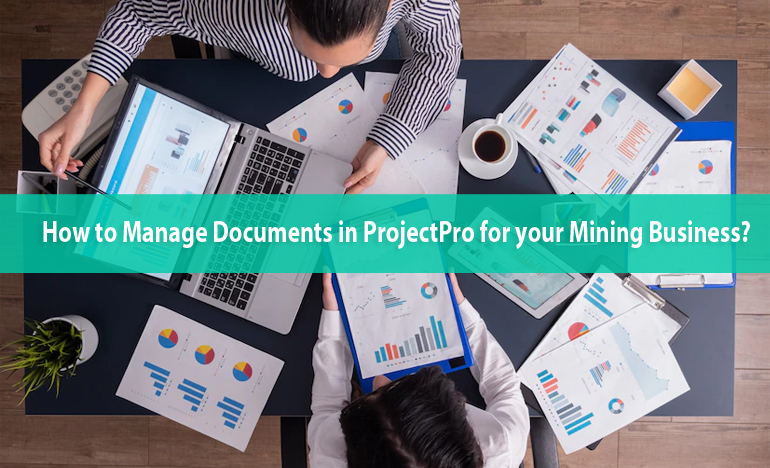 Contractor agreements, scope of work, bidding documents, schedules, and bills of quantities are just a few of the documents required for any mining project—and that's before construction begins. To keep tabs on all this paperwork, recording changes, and interacting with updates to the right people can quickly loop out of control without proper document management. But managing your mining project is a crucial task.
This blog will guide you through key aspects of document management and how ProjectPro can help you streamline documents.
How Does Document Management Control Matter for your Mining Business?
In mining companies, document management is backed by the structure created by document control. Where document management is primarily about the flow of information, document control is the procedure of capturing data in a consistent, structured way for all types of documents.
This involves managing diverse versions of revisions, reviews, and approvals and maintaining archives to ensure stakeholders are referencing numerous recent versions.
Hence, document control provides your team the belief to validate facts with accurate documents as proof. Concurrently, document management and document control render defined digital workflows, reviews, and notification processes that keep teams in sync and bring the right people together as a project advances.
Tips to Enhance Mining Document Management
Now is the best time to improve mining document management and documentation techniques for handling documents in your mining business. These tips will help you break down the challenging task of managing documents into the simple components needed to enhance them.
In the high-stakes mining world — where profit margins are incredibly secure — this association is vital to miners, investors, and insurance companies who use responsibility to manage risk.
1. Create a Single Document Location
The first piece of advice for improving mining document management is to develop a central document or data location. This is one place where all project files will be stored. Having all project documents, or any other document, located in a single place makes the finding process much more seamless.
All files emailed to a person must have a copy saved in a central location. No one has to dig through emails to find the document. You can do so by adopting ProjectPro.
2. Easy Data Accessibility
When you have an integrated platform for storing your files in a central document, the location is good; it's better to have access to that location at anytime. There is no assurance that someone won't need a file or document when they're in the domain.
It's seamless for people to access that data from anywhere rather than having to be emailed the data. With the augmented use of smartphones and tablets at mining sites, it is probably suitable to use a system that operates with both mobile devices and computers.
3. Use Unique Identifiers
Mining companies must assign unique identifiers or codes to each document, primarily if numerous versions exist. Not only does this prevent long document names, but it also makes it seamless for companies to search out several versions of the same document.
This helps with version control, which can assist in determining if anyone is ignoring a version or working off the accurate version.
4. Motivate your Team by Adopting New Technologies
When implementing any new platform or technique, it's essential to ensure that you have the support of your team. They're the ones that will push the project past its initial phases and motivate everyone to continue.
Executing a new system or way of thinking is difficult without team support. With this, your team will feel motivated; any new program is a directive, and it's easier to inspire people to use the system as intended.
5. Cost and Time Overruns
Resolving errors means an extensive amount of wasted resources. That means more materials and labor, which means increasing time, budget, and overruns. This makes miners unhappy, which frequently leads to disappointment and project delays.
This is where ProjectPro comes into action. From creating project bids to quotes and proposals, you can manage everything from a single platform and thrive in the market.
6. Avoid Litigation
When documentation is inaccurate and errors are made, litigation can emerge with big disputes. Mining is one of the most brutal areas regarding legal disputes.
Note that cases can cost you more than capital, too. They can also deteriorate your reputation, discourage clients from working with you, crop up in your workflow, and even finish projects midway. This loss of time, money, and public standing can destroy a company.
Using ProjectPro powered by Microsoft Dynamics Business Central will help you avoid costly litigation by ensuring data accuracy and proper document management.

Take Mining Document Management Control One Step Ahead
So, the above strategies are effortless enough to maintain once initiated; taking them gradually at first is crucial. Or else, you may feel burned out, confused, and rebellious towards your managers and workers who feel swamped by all the new modifications.
Prior to putting these techniques into effect, meet with stakeholders and discuss them, and then shed some light on what's coming. This will ease the transition for everyone and ensure an excellent mining document control system forever.