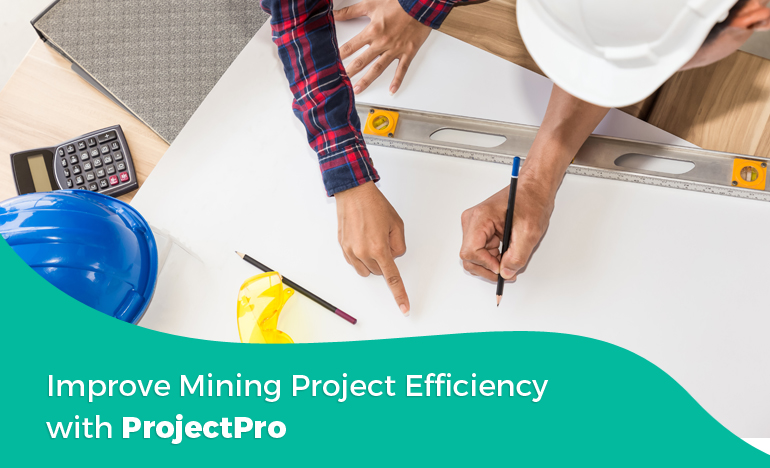 Have you ever thought about what's impacting your ability to deliver mining projects within the set timeframe and budget? That's ultimately your company's efficiency. If you haven't investigated your processes in a while, there's no time like today. And not only will this help the projects that are taking place now, but it will also allow you to offer more competitive bids in the future!
Flourishing operations in the mining industry include accurate coordination between office, administrative, and jobsite personnel. Providing equipment schedules, labor resources, materials deliveries, and sub-contractors around weather conditions, assessments, and other unpredictable circumstances needs a blend of proficient skills and quick, precise information.
Project costs are augmented daily with people on the job site in the construction industry. Executing a mining contractor solution that permits you to enhance job efficiency, in turn, boosts overall profits. This is why switching to construction accounting software like ProjectPro will help you.
It enables your management team to remain connected with your job subs, site, and suppliers, making real-time decisions that eliminate waste and balance retainage schedules with purchasing requirements.
So here we have come up with some effective tips to boost productivity and efficiency on each project your company takes on:
1. Effective Communication
To accomplish your mining project goals, you need to have a seamless system that offers real-time communication. If you don't interact with teammates, get an idea of how they are advancing and what limitations they are going through. Communication is the key to assembling all the project members, setting the deadlines within the required time, communicating their roles and responsibilities, etc. All of these things can be accomplished via communication, and if there is no communication, we will never get to understand what is happening, and this will result in an unfinished project and missing all the deadlines.
In other words, real-time communication is the key that guides your project toward its goal before the deadline. This is how we can improve the construction project's efficiency.
2. Intuitive Data Management
Data management is the power of mining projects. According to researchers, approximately 95% of the data produced by the mining industry is thrown away. Simply put, 95% of user data is wasted daily, and we have to work on the same thing every day. This is a total waste of time as well as power.
Furthermore, we don't know where we make errors as all the prior data is thrown away. So, if all the data was stored and managed perfectly, there would be less energy consumption, and we would understand our prior mistakes. And this is how intuitive data management is essential for an adequate and efficient mining project.
3. Trusted Mining Software
Having software for your mining business is a significant investment. Undoubtedly, it's an expensive deal, and many of you may be unable to afford it. This is where ProjectPro comes into action. A well-structured construction accounting software for miners.
Powered by Microsoft Dynamics Business Central, ProjectPro concentrates on delivering benefits. Using software for your mining project will let you track down all the assignments and progress of the projects. You can keep an eye on every member working on the projects. You will look at everything so that no hesitation will be there.
4. Robust Training
The training period is a must for all companies before the start of any project. When you hire laborers, the foremost thing you need to take care of is providing them with the proper training for a specific period.
This will improve their skills and let you evaluate them based on that training period. You can have all the tasks that you require them to do in future projects.
So, in short, you can prepare them efficiently. This training will ensure that your workers are inclined to work on the project, and there will be no wastage of time.
5. Hire Experienced Workers
If you have a massive project to manage and need professional skills, you should hire highly experienced workers for such mining projects. This will save you time because you won't have to run training programs like you normally do for the freshers.
6. Digitization is the Next Big Thing
If you are the one who acknowledges traditional practices for operating a mining business, then you will be at a loss. Going digital can visibly and immensely boost your business and help you promote your business globally. You can instantly communicate with all your clients and can make more significant deals. You need to have a good internet connection and a website. And you are all set.
Bottom Line
There's already a lot going on in the mining industry, and so you need to be proficient enough to deal with growing changes. We hope that the above-mentioned tips will help you enhance your mining project's efficiency and thrive in the market.