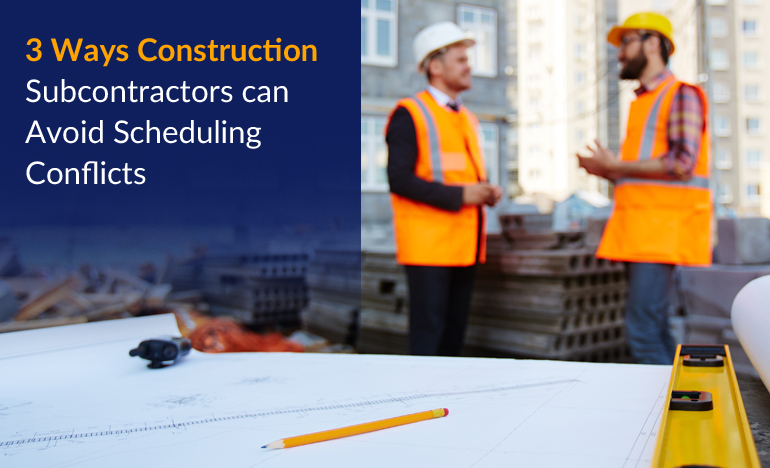 With several tasks running at once, teams are so lean on construction owners, so there's no surprise if construction owners run into timeline conflicts with subcontractors on a regular basis than others in the market. We understand that saying "no" to work is not easy.
If you want to maintain good relations with each subcontractor you work with, they efficiently determine a project's schedule. As a subcontractor, you're one piece to the greatest picture of any project.
No matter if you put your 100% effort into things that don't mess up, the unavoidable happens such as rework or weather delays or a client revolving direction causing delays. Even the most well-thought-out schedules aren't settled in stone. They swivel and shift as the task increases.
However, subcontractors in construction do not involve themselves in conflicts. But in case you employ it to avoid time conflicts. Here are three major tips that you can put into action:
1) Be collaborative with contractors
No matter, builders are the boss of your projects, but you're still the boss of your construction business. So, you need to talk from one boss to another boss.
Fortunately, communication is the key aspect for avoiding several conflicts, including scheduling overlay. If you delay on one task that can cause things to overlap with another project, don't just go to your resources or strive to do something impossible.
Communicate with every subcontractor to see if there is flexibility. When you collaboratively discuss the issue before, you'll be to fix it at the earliest and do not miss the deadline.
Right from the start, you might want to involve a contingency plan in your contract. So make sure that you outline things that you will do if delays occur if you are not at fault and it causes conflict with other tasks. Having clear and transparent communication at the beginning, your relationship with the subcontractor can go a long way in eliminating and resolving overlap problems.
The most efficient way to collaborate with contractors is through construction project management software like ProjectPro powered by Microsoft Dynamics Business Central.
On this platform, builders can develop a portal with the advanced features of ProjectPro that centralize communication. All those tasks are recorded seamlessly, so it's not a blame game. You store all types of subcontracts without any hassle.
2) Adopt digitization in project scheduling
Scheduling is the biggest milestone that contractors need to get through for any successful project. So, what does that look like for your team? Is it similar to spreadsheets or dates jotted down in a notebook? This is what you might have kept in your mind?
It has been decades that the construction industry always lacked the tools to schedule all of their project tasks smartly. But today construction technology has changed everything.
With ProjectPro, your contractors can save hours in job planning by creating deadlines through software. These schedules adapt and account for delays, which can be flogged up in minutes through templates, and are seamlessly shareable with all players on a set project. That least part is where your subcontractors come into play.
On ProjectPro, builders can share and discuss their complete project schedule with you. This enables subcontractors to better plan and knows absolutely when you're required, months in advance. The sooner they share this data with you, the better.
In case, your team members need it on the job site, they can review this information, too. Contractors can even prefer to notify you when slow down or changes happen.
3) Use your schedules than just scheduling
Always keep in mind, what we said smarter project scheduling is better than the old way of mapping out jobs. Well, it goes deeper than its ease of shareability.
Also, we have mentioned the extensive collaboration that you can build with ProjectPro. Initially, construction contractors can add to-dos on schedule tasks assigned to you. That takes the mess out of what's required from one day to the next. So, move down to your list, finish all the items and make your builders happy. It's an amazing formula for success.
On the other hand, you can add updates in the form of daily logs relating to a scheduled task. This gives your subcontractors complete visibility into what was achieved, any existing obstacles and enables them to seamlessly communicate progress to the client. To give further details, add photos or videos and show off your great work without any hassle.
All this can be accomplished in the right way on ProjectPro. There's no need to run back to the office to cross-check what needs to be done or interact with what has been done. It's right in your hand on the job site.

Conclusion
Put scheduling conflicts behind you with ProjectPro with Business Central. However, it's time to convert conflict into collaboration.
When you start using the ProjectPro, all-in-one construction accounting software, project scheduling will become more equipped as planned and you can communicate to stay ahead of all your tasks. And soon you'll see how timeline overlaps will become a thing of the past.