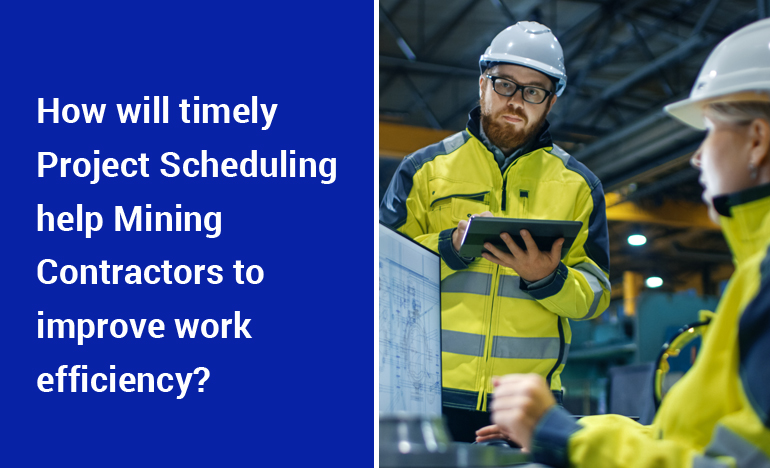 Mining contractors have a nightmare when their projects go off-schedule or over budget. It impacts the overall growth and success of a project. But today, as the technology adoption is growing in the mining industry, there are various tools available in the market. These tools are designed to help you streamline workflows. You can reap the following benefits by using the latest tools:
Minimal risks

Less chances of committing mistakes

Easy to track key metrics

Improved work efficiency

Streamlined workflow and processes
However, it doesn't mean that all mining software are equal and offer the same type of features. There's an extensive variety and options when choosing the right software for project scheduling. In our opinion, moving to an integrated cloud-based construction software for your mining business is the best decision. This is where ProjectPro powered by Microsoft Dynamics Business Central comes into play.
ProjectPro has the ability to meet your project scheduling needs and deliver excellent results to help you excel in your mining project efficiently.
We bring to you some pro tips that will help you streamline project scheduling with ProjectPro smartly:
1. Establish a better communication with your team
Keeping track of your mining project is of utmost importance. For which, maintaining proper communication with your team is important. This also helps to keep everyone on the same page. ProjectPro is one such construction software that makes it easy for you to share your schedule items with your subcontractors, team and clients – whoever you wish to keep in the loop. With no middlemen in your process, you will actually save yourself time and increase your productivity. And that's a beneficial situation for the contractor and the team!
Communication is an integral part for every mining project. It helps you do thorough planning and stay ahead of changes if they occur.
2. Prepare a checklist & to-do list
If you want to stay organized and ahead of your schedule items, preparing a checklist with all your to-do tasks will help you make a difference. Also, you can streamline job processes and ensure accountability.
When you add all the tasks in your to-do list along with a checklist, keeping track of assigned tasks becomes easier. This is where ProjectPro comes into play. Our unique feature enables mining contractors to break down their job tasks with a code and in the end check the results.
Moreover, ProjectPro helps you create better reports of the tasks that you and your team have accomplished. Also, develop effective strategies if the plan changes without hampering the current processes.
3. Identifying obstacles in advance
We all know that accomplishing a project without unexpected obstacles is impossible. However, do you know what's worse? Well, getting halfway through your project and encountering these challenges.
Apart from the additional expense and time it takes to resolve the new challenge, there are chances that you might need to rework part of the project you've already finished.
This is why building a solid schedule in advance helps you address potential issues and plan for them in advance before they derail your project. So ProjectPro is one such tool that can help you overcome these challenges without hampering the current processes. It works as a quick fix in any situation to your mining project.
4. Take care of resource allocation
As a mining contractor, it is crucial that you know what resources you'll need to complete your project successfully with full confidence. From managing your budgets to materials to labor and equipment and resource allocation—plan everything thoroughly.
A detailed project schedule ensures that you don't miss any crucial steps and that you know exactly what's essential for you to accomplish the project within the timeline.
With ProjectPro, you can achieve your scheduling goals and reap amazing benefits, leading to positive outcomes for your mining business.
Fortunately, when your mining business encourages team members by providing them with complete visibility into project goals and the tools they need to succeed, they'll feel more motivated than ever.
Always remember, motivated and engaged employees are one of the most valuable assets to any organization out there.
How you can visualize project schedules
There are multiple ways to do so, which is a good thing. Every project is unique, after all, and team members may stick to specific visualizations over others. However, task lists, gantt charts, and calendars are three of the most common ways to visualize project schedules.
And ProjectPro offers you all the three ways to view your project schedules. Let's quickly dive into these categories to get an idea of the same:
Typically, task lists do not use graphics, but they're one of the most easy and clean formats to view a project schedule.
A Gantt chart actually breaks down the project schedule in a bar chart. With the bars representing, you will see the timeline for each task that should begin and be completed. Generally, in this chart dates run along the x-axis and tasks along the y-axis.
And the purpose of calendars are to represent the schedules in a familiar way for team members to view task start and finish dates. Also, it provides an easy way to visualize the entire project timeline and work accordingly.
Bottom Line
In the end, mining contractors get stuck with choosing the best solution for their business. This is quite obvious because of the innumerable options available in the market. But as we have mentioned before, ProjectPro is your one-stop solution that can streamline processes and automate tedious tasks.
Attain better productivity and increased profitability with ProjectPro! Schedule a demo.