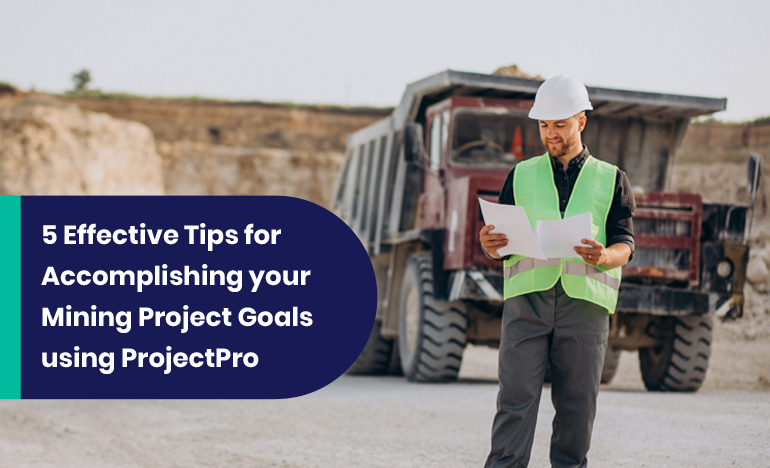 Managing mining projects and accomplishing set goals—timely deliverables and budget deadlines—can be exhaustive and challenging at times. Miners usually get stuck with digging and extracting natural resources from the ground. This is the reason why project planning gets overlooked time and again. However, when you adopt the right strategies and embrace new technologies, everything can be streamlined.
That's where ProjectPro comes into play, powered by Microsoft Dynamics Business Central. An innovative platform that allows miners to automate all the aspects of their mining project smartly.
With streamlined workflows, miners can achieve milestones and stay consistent in the competitive market.
Here are five practical tips showcasing how ProjectPro can take your mining project to the next level:
1. Design a Concrete Plan
Establishing a concrete plan as the project begins is crucial to achieving success.
The moment a mining project starts, it should have a concrete foundation, and all the parties involved need to have clarity on the same.
Understanding all the elements is how you do the groundwork for a successful project. So, ensure that the project scope is appropriately defined by including the roles and responsibilities of several team members. While planning, you also need to make sure that goals are defined properly after closely evaluating all the processes involved.
The most effective way to predict the project's lifecycle and develop operation plan is to follow the five phases of project management
Initiation

Planning

Launch

Performance

Closure
Moreover, upon switching to ProjectPro, you will be able to stay assured of deliverables and benchmarks efficiently. It enables you to measure and track success, including product quality and functionality checks, budget and schedule targets, and even tasks. In this way, you can also ensure that government or industry regulations are seamlessly met.
Hence, a robust plan will help you clearly define your mission and goals. Also, assessing at the end of the project phase can help you maintain a steady growth of the entire project.
2. Get the Right Team on the Job
Hiring the right workers with the right skillset assigned at the correct time for the project is usually easier said than done.
Once you have a concrete plan, you can start with building a good project team. As a project manager, you'll need to align the right talents, skills, and personalities with the proper project needs. Each team member should know their job and what they are expected to provide after completion.
Always remember that the critical roles in project management are those of the project leader and the right software. Using the right platform, the best project leader can promote positive team dynamics and be a coach for all the team members.
You will also be the concerned person for receiving the input from the project team and significant stakeholders and adding everything to a platform like ProjectPro. This will help you get their perspective on any project changes, and you can easily overcome data management and team handling challenges.
3. Have a Streamlined Documentation Process
When you have access to documents digitally, things become quite effortless. Ultimately, you and your team get the latest versions of essential documents in real-time, making all the difference in projects.
With ProjectPro, you can ensure all documents are updated, in place, and consistently tracked by you and your team members. Right from the start of the project to detailed milestones to closeout, documentation must be in place and marked by the stakeholders when required.
No matter whether you follow the right practice, the project may face difficulties meeting the deadlines and the budget. In that case, ProjectPro works as a savior because it will help you present appropriate documents to the stakeholders along with a plan for such unforeseen events. When such situations arise, you will have easily accessible documents with complete audit trails that are critical to preventing any type of legal issues, conflicts and project delays.
4. Establishes Real-time Collaboration & Communication
Modern construction accounting software like ProjectPro can enhance communication and collaboration among miners by providing real-time data to everyone working on the project.
Today's mining projects tend to be more intricate and challenging, and everyone — the lead contractor, subcontractors, project owners, field teams, architects, back-office staff, vendors, and more — must be on the same page to ensure success.
ProjectPro helps in boosting communication among team members efficiently. Miners should be consistent, honest, open, and transparent throughout the project regarding communication. With real-time data deliveries and streamlined workflows, ProjectPro ensures that team members are not waiting for the information or working on the incorrect information.
5. Always Keeps Track of Everything in the Project
When it comes to tracking, you should not only be focused on project completion. As a miner, keeping track of other aspects, includes consistent monitoring of real-time job progress and costs, profitability, resources, and more.
Don't focus on guesswork just because the project is running smoothly. There can be a risk at any point of time during the project. This is where ProjectPro and your project management experience will work together to achieve desired results. ProjectPro ensures that you are ready for all kinds of unforeseen risks and situations during the project.

Bottom Line
From managing back-office and administrative tasks to team management, ProjectPro can work as an extension to your existing team. This online platform is collaborative, secure, and ideal for data sharing to streamline several project tracking processes. As a project manager or mining owner, you will have clarity of every process in your business when using smart technologies.