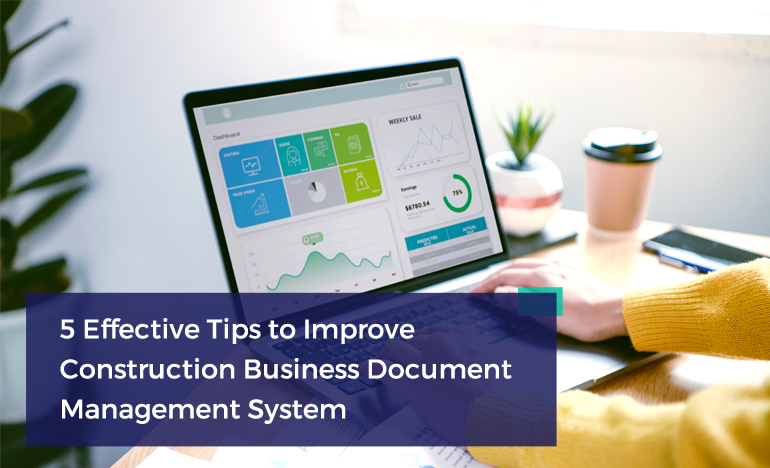 Have you lost vital documentation or progress photos of your construction site? Are you spending maximum time sorting through and filing paperwork? Is your project facing delays due to a lack of communication? Need to worry; you are not alone in this. Keeping track of hand-written notes, change orders, paper contracts, and photos is hard to manage. So, why not make the procedure more effortless and save yourself from extensive timelines and headaches.
Document management might not seem enchanting, but effective document management is integral to the success of construction projects. As contractors are shifting from pen and paper to digital, paperless operating workplaces, they have discovered many solutions for document management.
Nevertheless, numerous contractors use a combination of paper and digital documents, and even if they've gone entirely digital, they may depend on a blend of software applications.
To be honest, this trend toward digital is adequate. It signifies contractors want to make documents more accessible to their teams. But for actual success with document management in construction, we need to concentrate on decoding the rest of the issues, such as document storage and accessibility.
Major Challenges of Document Management in Construction Business
Document management is a crucial aspect that cannot be ignored. Compliance documentation, drawings and specs, contracts, and more ensure a project is accomplished as per the plan. These documents play an essential role in construction. But numerous common challenges emerge related to document management, even in current construction organizations:
Version chaos: As a new change is needed in any document, you create numerous versions of documents. And the concerned parties may not be aware of or have direct access to the same. This can effortlessly lead to mistakes and rework if crews consult an obsolete document.
Access problems: Finding the correct paper documents can take a while but accessing digital documents in the domain can be time-consuming. Internet connectivity problems, file permission problems, slow VPNs, and other uncertainties can arise, primarily when numerous digital solutions are utilized to store, send or access documents.
Issues changing items in the field: Not all software applications make it effortless to edit or comment on documents, particularly for people who work on construction sites.
How to Improve your Document Management System?
Having a robust document management system in place is not just suitable – it's essential. One of the ideal ways to improve your document storage is by implementing the most innovative technologies. Using ProjectPro, an all-in-one construction accounting software, works as a central hub for storing and managing your critical job data and files.
Check out these five tips for improving your document management system with ProjectPro:
1. Leverage unlimited storage for convenience
ProjectPro is an integrated cloud-based platform with unlimited document storage, making it easy to upload documents and share them immediately with your subcontractors, team, and clients. To ensure more security and privacy, you can even regulate viewing permissions for every document during the uploading procedure. Whether you wish to upload invoices, bills, or job quotes, ProjectPro has your back.
For instance, if your subcontractors or team want to add everyday progress photos, they can take pictures and upload them straight to the connected daily log. After uploading, you and your team then have the opportunity to make annotations.
2. Store all your files at one place
By uploading your limitless portions of documents and photos to ProjectPro, you guarantee you'll never have misplaced files again. Everything you need is stored in one place within properly systematized folders. If you see a folder system that works well for you, make it a template. Having a folder structure template will enable you to upload documents and other papers seamlessly on the platform.
You can easily upload documents and other papers into folders specific to a particular job. ProjectPro is the best place to store general documents that aren't job-specific.
3. Bring transparency
As mentioned above, you can share documents and other files with your clients to keep them up-to-date and maintain transparency. Using the file management tools within ProjectPro enables you to send documents and demand signatures. Your clients can then sign documents instantly in ProjectPro– keeping important documents together and effortlessly accessible.
4. Establish better communication
Having a proper documentation system with greater accessibility to files will ensure a seamless communication within your team and subcontractors. ProjectPro is a trusted construction management software that enables you to manage your documents smartly and maintain proper communication.
5. Increase overall efficiency
With a proper document management system and proper communication within the organization, increasing overall efficiency. When you have all the accessibility to documents, streamlining complex processes and operations becomes easier for construction companies.
Get the most out of your file management with ProjectPro
Keep your projects managed and on track by using ProjectPro as a major hub for your crucial job information.
All set to take your business to the next level? Schedule a demo today.