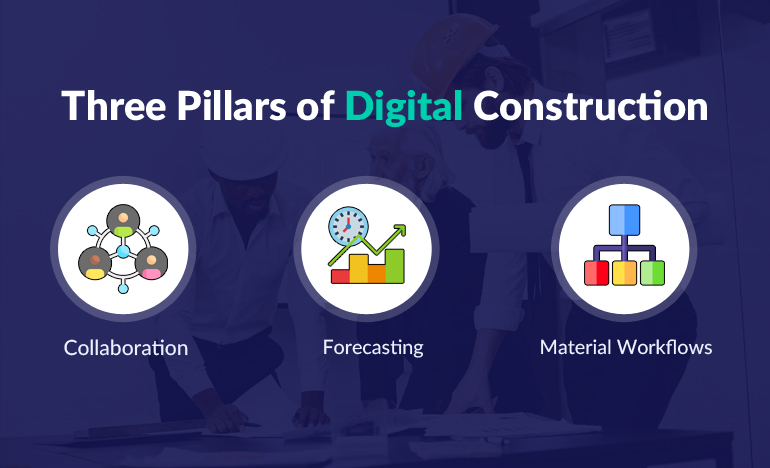 Construction technology is transforming the industry that was not keen on digital uptake. In fact, construction as a sector is at the cusp of a new era where digital transformation is making its presence felt in all corners.
With the help of construction-focused software and built-in power tools, many process-related problems are getting eliminated. As construction projects become increasingly expensive and complex, there is greater pressure on contractors to improve efficiency, costs, and timelines. Therefore, the need for software tools for digital collaboration.
Digital innovations can improve productivity and enhance revenue. Let's take a look at three pillars of digital construction namely collaboration, forecasting, and material workflows.
Going digital while the pandemic continues can seem daunting to many but beyond the context of the current crisis, tech deployment will fetch future returns. Wondering why improving workflows, team collaboration, and forecasting are important? We can tell you that the success of the project rests on these 3 pillars of digital transformation.
Many construction firms are keen on rolling out software solutions that will streamline the business and improve workflows to add efficiency. Let us now understand how construction technology can help builders meet a number of unforeseen challenges and how digital tools influence the following:
Collaboration
To track progress and discuss plans, project teams need to collaborate in real-time and make changes accordingly. With construction technology, it is easier to keep project teams on the right track and everyone on the same page.
Moreover, with cloud-based construction-specific software, you can easily do away with repetitive tasks. It also ensures flexibility and security and contractors can collaborate whenever they want. From invoicing to pre-planning, technology is streamlining essential processes while making teams more collaborative and productive in the long run.
Team success hinges on collaboration, the right technology solution like ProjectPro powered by Microsoft Dynamics 365 Business Central can help you pursue and execute unseen growth opportunities.
From schedules, change orders, payroll processing, construction accounting, ProjectPro is a perfect software designed to facilitate collaboration for all stakeholders involved in the process. When all your documentation needs are taken care of you can think ahead and focus on planning to close out, way ahead of time.
Forecasting
Investing in digital tools that improve efficiencies and profits in project deliveries is a must today! To achieve significant goals in the construction space, forecasting whether in terms of cost reduction can enable meaningful and predictive data analysis on financial risks associated with the project.
Forecasting is an important pillar of digital construction as it facilitates informed decision-making and is a powerful mechanism when it comes to measuring project performance. Construction is a risky business in totality and a software tool with Business Intelligence (BI) capabilities can reduce significant risks.
It allows you to track and monitor the following aspects:
Control on cash flow
Projected margins
Cost of work in progress
Progress Billing
Precise cost projections
With a click of a button, construction owners can easily get their accounting process in order and also, get to know how the company is performing. And software like ProjectPro with remarkable reporting capabilities can solve problems even before they arise. All in all, having integrated data reduces effort and time to gain meaningful insights and make better business decisions.
Material Workflows
With the help of construction technology, firms can optimize material workflows in construction. And this is important so that you are not falling behind the competition and also maximizing your return on investment (ROI).
If you are wondering why material workflows are one of the pillars of digital construction, the answer is simple: it can make or break your project timeline.
With ProjectPro you can streamline documentation, and purchase orders. The automated reporting systems can easily reduce workload and have the ability to view charts and resources.
Pushing technology frontiers to achieve success and do away with the bottlenecks contractors face every day, leads to immediate performance improvements.
With a centralized solution like ProjectPro powered by the latest Microsoft technologies, you can easily take a digital transformation journey. A robust construction software ensures that you are within budget and on schedule.
Way Forward
For the construction industry that has been slow in digital adoption, it is time to embrace digital innovations. This will mitigate risks and help contractors navigate disruptions like COVID 19 pandemic to step up tech deployment and collaborate and work remotely with their teams.
There is a great curiosity about digital tools among construction managers and there is a greater need to reset the general understanding of collaboration. As complexities involved in construction projects continue to grow, the task to simplify workflows and forecasting becomes the topmost priority.
The benefits of going digital far outweigh the upfront costs as with the pandemic there is even greater uncertainty now. To tread unchartered waters you need to have a reliable technology solution that will unlock value for your construction firm.
With the help of BIM models construction companies can easily detect deviations, what entails the work-package execution, and also they can forecast potential clashes.
Hence the three pillars of digital construction namely forecasting, collaboration, and material workflows pave way for joint success, joint understanding, and joint truths. Thereby, construction accounting software like ProjectPro with great analytical capabilities creates value where contractors struggle to deliver.
Today as we prepare for the next normal by embracing digital tools that are serving as catalysts for builders to plan for the future. It is time to not reinforce old mechanisms which required project owners to spend time on spreadsheets and doing work manually.
To know how ProjectPro can enable you to transform your construction business schedule a demo. Talk to our construction experts as we'll help you with job forecasting, enable standardized workflows, and help you collaborate with your team with the help of our cloud-based software today!