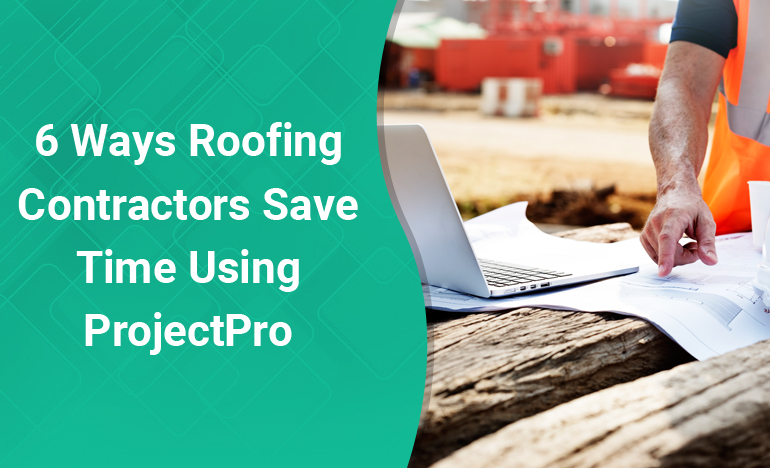 Technology is helping the construction industry to increase efficiency and enhance productivity. In fact for those in the roofing business, they are benefiting by deploying roofing software for contractors but there are many who are using traditional methods to get things done. While "old school" methods such as manual reporting, paper files and not having a single source of data may result in operations that can take a lot of time and will not be scalable in the future.
Deploy all-in-one construction software ProjectPro with Business Central to know how your company can increase site efficiency and save time with our roofing software.
Here are 6 ways on how ProjectPro can help Roofing Contractors to save time and increase efficiency
1. Streamline your operations by document tracking and thrive in productivity
When you start a roofing project, there can be paper and filing work that needs to be done. You might have to handle paper files and stay up-to-date on all documents most of the time. This method may result in profit leaks and you may lose out on the precious time where information is available at the click of the button. Overall, this may result in errors and costly mistakes in a business that already has thin margins.
With ProjectPro, you can streamline your roofing operations and help you stay updated on ASI, RFI, Notices, Issues, Submittals, Field Orders, RFQ, Pending Change Orders all with email tracking and alerts. This saves precious time and enhances productivity as information is safely stored in the cloud and available whenever you need it.
This allows you to focus more and dedicate time on the roofing task and less on time-consuming paperwork . All in all this leads to enhanced productivity and presents all Key Performance Indicators with one-click detail.
2. Scale ahead with the Roofing Software for Contractors to save time
Stay ahead on your roofing projects with agility and more accurate roofing data as you can pull and retrieve a report on ProjectPro. Integrate all of your material planning, project accounting, management, labor & resources management, and customer relationship management through the construction solution that will save you more time. With a single source of truth it will eliminate your need to move from one source to another.
3. Speed up your roofing tasks and coordinate Materials with ProjectPro
You can couple the operations of the field to the office easily with our software. By scheduling your roofing projects you can access all resources on a calendar or view them on Gantt chart or Task views. ProjectPro offers a quick and easier way to coordinate materials across construction jobs, wholesale supply and service orders.
No need to spend more time manually planning roofing materials as our software is here to assist you. It allows you to put together a quote quickly and saves time by reducing costs and improving profitability.
4. Enhance your customer service and stay updated with roofing software
For those in the roofing business, many professionals prefer to receive email alerts and get real time updates on crew production against estimates. To keep each stakeholder informed and updated, you need up-to-date information throughout the project lifecycle.
ProjectPro allows residential roofing companies to handle multiple jobs simultaneously and takes care of the accounting process and helps you scale.
Improve your efficiency by eliminating the manual tasks and streamline operations by ensuring each stakeholder stays informed, and you can pay attention to other aspects of your roofing business.
5. Gain control over your roofing projects and communicate seamlessly
Today construction technology can help you work more easily and can help you strengthen your hold over your roofing projects. You can easily keep your projects on schedule with the project management feature of our roofing software, ProjectPro. This way you can stay ahead of the competition, work more productively than ever before.
Here's what ProjectPro Partnership can offer roofing contractors:
All-in-one construction accounting software with capabilities of construction accounting, project management, CRM, and ERP solutions.

Fully certified construction software by Business Central on Appsource and NAV.

Customized quotes for Vertical Solutions related to Project & Construction-based companies with Business Central.

78% increase in win rate with ProjectPro vertical solutions.

2x Recurring Software Revenue with Business Central.
This can help in expanding your construction capabilities and keep your business organized. Above all, it will help you save time and help you make good business decisions.
6. Stay ahead of the competition with ProjectPro
Reporting is an essential feature for a roofing business to know what is happening within your firm. With ProjectPro you can strategize, plan ahead and use reporting as a tool to stay ahead of the competition.
Many roofing businesses still rely on spreadsheets to make sense of data but these tried and tested spreadsheets do not provide real-time visibility and are also not a scalable solution in case you wish to go global at some stage of your business. Also, it is not ideal for many people to work on them as it may get corrupted or there could be mistakes in entry.
ProjectPro with Business Central can help you identify areas of your roofing business where you can save time and increase performance. By keeping track of your business data through ProjectPro, you can receive updated and accurate information right from our all-in-one construction accounting software.
It's easy to see key performance indicators and fetch reports that matter to your business. This way stays on top of company performance and increases construction site efficiency.
Improve Construction Efficiency and Save time with ProjectPro
Keep tabs on the reports of your Roofing business with our award winning software that can help save you time and money. Do not rely on traditional and old methods as it may cost you dearly and may not help you scale in the long run. Incorporate ProjectPro into your day and quickly see how your profits improve and result in revenue recognition. Schedule a demo today with our top construction experts to know more about how ProjectPro can help your Roofing business.