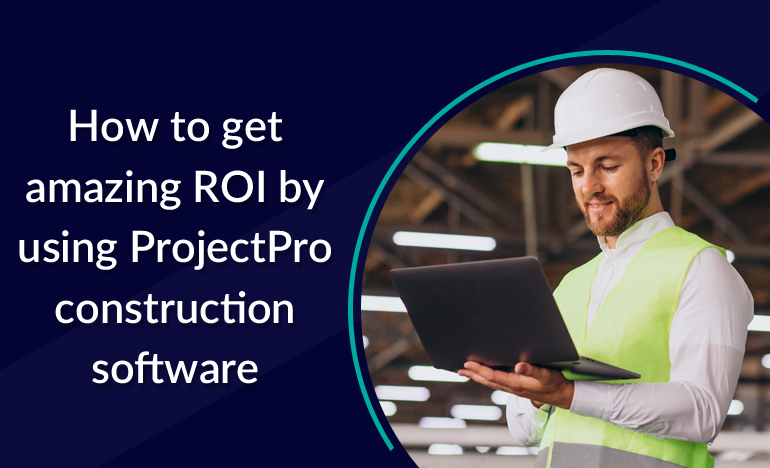 When it comes to measuring return on investment (ROI) i.e. the measure of what you have gained in comparison to what you have paid out in terms of investment, then it must be quantifiable. Many believe that they can greatly increase ROI using construction software but for that to do so you need to establish some parameters or a yardstick to do so.
Moreover, the cost-benefit analysis of using construction software may be more complex than tangible costs. All in all, you need to accurately gauge whether investing in construction technology is resulting in significant benefits for your construction firm.
According to a report and a study conducted, the construction industry is spending approximately or more than $177 billion per year on looking for project data, data management, and improved communication. This is why it is more important to understand how construction software can empower you and impact your bottom line.
With ProjectPro powered by Microsoft Dynamics 365 Business Central, our all-in-one construction accounting software can help you have an edge over the competition. Because when it comes to calculating return on investment, ProjectPro delivers unparalleled time savings and makes complex construction jobs easier.
Let us explore how ProjectPro with Business Central enables you to get amazing ROI :
Streamlines Your Accounting Process
ProjectPro with robust accounting capabilities enables construction firms to put their house in order. By providing meaningful insights to contractors, ProjectPro carries out financial risk analysis and stops profit leaks. This way construction managers can strengthen control over the projects and reduce cost and increase profitability.
Besides as a modern technology solution, it can result in an increase in productivity and make the life of construction owners easier.
Saves crucial Time
To measure whether your software is paying dividends or not, remember time is equivalent to money. The metric we are choosing is that you do not spend hours on a time-consuming spreadsheet and trying to organize data that should reasonably be taken care of by the software you purchase. With ProjectPro that is designed for long-term sustainability, the above concern is taken care of and this should put your mind at rest.
As construction projects continue to become more and more complex, ProjectPro can help you save significant time. Most importantly, as a powerful construction accounting system with powerful reporting capabilities, it results in smoother workflows. By automating tasks such as job costing, intelligent transaction processing, certified payroll, and labor and resource management, our software enhances productivity.
Helps in mitigating risks
ProjectPro helps you troubleshoot subcontractor management problems and helps with processing certified payroll reports. Besides, it provides real-time data to help you lower risk through document tracking and improved visibility. Allow yourself the additional benefit of fixing a job site problem before it snowballs and hampers project progress.
You can easily handle expenses, manage and track costs, calculate payroll and revenue with easy-to-see charts. The best part is you can easily see the progress you've made towards your long-term goals when you track and reassess the changes done at the time of scheduling. Besides, true ROI is realized when intangibles pay off and you can easily mitigate risks that arise from time to time.
Increase in profit
When you partner with ProjectPro, an integrated construction software that provides immediate and demonstrable benefits it results in significant gains. For a construction business with razor-thin margins, ProjectPro offers a better way to thrive. You can start witnessing the following when you deploy tour software:
Increase in top-line revenue

Increase in gross margins

Reduction in redundant applications

Doing away with hours your resources spend on training and administration of manual tasks

Are able to attract and retain top talent

Increase in productivity
When you ask yourself "Is this software beneficial for my construction firm?", you'll find ProjectPro is here to set the benchmark by helping you establish economies of scale.
Known for 20 years of construction proficiency and powered with the latest Microsoft technologies, you'll find that ProjectPro will result in crucial cost savings, productivity improvements, and revenue gains.
Additional Benefits of Adopting ProjectPro For Construction Success
As a cloud-based construction software, it allows you to access data from anywhere, anytime. All in all, having construction-specific software that is designed to address the unique needs of contractors does provide a solid business case in itself.
Besides ProjectPro has resulted in significant savings for Camp Construction, Griffin Insulation, and Hynes Concrete Contractor Inc.
Way Forward
To scale your business you need to understand how your construction software is helping you make informed decisions. A construction business has a lot of moving parts but with ProjectPro you will be primed to succeed.
Right from improving employee morale as they will no longer be required to rework and the reduced need for manually entering data, you have software that will address your specific construction needs.
Besides you can never forget people when you are measuring the ROI of your construction software. ProjectPro with the backing of industry experts is also a great Enterprise Resource Planning (ERP) solution with great project management features.
With easy to understand yet smart interface, ProjectPro can take care of scheduling, estimating, project management, accounting, and has some remarkable bidding capabilities. When you are calculating ROI you need to understand how ProjectPro addresses all your needs to complete any general contracting work from beginning to the end.
One of the best ways to understand ROIs is that your software should simplify all the tasks for you so that you are not stressed and have command over your project for optimal business outcomes. This is why ProjectPro with Business Central might just be the right bet to assist you to deal with extensive risks associated with a project.
So are you ready to cut extensive risks to meet project deliverables? If yes, then partner with ProjectPro that values contractors who deliver the best ROIs and build a foundation for long-term sustainability.
Still in doubt? We would love to hear your queries. Schedule a demo session and talk to our construction experts to know more about how you can realize a better return on investment (ROI) with ProjectPro today!