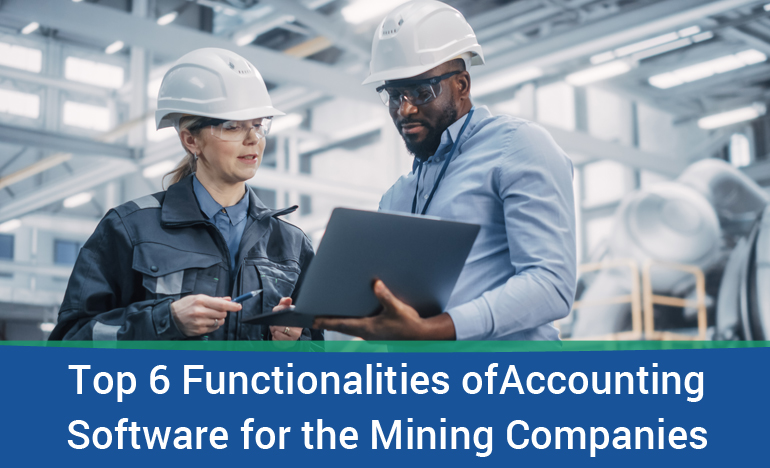 Mining industry comprises numerous processes—from allocating resources, logistics and transportation to managing equipment and tracking inventory. This makes things quite challenging for mining owners. So mining companies need all-in-one accounting software that will help you grow, reduce costs, and enable you to stay one-step ahead of your competitors. And one such software is ProjectPro.

ProjectPro with Business Central have been #1 choice of mining experts throughout the US and various other countries globally. It is a powerful yet user-friendly accounting system that streamlines your internal work processes and strengthens your control over projects.
Undoubtedly, functions of accounting software for the mining sector has enabled the industry to manage projects in a better and smarter way.
Let's explore the best features & functionalities of ProjectPro that will help you make the right decision for your mining company:
1. Get a seamless job quoting experience
Say goodbye to standard job quoting with ProjectPro. Now create job quotes based on packages (templates), job tasks, and bid items (job segments) efficiently. With the help of these templates, you'll be able to see the scope of the project, improve information and remove segments.
Also, you can enjoy a unique experience by accessing job quote reports with great ease on our accounting software.
2. Job Procurement & Purchase
Tracking inventory, managing purchases and material planning, get everything simplified at one single platform—ProjectPro. It allows you to list down all the inventory, assign job tasks smartly and purchase materials accordingly. In this way, you can streamline processes, save ample time and use collected data for making crucial decisions.
Also, the software reminds you of purchases or lack of inventory automatically over a period of time.

3. Project Management
Every project needs proper planning and execution for timely deliveries. This is why investing in the smart construction software and understanding its functions for your mining business becomes crucial.
Our smart platform, ProjectPro manages and monitors your budgets, budget changes, contracts, inventory and much more with great ease. It is a well-designed software that ensures you meet your tasks on a timely basis.
Moreover, you can thoroughly track the estimated costs of the project to stay abreast of recognized revenues and increased profits.
4. Generate Financial Reports
As we know that financial reports are beneficial in ensuring the availability of funds for business expansion or entering new locations. However, one of the major problems with the mining sector is finding new investments.
In the present time, companies are accessing international capital markets, which need financial reports to international standards. ProjectPro has the ability to produce these vital reports on the basis of crucial financial data.
5. Subcontract management
Sub-contracting has become a new phenomenon across the mining industry like never before. ProjectPro helps you track and manage subcontractors through Business Central. Be it managing subcontracts, work performance, retention values, or certificate of insurance, streamline every task in just one-click.
More so, dealing with project-related data in detail and extreme precision is possible with ProjectPro.
6. Integrate payroll system
For easy payment management, you can integrate with any third-party payroll software. You can work with multiple vendors, keep track of them and release payments without any hassle. Finding the right payroll software for the mining industry is quite challenging.
However, we can suggest a few potential third-party payroll software if you want ProjectPro to integrate with. This includes ADP, Paychex, Paylocity, Payroll NOW & more.
You can easily keep a check on all the payments related to multiple projects and manage taxes without any hassle.
Top Benefits of Accounting Software for your Mining Business
It saves you time & money
As a mining business owner, saving your valuable time is important. And so investing in an advanced platform is an ideal decision. ProjectPro saves your hours of work each week by handling time-consuming manual bookkeeping and automating accounting processes.
Also, there's no need to set up a separate department for managing your books. ProjectPro saves you money by simply automating the processes and providing accurate information.
Sync all your financial data
If you store financial data on multiple platforms—credit cards, bank accounts and payroll—it may take hours for collecting information that you need. An accounting software like ProjectPro functions to sync all the data from different platforms for the mining sector.
Also, you don't have to manually enter the data from these platforms, ProjectPro will do that for you.
When you have installed accounting software in your mining business, say goodbye to manual updation in multiple cells that too in multiple sheets. Your sheets will be automatically updated if you make any change, ensuring that your data is error-free.
Get professional financial statements
Presenting professional financial statements is crucial for filing taxes or pitching an investor or for merging. This accounting software functions in a way that your financial statements are easily accessible, accurate and properly formatted for mining owners. You can directly download the report from the platform and get the deal.
Nobody ever said that filing taxes is easy. Be it an individual or a business, papers and government regulations may take a toll on you. This is where accounting software like ProjectPro can streamline things for you. Having a standardized statement with proper data categorized will help you file taxes with great ease.
ProjectPro provides a standard template for managing your inventory. It reflects stock in hand, sold inventory and when you should restock. In this way, you can stay ahead of your inventory management and get all the information in just one-click.
When your books are accurately set up, keeping track of transactions by projects, departments, or locations becomes seamless. ProjectPro gives you detailed insights into your income and expenses so that you know where your money is coming from and where it is going.
Moreover, mining contractors can develop best financial strategies with a track of finances.
Finally, excel sheets are no more in the game. Presently, advanced technology and tools have become the latest choice of mining owners. Managing your accounting books, transactions, projects, customers or any other aspect of your business is now easy with ProjectPro.
An integrated platform with Microsoft Dynamic Business Central, eliminates the use of traditional excels and improves overall productivity. Work smartly for your business and stay one-step ahead of the competition.
Conclusion
Financial management is one of the major steps that mining companies should take into account to maximize profits. The use of accounting software can help the mining industry to thrive in the market. ProjectPro is a simplified solution that's designed to streamline your financial management process to focus more on growing businesses.
Being of the best mining software in the market, ProjectPro aims to take your business on to greater heights while ensuring that you are aligned to budgets and timelines. From vendor data to field information, stay informed of all activities and costs on-the go.
Planning to explore the features of ProjectPro? Schedule a demo and get a guided tour from the experts in the industry. Get to know how the software will work for your mining business and simplify your processes efficiently.