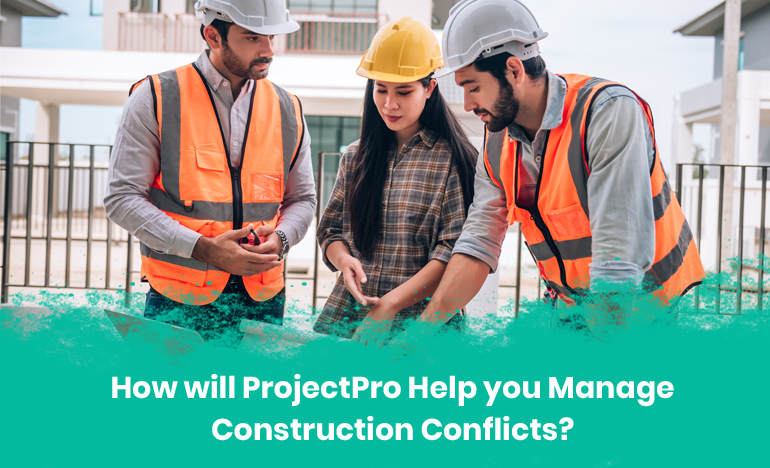 Managing construction projects is a challenging job. Things can go horribly wrong because of unpredictable weather, mishaps, and conflicts. However, conflicts can be controlled at an early stage. There will be instances where you may not have adhered to safety regulations, or maybe you and your subcontractor do not agree with the set objective or a crucial piece of information is missing and a project is being scheduled. You may also end up having heated arguments about unpaid invoices or tasks that were not accomplished properly.
Being a contractor, you need to understand that these conflicts take place within the territory. The fewer the problems, the quicker you will be able to resolve them and make a difference to overall profitability.
So how can you prevent and defend a conflict when it arises? Well, it's never too late! By keeping track of the paper audit trail of all project-related information and activities on an integrated, cloud-computing platform like ProjectPro, you can prevent and defend a conflict.
ProjectPro is an all-in-one construction accounting software that helps you manage audit trail information, accounting, and labor efficiently. With the power of Microsoft Dynamics Business Central, ProjectPro is really helpful in preventing conflicts to a great extent.
1. Digitize Documents
Earlier, when scanners were introduced, paper documents slowly disappeared from the world. It actually made things possible that you only had to scan a document and store it on the desktop. You could also email the document as an attachment, or organize them as well. Organizations didn't take long to see the business sense in buying scanners for use in the workplace.
Every business would digitize and save file cabinets worth of documents. Document imaging permitted companies to recover files quickly, which eventually made it easier to recall where digital files were stored. However, as an advanced construction management software, ProjectPro could use the power of Microsoft Dynamics BC and incorporate those scanned documents into the software's functionality.
These scanned images can thereafter be attached to software procedures, instantly influencing the data calculated, inputted, or analyzed. In numerous cases, data can be taken from scanned documents into the solutions, promoting more automated data entry.
When a conflict appears, software users can dig into the data in their software and get the most profound details, including specific dates and times.
ProjectPro gives you the power of complete documentation and ensures more control over projects.
2. Get Real-Time Access to Labor Tasks
Certainly, the most suitable way to mitigate conflicts is to prevent them before they begin. Numerous conflicts occur due to a shortage of accurate information. Miscommunication, misunderstandings, or just a lack of data can also fuel the conflict fire.
Technology has come a long way for those working in the office, providing better access to data and methods to view and analyze that information. But those working on construction sites always needed to juggle between the office and work sites to access that data.
This is where ProjectPro comes into play. The cloud computing advancements have helped connect the onsite team with the office. Cloud computing also empowers the devices in the field, permitting users to connect to their complete software applications, regardless of where they are.
So your project managers, subcontractors, vendors, supervisors, and others can see the same data in the office—in real-time.
Better access to updated information ensures that everybody on the team is working on the same page with existing data. Fewer conflicts will occur due to a lack of knowledge. Ultimately, there's something for the onsite team as well.
3. Streamlined Workflows
Unfortunately, better access to information doesn't mean that the information is turned into action. Presently, the complexity of construction projects leads you to inputting, scheduling, and managing all the data, which can be a full-time job, consuming your time and effort.
This is why analyzing the data properly and ensuring that you make the right business decisions play an integral role. Also, you need to make sure that your profit margins are secured, and that projects keep moving on time and within the set budget. So, automating your operations and processes is an ideal solution, and all you need is the best platform.
Automation is not new; as technology has progressed, more and more things have become automated, and the construction industry has not been an exception. Therefore, when you opt for ProjectPro, you get the ease of managing operations and eliminating complicated steps that occur behind the scenes to make all of this functionality work. Those steps are connected together into quick, manageable processes, or workflows.
Bottom Line
Conflict management becomes a much easier challenge with these three critical features of ProjectPro. It may not forever prevent someone on the team from doing a bad thing, but it can certainly help. And when the business is on the right track, the dashboard shows it.
So what are you waiting for? Take a guided tour of ProjectPro to explore its unique features and functionalities that actually matter for your business. Schedule a demo now.