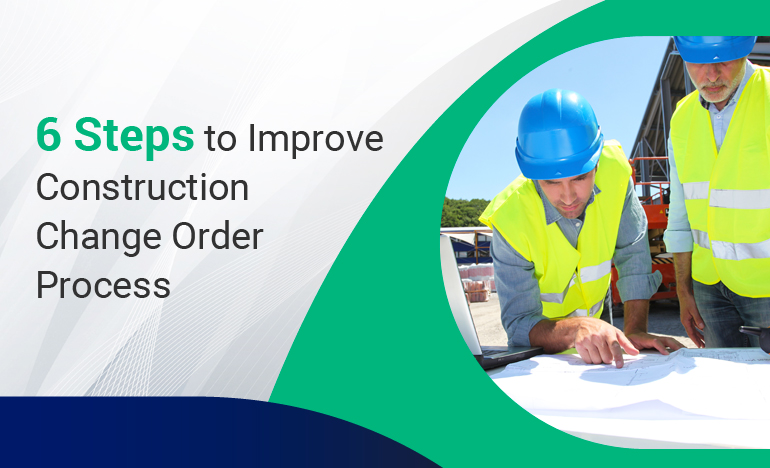 Change orders are inevitable in every construction business. If you're preparing notes using pen & paper or creating spreadsheets to stay one step ahead of these changes can be quite challenging. Unfortunately, there are a few construction businesses that still use manual methods to simplify their change processes.
If you want to survive the growing competition, investing in dedicated, smart tools to handle change orders is crucial. Don't let your employees struggle over increasing paperwork because it may affect your business efficiency. With advanced platforms, you can keep track of change orders, and charge your clients inappropriately, you may end up putting your business at stake.
When you don't manage the change orders appropriately, it can instantly impact the overall success of your project. Issues like delays in reaching contract goals, interruption of workflow, increased project costs, and not finishing a project on time can be caused by not identifying and resolving change order problems at the earliest.
Being able to effectively manage change orders doesn't have to be difficult. All it takes is a little preparation, understanding, technology tools, and lots of communication with all parties involved with the project.
In this blog, we'll see the best steps that you can take to maintain your change order process:
1. Get a better understanding of the project scope
The most initial step before signing a contract and starting with the work is to
ensure that you review the plans and specifications with all parties involved with the project. Get complete clarity from your client, engineers and architects regarding any questions you may have regarding the scope of the project.
In case, any aspect of the project is unclear, get it resolved at the earliest.
Also, this is the best time to resolve errors or omissions encountered while making the plan. Also, make sure that you and the subcontractors both are on the page in terms of work.
2. Adopt the right tools & technology
To improve your change order process, don't just focus on payment procedures and communication, simplify things by using smart construction accounting software. A robust platform that will allow you to make the change order process hassle-free. Most importantly, it gives you the ability to handle your subcontractor submissions and documentation.
ProjectPro with Business Central is a unique software that can easily automate the change order process. Now get rid of delays in the billing process by sending reminders to subcontractors on a timely basis.
3. Review the contract thoroughly
The next step is to walk through the contract thoroughly. While reviewing the contract ensure that you check the clause written that addresses exactly how change orders will be processed. This involves procedures for making modifications to the initial scope of work, resulting in new or distinct work.
There are disagreements over what justifies a change order are common since they affect several parties involved in several ways, so maintaining clarity & discrepancies in the scope of work can go a long way in eliminating the need for change orders down the line.
Also, you need to see that the contract should include how the cost of work from change orders will be calculated such as overhead, equipment costs, and materials. Moreover, how change orders will affect the schedule changes and delays should also be mentioned in the contract as well as a written change order form should also be included in the contract.
4. Ask for written approval for all change orders
Whenever you review the contract make sure there are no conflicting clauses in the contract related to change orders. Suppose, the contract includes the clause that the contractor can't commence work on any modifications without a written change order, there shouldn't be terms stating that the business owner can order extra work to be executed without a compensation agreement.
Make sure that you keep things clear that no new or extra work will be done without a written change order. Everything will proceed that has been signed off on by all parties involved. There will be times when a change order won't affect the cost or schedule of a project, but that's not usually the case which is why it is vital that the contract includes how these items will be handled.
5. Establish better communication with stakeholders
Change orders are issued for several reasons. There are instances when the client may change their mind about what they want, unexpected or changes to the site conditions may need additional work, and errors to the plans are all top reasons for change orders. It's vital to communicate and have a conversation with the designers, client, and any subcontractors when a change order is requested.
You suggest to your client the work that needs to be stopped caused by the changes and discuss any delays or schedule changes. Ensure that all material, labor, and equipment needs to be accounted for in the change order. Whether the new project will adversely impact work already completed.
6. Get to know the impact of change orders
Keep in mind, to consider how every change order will affect your subcontractors on the project. We suggest you work with your subcontractors and the right accounting software to evaluate any changes to their costs, schedule and determine how their work will be impacted by the change order.
If you come across multiple change orders on a project make sure that you review what will be the integrated impact on the overall project. Understand how it will impact your productivity and resources.
A huge number of change orders can drive a backlog of work so being thoughtful of planning and scheduling your resources and subcontractors, which is important to eliminate disruptions in the flow of the project.
In Conclusion
At last, construction accounting software can greatly help professionals to streamline their change order process efficiently. Also, following the above steps will give you an edge over the competitors.
So if you're looking for reliable accounting software for your construction business, ProjectPro is all that you need. A well-structured construction accounting software powered by Microsoft Dynamics with Business Central.
Schedule a demo today to take a guided tour of the all-in-one construction accounting software.