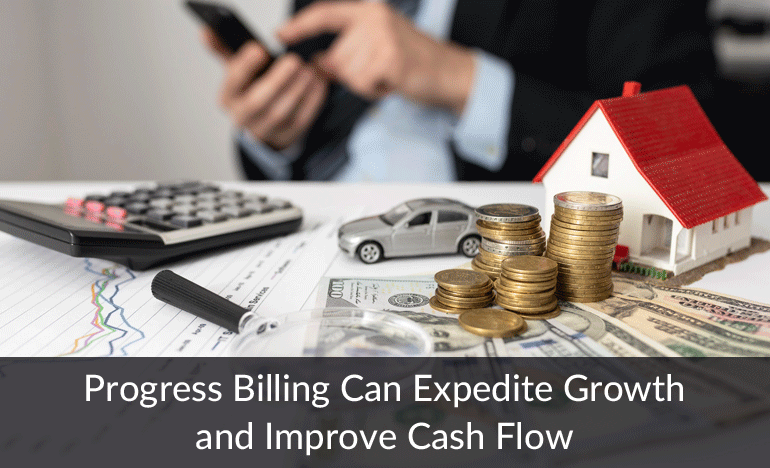 When it comes to construction, contractors are ready to take upon challenging projects. The larger question that begs to be answered is whether the construction firm's accounting system can handle a bigger project than anything that they have worked on in the past. Hence, keeping track of costs, managing cash flow in construction assumes significant importance.
However, this process can quickly become complicated if you are not actively keeping tabs on milestones over years. If the client requests you to generate hundreds of invoices check your preparedness, make sure you have construction software that can help you do so. Other than that, contractors need to assess whether they can generate cash to buy enough materials for all the phases of a project.
This is where the need to improve cash flow in construction. While seasoned contractors know about the right tools to deploy to stay within budget, get the job done efficiently and avoid hang-ups as possible. With the help of construction software that can strengthen the accounting process and expedite tasks can improve cash flow and empower business.
This is why work-in-progress(WIP) inventory is so important as you need to be aware of the smallest details and this is how contractors track efficiencies. The problem arises that tracking progress billings can be a complex process and if not done correctly may lead to budget overrun. For this, you need accurate, real-time WIP reporting and it is the best way to keep projects on track.
So how can Progress Billings help you improve cash flow and expedite the growth of your construction firm? Let's find out:
Simplify, Manage, Expedite Billing with Construction Accounting Software
The process for calculating retainage is complicated for everyone involved but with the help of construction accounting software it becomes easier.ProjectPro with Business Central helps in creating billings, tracking expenses, monitoring work orders and makes it easily accessible whenever you need it.
Manage project billings for a better track of expenses
Project Billings help you manage bills based on the lump sum contracts or on unit consumption. Based on the progress of the project, you can bill your customers with the help of construction accounting software. ProjectPro allows contractors to schedule value lines that help in deciding billing arrangements and consist of "Contract" planning.
Reduce Errors and drive operational efficiencies
To complete the AIA billing forms accurately is not only challenging but also time-consuming. There is always scope for error if manual entry of data is involved. Many hours of productivity are lost when AIA billing is to be managed where re-entry of data is performed and it leads to productivity loss.
Other than that, not having a single source of truth may lead to information silos where decisions are made without having all the information on a project. Moreover, every stakeholder should have the knowledge of working costs and overall job costs as only then one can drive operational efficiencies.
ProjectPro, powered by the latest technologies of Microsoft, simplifies the management of large projects with multiple milestones to improve cash flow. It eliminates the need for redundant data-entry required when project billing is managed in a separate system or time-consuming spreadsheets.
This results in valuable benefits across the firm, such as reducing time-consuming data entry and manual tasks. Contractors can also eliminate potential for math errors that can cause invoices for payment to be rejected and delay the billing process. It also frees up time for value-added tasks and leads to more profits.
How to manage and improve cash flow with Construction Accounting Software?
For a construction company, cash position is always in flux. There are always some frequent fluctuations which is why it is best to deploy an all-in-one construction accounting software, ProjectPro with Business Central. It includes carrying out Progress Billings, access to real-time metrics, document tracking and overall visibility on your cash position while strengthening your hold on your construction projects.
Other than that, a construction software helps you with invoicing management, automates tasks and manages invoices to reduce delays. It also monitors profit and outflow and helps you finish a project on time and within budget.
To boost cash flow, using construction software can result in significant dividends and assist you in paying expenses, keeping track of labor and resource equipment, inventory tracking and so much more. In the construction industry profit margins are already thin so your cash flow should always be positive. Hence, using construction software can help you keep your business in operation for a long time and deploying strategies to improve cash flow will surely fetch returns.
Thus, construction technology can help you deliver better business control and streamline your operations in a complex construction ecosystem.
How ProjectPro with Business Central can help you improve cash flow?
Cash flow is related to the movement of cash related to a specific construction project or cash spent on various stages of the project. Creating a payment schedule to ensure there's enough cash for each phase of a project is an important task and this is where technology can play a great role in driving efficiency.
ProjectPro with Business Central will help you to easily manage bills for lump sum contracts or unit consumption. It has unique capabilities to manage the following:
Create AIA Billings

Create prices for job labor and equipment

Transfer posted labor costs into Work Order or Job Sales Invoices

Bill as you progress on the project

Go for rapid billing on unit consumption
ProjectPro powered by Microsoft Dynamics 365 Business Central provides the most extensive cloud software construction experience. To boost productivity, security, efficiency, and accessibility, construction software is the answer to improve issues related to cash flow.
To know more, how Progress Billing can improve cash flow and expedite the growth of your construction firm, schedule a demo with our construction experts.
Call us today to help your team achieve higher profits, better productivity, and scalability +1 647 696 4534. Want to learn how cloud-based ProjectPro software is a worthy investment for your construction firm? Schedule a demo.