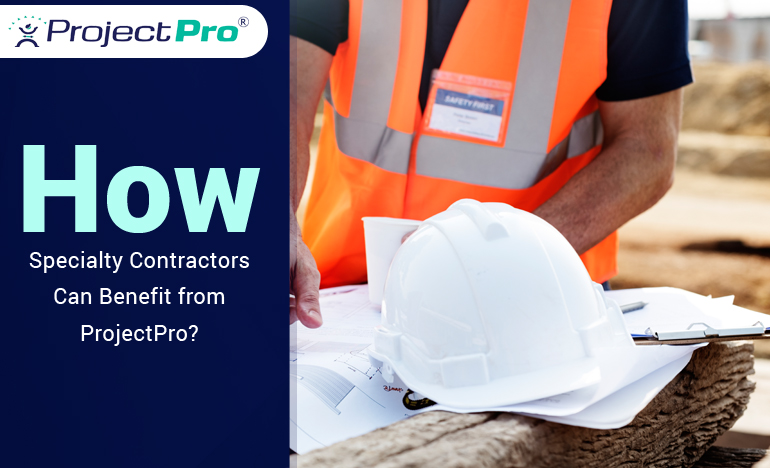 According to McKinsey& Company, specialty contractors face a lower productivity rate that large-scale general contractors: between 12 and 28 percent lower. If you are wondering what is the leading cause? It is the lack of technology solutions that would allow specialty contractors to have complete command over their projects.
When it comes to scheduling, resource planning, or project management, lack of technology makes it cumbersome, time-consuming and inaccurate. This, in turn, makes it a challenge for specialty contractors to stick with the project lifecycle.
Even if the idea of adopting and implementing a software solution may seem intimidating to contractors, it can actually prove to be a profitable decision to invest in an all-in-one cloud-based solution. Here we bring you a quick list of benefits that can be yours when you implement a technology solution that can help streamline tasks related to accounting, ERP, contract billings with retention and project management:
Get everything in one place with Integration features
Using ProjectPro, an all-in-one construction accounting software solution, brings you the best of the platform features from Dynamics 365 Business Central. It allows users to integrate various types of data and processes using a single centralized solution which helps to have complete control over project progress.
Also, it brings the advantage to all the field teams and project managers to have all project information available in one place, being updated in real-time.
Have improved control on time and other resources
Another reason why ProjectPro can be a great choice for specialty contractors is the ease of managing time and project resources. Using construction accounting and project management software can help specialty trade companies to have a detailed overview of the projects while keeping a check on schedules and labor resources.
Integrated software allows project managers to check for all open projects including pending tasks and work completed, which allows specialty contractors to manage their project timeline and ensure timely payments from the project owners.
Data and Document management made simple
Every construction project relies on a vast amount of documents, paperwork, and other forms of information to complete the project goals. Since all this data and documents are necessary for project teams and contractors, using construction accounting and project management software will house all of that information in one place. You can also attach customer or vendor documents to your jobs, orders and invoices, to help with a more paperless process.
Moreover, it gives advantage to the project teams for tracking all project related updates working on existing goals as well as change orders allowing for productivity and time-saving benefits.
Real-time project progress reports
When it comes to project management, it is not easy for contractors to stay informed of all project updates, especially when multiple projects are in progress. However, using construction project management software allows you to be informed of all the expected delays or labor shortages that might happen with the project.
Also, construction software like ProjectPro allows both project owners and contractors to be informed of the real-time project progress which allows more control with tasks, resources and billings.
Resource planning with control over costs
Resource planning with ProjectPro helps to decrease unnecessary expenses by giving you an increase in cost control. From resource availability to labor hour usage on jobs, using construction accounting and project management software can help contractors meeting timelines of current jobs and accurately plan for future projects.
In addition, the real-time status of the material data and labor resources can help control project cost, giving insights for any overtime requirements. This can benefit project managers to prevent the project from running over budget.
Creating opportunities and improving business strategy
Using integrated construction ERP software that enables control over accounting and project management data can help contractors plan for projects more efficiently. Whether it requires project managers to take existing projects forward or for planning the bidding process for upcoming projects, a software solution like ProjectPro can help you automate the entire process preventing any loss of business, revenue, or project profitability.
Concluding it all…
Integrated technology, such as construction software, allows specialty contractors to maximize their time and increase accuracy when managing multiple projects simultaneously. A software solution like ProjectPro allows users to grow business and drive productivity while meeting the defined standards of the entire construction project lifecycle.
All in all, an integrated solution can offer a massive business advantage to the general contractors as well as specialty contractors, achieving all their goals related to bidding, job quoting, resource planning, project development, advanced job labor, contract billings with retention, and more.
If you are a specialty contractor who having trouble managing your business goals and is looking for a construction solution that can help meet your unique requirements, let our experts at ProjectPro be the support you need.
Ask us for a quick free demo or plan a detailed consultation call today!