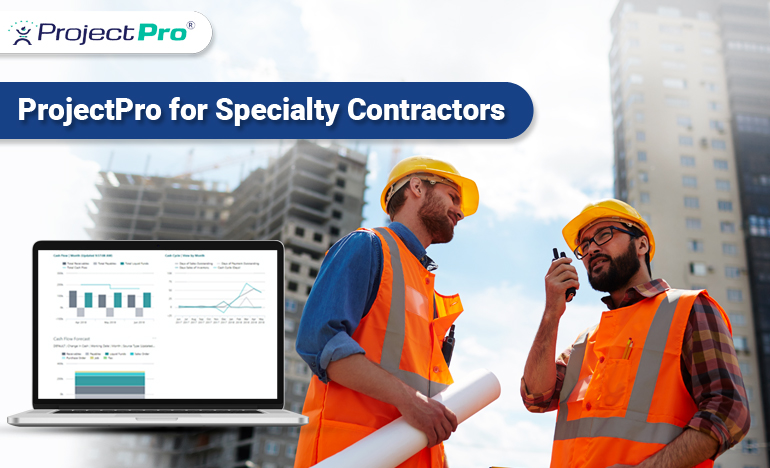 Optimizing Business Performance For Specialty Contractors With ProjectPro
Over the years, the construction industry has gone through dynamic change, with a growing need for infrastructure across the globe. Though the current position of the industry in the global market is potentially strong, lack of communication tools and technology often leads to delays and cost overruns.
However, it is very natural to experience a loss in revenue when the specialty contractors need help to keep up with the project data, mainly because of poor technological assistance. You should always opt for technology, for instance, a construction estimation software that can help you reduce your project costs. The contractors who have found the right construction accounting software and project management tools tend to have more excellent room for collaboration, minimal error, and extended project pipeline.
In simple words, when it comes to success for the specialty contractors, it is only right to expect easily accessible information that compliments operations in the field. Such flows of critical project information drives project achievements and milestones as per the defined budget, estimated profit, and schedules.
At ProjectPro, we aim to define the future of the construction industry with our Dynamics 365 Business Central based software solution. ProjectPro with its payroll reporting capabilities and other ERP, CRM, and Project Management features lets you work on progressive construction.
Team Connectivity
When it comes to the success of specialty construction, the coordination between office staff, field labor, project managers, and clients defines the revenue goals. However, most contractors tend to skip the connectivity features even after spending thousands of dollars on specialty contractor tools and construction estimation software.
On the other hand, ProjectPro is an integrated software for contractors which is developed to streamline workflow and improve project control for construction projects, irrespective of their size and nature.
Based on the Dynamics 365 Business Central platform, ProjectPro is easy to configure and allows better access to accounting, resource, finance, and activity management features. Also, the easy collaboration features and quick report sharing features of ProjectPro adds to decision making, using the advantage of performance tools like Power BI and Office 365.
Improved Project Visibility & Workflows
The next big reason which makes ProjectPro an essential software for specialty contractors is added project efficiency through improved visibility and workflow. The Power BI features allow the users to gain insights related to project progress as well as finances for optimizing overall growth.
Also, with added visibility for clients and site teams, it helps to identify project tasks and activities that need improvement in order to prevent risks and inappropriate estimates, thus driving profit goals. Moreover, the added advantage to track real-time productivity and labor costs can be used to have better control over the budget.
Even if most construction contractors have switched to automated tools and technology, many of them still struggle to have access to payroll data in order to track actual labor costs and overall flow of finances. ProjectPro allows you take complete control over your budget with necessary visibility on activities, adding to the workflow.
Optimizing For Performance Needs
As you plan to expand your business, you have to rapidly gain control over the changing business requirements related to technology. This requires you to migrate or upgrade to a solution that is robust and secure.
Aside from this, the software needs to meet the flexibility requirements related to diverse specialty contractor projects. Built on the upgraded Dynamics 365 Business Central, ProjectPro allows you to adapt your extended integration needs along with essential core features.
ProjectPro also lets specialty contractors to take into account the reliability factor, as it offers an all-round productivity advantage to manage accounting, scheduling, CRM, ERP, and Project Management activities.
The Crux
ProjectPro is a professional construction management software that comes with the ability to leverage project data for real-time productivity insights. It brings the advantage of delivering clear visualizations and reports through simplified data extraction based on timesheets.
All in all, the specialty contractors who need to ensure control over projects for potential business advantage, ProjectPro can bring them intense productivity features to improve workflow. Also, the visibility that it delivers over finances, materials, and labor resources can directly add to profit and ROI.
Looking for an expert construction accounting software solution provider who can help optimize the construction project lifecycle? If so, ProjectPro is the right place to be. Plan a free consultation call or schedule a demo today!