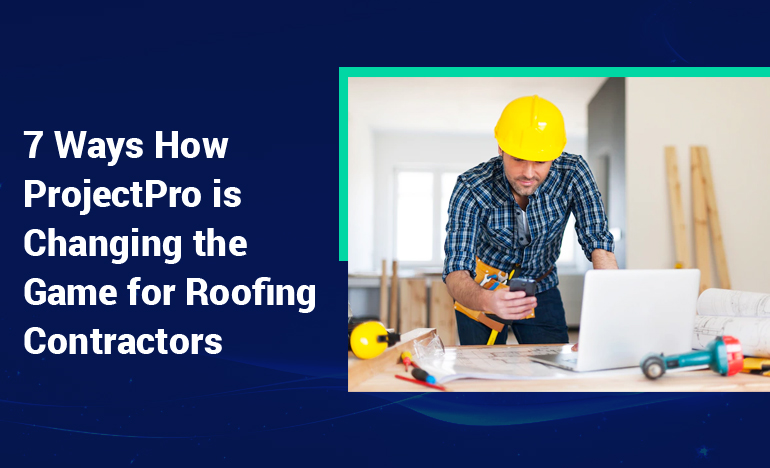 Smartly managing your roofing business demands and establishing robust communication between team members is critical for success. Being a roofing contractor, you need to manage client data, invoices, contact and billing information, production, material orders, etc.
Handling projects while offering numerous services can become a full-time job. So, using innovative roofing software can assist your roofing companies in managing workflow, customer relationships, and necessary documents to take on more projects and finish projects more efficiently.
Roofing software is the industry's latest development that allows contractors to reduce manual data entry and concentrate on delivering the most pleasing experience to their customers.
ProjectPro is a unique roofing software that can change the competition by providing roofing contractors with an efficient system for managing projects. When a company shifts from an outdated system to a cloud-based one, it can automate multiple processes and eliminate the demand for papers. Roofing software can help you improve communications between your team and clients, store vital documents, and track leads and invoices.
It can seem hectic at first to consider shifting to paperless roofing software. This blog will explain how choosing ProjectPro will help your roofing business to improve your company operations.
1. Extensive Growth Opportunities
Growth opportunities usually bring new challenges to assist you in enhancing your services. Earlier, a growth opportunity often needed more marketing that numerous roofing companies might not prioritize. Nevertheless, roofing software offers growth opportunities that award companies with more business and greater profits.
Roofing software can assist your team with excellent project efficiency, boosting customer satisfaction. When consumers experience high-quality customer service throughout their dealings with your business, your prominence as a reliable contractor will increase. ProjectPro also gives you adequate control in managing leads, making it seamless to pursue and gain new clients.
2. Save Time & Money
Seamless business operations help to minimize costs and maximize profits. This is where a powerful roofing software like ProjectPro can help you save time and money, enabling your team to work efficiently.
Your team can easily access ProjectPro to manage various roofing tasks and keep track of their working hours with timesheets. Moreover, you can share on-site information with other team members or store important documents using ProjectPro.
The rich capabilities of roofing software empower companies to accomplish their tasks quickly, enabling them to take on more customers and improve their productivity.
3. Boosts Overall Efficiency & Accuracy
When it comes to tracking time, processing invoices, and organizing paperwork, humans can sometimes make errors. Overestimates in invoices and proposals can be pricey to your business.
You may feel frustrated over wasted time manually feeding the same repetitive information into your software. ProjectPro automates multiple calculations and conducts accurate reports for operations that involve less human blunders.
With ProjectPro roofing software, you can effectively get rid of manual data entry. Imagine never losing paperwork or misfiling documents again.
ProjectPro terminates these barriers and automates your filing and processing tasks. You get the ability to make accurate reports and quickly gather data from dedicated customer and project data, all from your mobile device.
4. Embrace Consistency & Add Convenience
In case your on-site team needs to review project specifications or work history. They can readily discover that information on their mobile device with cloud-based software. Your team can easily update and eternally store crucial project information as the job advances, ensuring that data is always valid.
This protects them from needing to make regular calls to the home office and keeps everyone updated on the progress across the company.
Moreover, roofing software makes creating invoices and proposals seamless. Use ProjectPro for generating invoices by using ready-made templates.
5. Get Easy Access to Information
You and your team must be on the same page. And therefore, every member of your team must have access to all the project information, whether you need to give access to permanently saved files and sizes for each project.
Whether your on-site team needs to access a sales representative, project photos, or business owners want to take a look into financial reports, ProjectPro roofing software puts vital information within your reach at all times.
This roofing software stores invoices, warranties, work orders, contracts, and more like a pro. You can dig and find the data you need with comfort using ProjectPro's powerful search tool.
6. Enhance Customer Relationships
With innovative roofing software, you can easily streamline operations, and your customers will notice that your process has become more efficient. Clients can automatically experience the change when a company boosts its productivity and finishes jobs promptly. Enhanced productivity trickles external benefits to customers and on-site teams alike.
Roofing software also enhances client satisfaction by providing clients a portal to access project data whenever they want to. Keeping your clients updated on their projects and utilizing a central platform for order proposals and invoicing makes it more comfortable for clients to stay in the know. This helps impress customers and display your best service.
7. Enhanced Collaboration
Improving communication between all members of your crew brings several benefits. You can ensure that the correct person accesses necessary information and correctly records deficits and the entire staff is acquainted with proposal and invoice statuses.
ProjectPro is a centralized system for all communication within a roofing company. All the information is documented for easy access later, and the message board permits staff to ask questions from anywhere, anytime.
With ProjectPro, you will get real-time updates on a project's existing status, who is working on it, and much more.
Choose ProjectPro for your Next Roofing Project
With ProjectPro, you can shield your staff with the most influential project management software in the roofing industry. Trained on-site teams and representatives with smart solutions and start to finish tracking to manage projects more efficiently. To learn more about ProjectPro, you can schedule a demo today.