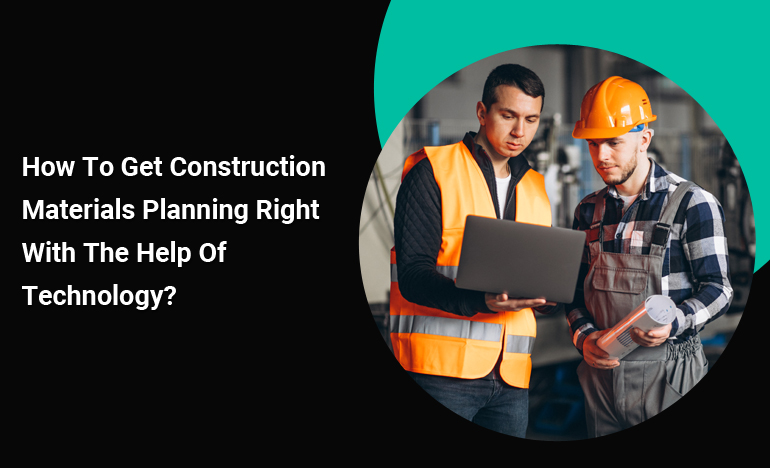 To manage construction materials with technology, many construction companies are increasingly keen on digital uptake. Besides, being cost-efficient and having a productive site is very essential for efficient material management.
According to studies and research, construction equipment and materials constitute more than 70% of the total cost of a construction project. To improve productivity and cost-efficiency, you need to realize this single largest component needs to be managed properly to ensure timely completion.
For a construction manager, the goal is simple construction material should be available when needed. Thus, a persistent problem of managing vast inventories also crops up. But with technology, construction companies can look into construction materials management and continually reinvent their business.
In project management, materials management is an important factor as materials constitute a major expense in construction firms. Thus, minimizing project costs will help in reducing the overall project costs. To do this, one can take the help of construction-specific software and make materials planning more efficient.
What is construction material planning?
Managing construction materials is a process of planning, exercising control, coordinating between the field and office, and ensuring construction material is available when needed.
It is all about having the necessary planning and infrastructure in place to achieve the timely flow of construction material when incorporated into the project plan.
With the aid of technology, this process can become even more simple. The benefits are increased labor productivity, lower project costs, better schedules, and improved planning.
Overall, it can be defined as a process that assesses the requirement, coordinates planning, sourcing, etc. It is about analyzing the need for purchasing, storing, arranging transportation facilities and minimize wastage of construction material as it can result in significant savings.
What are the components of material planning?
Procurement, purchasing, and scheduling

Handling of material and transportation facilities

Management of waste

Inspection

Planning, budgeting, and estimation

Warehousing, storage, and inventory control
How construction software can help with materials planning?
A lot more construction firms are now relying on technology to take care of inventory planning and other operations. With the help of project management functions, one can make an effective plan and implement it as construction management software provides meaningful insights.
From enhancing the project to lessening costly delays, construction-specific software ensures good communication. In fact, the field team is better prepared to reach their maximum potential and avoid dangerous expensive mistakes. This is where the role of construction software comes into the picture and it can simplify many complicated processes for you.
Tips to get construction materials planning right by automating tasks
A construction manager should choose an all-in-one construction software that takes care of enterprise resource planning, project management needs, and accounting functions. In this competitive landscape, it is important to hold on to and build a regular set of clientele.
By relying on tech and automation of tasks saves a contractor sufficient time to maximize profits and make sense of data. Today most construction firms aim for higher uptime and this is how digitizing can help them solve the existing problem and make the construction materials planning process right:
Ability to track materials and resources necessary for jobs
By taking the aid of technology to regularly monitor inventory you can avoid costly mistakes. This can help you exercise preventive maintenance checks on your equipment.
Automation reduces the need for doing manual tasks and saves precious time. No need to spend hours on spreadsheets as one can turn to a robust solution and assess the ground situation.
Take care of Resouces, Items and G/L Accounts
The most important element of construction material planning is reducing the complexity and tracking project progress. The software will automatically suggest which items need to be purchased and will create a purchase order as well.
Why choose construction materials management software?
In these times, more and more companies are relying on software built for construction for many versatile and complex projects. Along with tracking project progress needs, you can also control any lags and monitor crew performance.
Adopting a technology solution based on the needs of your construction business results in added productivity and establishes economies of scale. Not only will it improve the visibility of your daily transactions but it also can help you in providing meaningful insights and assess what specific items are needed.
Prompt supervision can prevent profit leaks. Besides, it helps you save precious time and meet deadlines as it takes care of inventory planning and carries out financial risk analysis. Once the project has broken ground, you can collaborate, share progress and even handle payroll processing operations.
As a primary collaboration tool, software designed for contractors can look into which items have been received, stages of delivery, and purchase order of the job. Also, whether it has been delivered to the job site and recorded out of the inventory stock.
It's time to partner with technology
As discussed, construction material management is an important step and if done right can result in crucial savings. By adopting technological solutions one can raise productivity levels and can successfully deploy software to scale the construction business.
A lack of a software system can cause a delay in project work, shrinkage, and obsolescence by creating blind spots that can hamper your progress.
By investing in a cloud-based system like ProjectPro endorsed by Microsoft Dynamics 365 Business Central you can source materials at a reasonable cost and assess day-to-day operation needs.
Stay ahead of project schedule and meet crucial timelines by getting it right the first time as software with inbuilt artificial intelligence (AI) can work wonders for a builder. Materials management is a vital aspect of a construction business and can result in significant financial savings.
Get ready for a proper field management experience coupled with scheduling tasks and crucial controls on the initiation of requirements. All in all an integrated material management process can streamline your real-estate business and fetch you returns like never before.