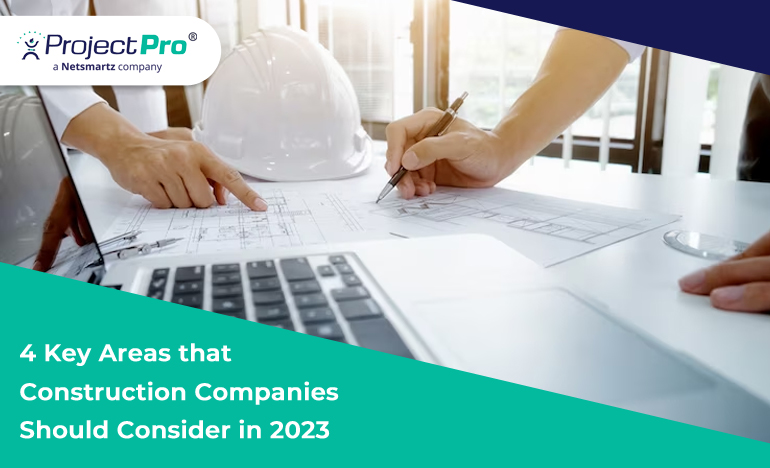 Tyler Williams from Construction Brothers said, "Construction revenues come from what we put in place to achieve our project goals."
2023 will be a year of digitalization for the construction sector. We know that supply chains, sustainable strategies, and demand have undergone a revolution. However, this year will transform the way you do business.
According to a survey by Deloitte, the construction industry witnessed a growth of 8% in total spending. In 2022, the value added reached $1 trillion, and the total gross output stood at $2 trillion. However, 2023 will deliver differentiated growth rates to construction companies.
Be it marketing, growth strategy, planning, technology, or innovation; everything plays an integral role in staying consistent in the market. And as a construction contractor, it is crucial to plan your prime focus areas to avoid inefficiency.
To help guide you in the same regard, we have outlined four key areas where construction companies should focus in 2023:
1. Branding
Your skills will not always speak for themselves. That's why strong branding is critical for your construction business. Your construction brand is a promise made to prospective leads before you begin the work.
Moreover, the construction market is flooded with skills, so to stand apart, building your own brand is crucial.
Hence, construction business owners need to focus on "why" to differentiate their business from others in the market. It is important that you have a good brand logo. It is the initial visual representation of your company resonating with your work.
A professional designer can help you make a logo that understands your business goals and showcase the same.
2. Social Media Presence
Having a social presence is utmost crucial for construction companies. Your work doesn't end with creating a website, social media presence is crucial.
Have a team of social media experts who can take care of all your social accounts, such as Facebook, Twitter, Instagram, and LinkedIn.
This can help you engage your target audience and drive leads online. You can also run paid ads on Facebook or LinkedIn to attract the right audience. And within a few weeks, you'll be able to see organic traffic and better clients.
3. Financial Management
A construction project involves a huge amount of money, and contractors often slip out here. Therefore, strict planning, budgeting, and tracking finances are crucial for project success.
With thorough monitoring of finances, you can maximize profits, avoid losses, and other financial issues. To ease your workload, invest in an all-in-one construction project management software like ProjectPro.
ProjectPro helps businesses streamline their processes with better insights into the overall project costs, resource requirements and allocation, which offers precise and timely information. ProjectPro offers a smarter and better way to thrive in productivity for your construction business.
4. Customer Service
Construction businesses often deal with customers directly for any kind of issue. If your client comes to you with the design of buildings or contract amendments, you need to be proactive with client demands.
It is better to hire a team who will deal with client requirements so that you are focused on what you do best. Moreover, you can also use a CRM system to ensure that whatever needs to be done is done efficiently.
Always keep in mind, a satisfied client will come back to you and market your business without even pushing them to do so.
Bottom Line
We know that the construction industry is complex to navigate, and it is difficult to put a spotlight on the various challenges imposed. Moreover, construction contractors often get confused about where they should put their efforts and energy.
We hope that now you know the prime focus areas in 2023 to thrive in the highly competitive market. The future of the construction industry will surely be prosperous and profitable.
If you're looking for reliable construction accounting software that can automate processes and take your business to the next level, ProjectPro is all that you need. Schedule a demo now.