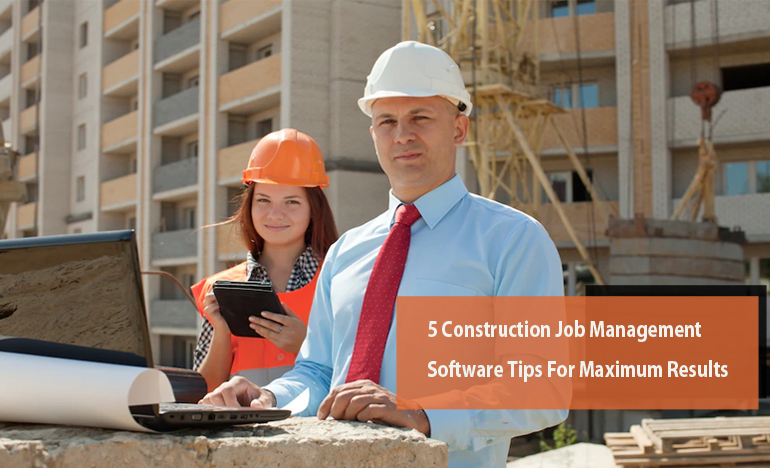 The construction sites are dynamic. From managing teams to consulting clients on various logistics, each job relies on numerous moving parts for successful completion. This is where using a robust construction job management software can help you thrive in the market. ProjectPro is a dedicated construction software powered by Microsoft Dynamics Business Central. It offers an amazing job module for construction professionals to manage their day-to-day activities efficiently.
Some of the prominent features include creating jobs for time and material or fixed price types, structuring various costs/revenues, user-friendly interface to manage budgeted costs/revenues and actual cost/revenues and more. To achieve maximum results from this platform, we'll be sharing effective tips below:
1. Understand the details of your construction project
Gather all the data you need about a job assigned, including all kinds of requirements and your team, while you are still in the planning phases of the construction project.
The more facts you have, the better you can handle the project and equip yourself for unexpected situations. You can get this data from your software and your own research.
Begin by defining defining milestones you can use to estimate progress, such as accomplishing tasks by a precise date or within a specific budget. Ensure your team understands the construction and safety codes that control the project and how to use the materials and equipment necessary to complete it.
2. Establish a solid communication
Communication is vital to ensure that you complete each project stage quickly. Make sure you communicate regularly with your entire team involved in the project, including stakeholders, subcontractors, clients, suppliers, and staff. With Microsoft Dynamics Business Central, you can easily schedule meetings to keep your construction team aware of any critical changes.
You can easily access all the information required during meetings and maintain transparency throughout the processes. You can work collaboratively to streamline workflow and deliver excellent solutions.
3. Save time & money
Most construction companies waste a lot of time and massive amounts of money streamlining their material planning, task assignments, and more. However, with ProjectPro, using the power of Microsoft Dynamics Business Central, you can automate your material planning. This will help you stay ahead of any unforeseen situations on your site.
Moreover, it is one of the most affordable solutions that will help you work within the budget.
4. Cost estimations
For accurately estimating costs, contractors seek a unique platform that can automate time-consuming tasks for estimations. ProjectPro is all that you need. It is a one-stop-solution for your construction accounting needs. Built on Dynamics 365 Business Central, ProjectPro brings you accurate cost estimations from the subcontractors and makes the process seamless.
5. Keep track of every task
A construction project management tool is a steady stream of information. Between planning, communicating, budgeting, adjusting, and managing, construction managers are at the mercy of the project's storm.
Moreover, everything in the construction industry is contractual, and contracts are aligned with financial obligations. If the project information is not tracked appropriately and documented, your business will be exposed and at risk for numerous problems, such as conflicts and delays.
Tracking also allows you to witness the project's progress and specify scope creep. You can then make a schedule or budget changes as needed. Always be sure to escape that useless paper trail and keep records organized. All decisions, plans, communications, transactions, etc., should be documented and kept in a secure—ideally digital— location like ProjectPro.
Invest in a Smart Platform like ProjectPro
When looking for new construction technology, choose management software that helps with the above-mentioned tips. If you operate construction projects, consider ProjectPro.
ProjectPro can help you with the following benefits:
Schedules and dispatch trucks

Enhances communication between the field and the office

Automatically collects job data

Get detailed job reports
Our cloud-based platform enables you to establish solid relationships with project stakeholders because it can be accessed by everyone involved. This offers complete clarity and visibility and an accurate, reliable, and centralized source of truth.
Experience the efficiency of accounting, project management, and engineering all working in the same system. With our integrated software for commercial contractors, you can easily streamline your labor management needs, bringing complete visibility to the job process.
To explore the unique capabilities of the platform, schedule a demo now.