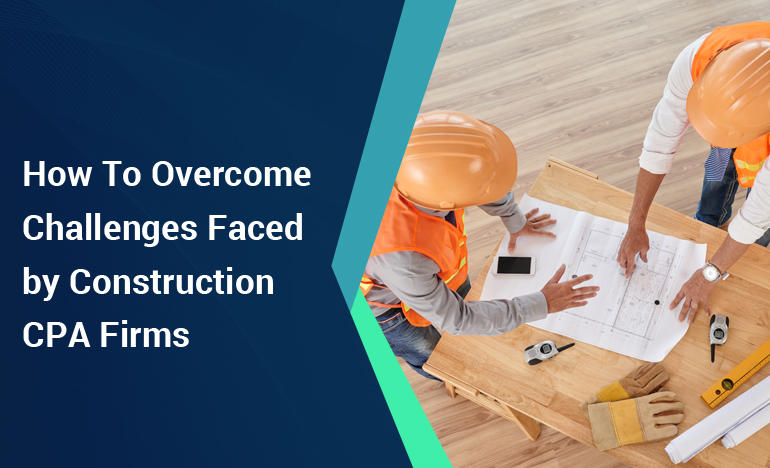 In the past few years, construction CPAs have encountered innumerable challenges. Be it new tax laws or the changing needs of construction professionals, all these factors have affected the accounting processes dramatically.
Advancements in technology are demanding that accountants and CPAs should expand their core competency and transactional service offerings to provide more tailored consulting services to construction business owners.
With several risks and disruptions around the accounting process, drive your focus from the future success. Nevertheless, CPAs must continue preparing for what is ahead to minimize risks and gain an edge over their competitors.
In this blog, let's take a look at the common construction challenges & ways to avoid them:
Challenge #1. Ensuring a Seamless Workflow
To achieve efficiency you need to go through various processes involved such as measuring, monitoring and managing the team. In the present scenario, the CPA firms are automating their workflow with cloud-based software to improve their efficiency.
But investing in any software can cost you bucks and not every CPA firm can afford it. Hence, ensuring an effective workflow in your accounting firm you have to struggle a lot. Many of the firms are still stuck with outdated methods to manage their workflow which is very slow.
Challenge #2. Data Security Concerns
Data security is a major concern in every business industry and accounting is not an exception in this regard. It is getting tougher for CPA firms to protect their data from hackers. Because unfortunately, they are always on the radar of cybercriminals.
This is why CPA firms are now using cloud services to store their confidential data, security of the same has imposed a lot of challenges. As a CPA, if you're not taking productive security measures, your business reputation will be at stake. Using VPN service, antivirus software, etc., can safeguard your business to an extent.
Challenge #3. Delivering Customized Solutions
In the past, accounting firms were considered as the service provider organizations only as per contractors, but now, construction professionals are looking for value-added services from them.
Contracts want their CPAs to perform multiple roles for them such as payroll processing services, tax preparation services, inventory management services, valuable financial advice, and customer support services. Construction business owners want their accounting firms to offer a comprehensive solution so that they won't have to look for any other service providers.
This is becoming a major challenge for accounting firms to perform multiple roles for construction clients.
Challenge #4. Surviving in the Highly Competitive Market
From an economic point of view, the accounting industry is growing dynamically. However, with the emergence of new CPA firms in the market, the competition is also increasing at a faster pace, making it harder for accounting companies to survive in highly competitive markets.
Whether you're a well-established CPA firm or a startup, surviving in the aggressive market situation has become difficult. It is becoming quite a challenging situation for both to adjust instantly to changing rules and regulations.
Challenge #5. Stand Apart from the Market
There are several CPA firms out there in the market and each company is different from each other. Undoubtedly, every company has put in their years of hard work in making their business extraordinary and offering a unique experience.
But, enabling your business to stand apart is not a cakewalk. This is why several new accounting firms find it challenging to shine out in the market of well-established firms and discover their own identity.
Challenge #6. Improving Good Employees' Retention
The biggest asset of any business is good and loyal employees and CPA firms are not an exception in this regard. You need to be focused on talented and skilled employees and offer them a good environment.
However, hiring new employees and retaining them for a longer period is the biggest challenge for every CPA company that is hard to conquer in this competitive market. So, it is a daunting task for CPA firms to retain their reliable, highly experienced and loyal staff members.
Challenge #7. Providing Cost-Effective Solutions
Offering cost-effective or budget-friendly solutions is another difficulty that has been hampering the growth of CPA businesses. With the emergence of new and profitable technologies, it is challenging to stay cost-effective for CPA firms.
Also, the increasing wave of competition is pushing businesses to adopt new technologies to stay competitive. Apart from this, firms have to invest in office space, setting up infrastructure, digital marketing, hiring new staff, and above that, they have to manage daily expenses to run the business. So, managing all these expenses it is difficult for firms to make themselves cost-effective.
Just One Solution for All your Problems
In the end, keeping all the above-discussed CPA firms' challenges in mind, we can conclude that all the issues can be solved with one solution—ProjectPro. Yes, by using ProjectPro, CPA firms can reduce the workload of their staff, especially during tax season. They can quickly manage expenses of construction professionals, meeting their expectations can be simplified, they can use advanced technologies and more importantly they can make their business cost-effective. All problems can be resolved with just one solution.
So, if you are looking for an all-in-one accounting, trust ProjectPro. That's because ProjectPro is powered by Microsoft Dynamics Business Central that ensures you're always ready to serve your clients by going the extra mile. If you wish to take a guided tour, schedule a demo now.