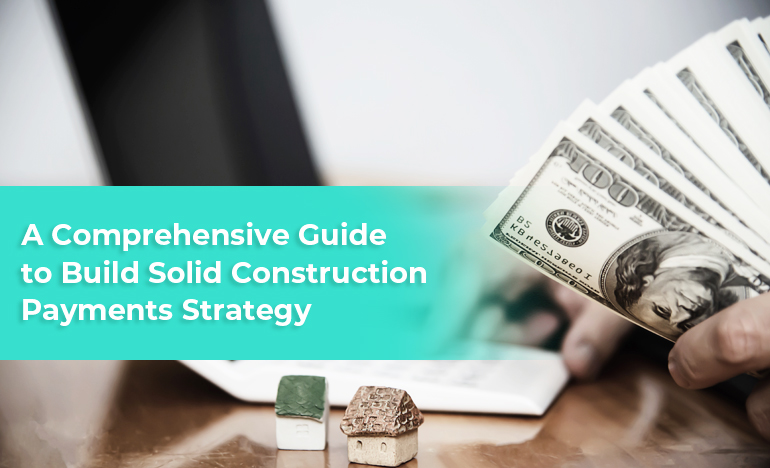 Today, construction companies are focusing on developing a robust payment strategy. To eliminate risk to payment, using the right tools combined with the right plan can deliver excellent solutions to contractors.
However, you cannot expect construction companies to adapt to the new technologies quickly. It will take time.
On the contrary, construction companies who have already embraced new technologies are driving cash flow, re-inventing a fantastic customer journey in the pandemic, and offering the best online payment experience for contractors.
Payments are a crucial lever of business success, so investing time to get them right has become more important than ever.
Assisting key industry players in defining their payment strategies, we have identified a few pointers that construction businesses should consider when creating their payment strategy:
1. Develop a customer contract agreement
A documented construction contract is critical for any project. Before starting a client project, make sure to discuss the plan, deadlines, and supplies. Additionally, make sure to discuss finances so you can stay on track.
Always be ready with cost estimates, and make sure you set a payment timeline, right in the beginning. Then, start by laying out your payment draw schedules and having each party sign off on the agenda.
There are various types of construction contracts. No matter which one you choose, you should always be precise about the standard price schedule.
By putting an exact construction payment schedule on paper, you also limit the chances you take as a builder. If your client doesn't pay, you have a payment agreement letter to indicate if you prefer to take legal action.
2. Make construction payments seamless
We all know that construction projects are challenging. Even after thoroughly reviewing the contract step-by-step with your client, there's likely to be chaos along the way.
The fact remains that some people are better at handling the details of construction projects than others. Unfortunately, it's too straightforward for clients to get off route with scheduled payments.
Change orders, however, can come as a surprise to clients who are new to the industry. And supply chain problems or evolving contingency costs can catch even the most skilled clients off guard.
Contractors can help guarantee timely payments by streamlining the billing process. A recent research survey showed that 83% of people want to be able to pay their bills efficiently online. You have to offer online payment options to your clients at this rate. Instead of solely accepting cash or check payments, expand to include ACH and credit card payments.
There's more than one advantage to this approach. Besides ease of use, online payment processing can reduce the time it takes to accept the payment. This is where ProjectPro can help you.
3. Hold yourself responsible
The best thing is to be equally liable for your contracts as your clients. That means dwelling on top of your invoicing no matter how engaged you are. The best way to do this is to absolutely understand how and when you plan to invoice. Then, use a system to manage it.
ProjectPro helps its clients by setting invoices by line item. This accounts for every material and overhead cost and bills for them in an accurate invoice as you complete construction.
Invoicing by this process helps improve your cash flow, as you can repay your expenses more quickly than staying until full project completion.
ProjectPro can help you schedule payments and move on with your lives. A flat fee invoice achieves this by drafting the amount due as a lump sum, usually in more prolonged intervals throughout the timeline.
A hybrid invoicing procedure is a mix of both and often includes the main itemized buckets of direct and indirect costs. A precise understanding of how and when you'll invoice your customers from the beginning helps keep things on track.
Bottom Line
Improving your payment strategy may seem like a lot for construction professionals. It's easier than you might think if you put tools that can manage client and contractor payments in place.
ProjectPro can help ensure your payment strategy drives success. Its cloud-based solution helps construction companies thrive in an agile market. All you need to do is schedule a demo and see ProjectPro in action.