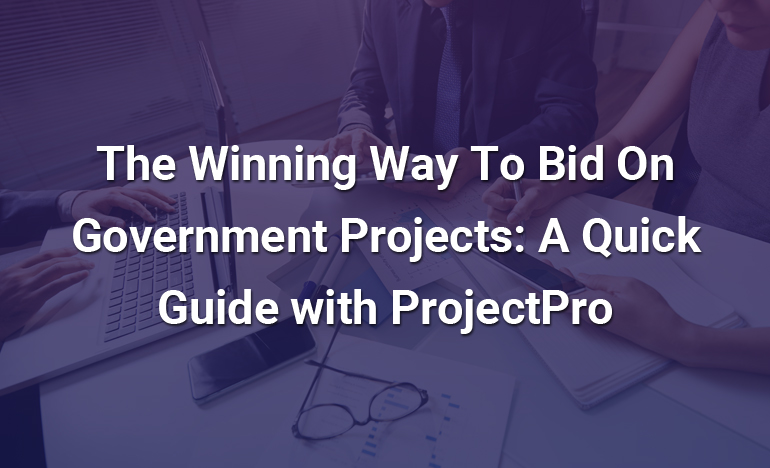 Governmental projects make up a large portion of the bid requests companies receive. Choosing to bid on these projects can be time consuming for your estimating department, however, winning governmental projects can give your company a generous boost in credibility and profits.
How does the bid process work?
Governmental agencies do not reach out to individual companies for proposals, like you may find with traditional bid requests. Instead, agencies will post a request for proposals (RFP)on their website for public access.
The RFP will contain project specifications, bid requirements and any special conditions that may be related to the project. There may also be requirements that your company must meet to qualify for bidding. Attention to detail when reviewing RFP documents is essential to successfully bidding on governmental projects. The smallest detail being overlooked could disqualify your company, and result in hours of unproductive time for your estimating department. Also, it is important to note, the lowest bid does not guarantee that you will be awarded the project. There are many other factors that are considered.
Business Resume
In highly competitive industries like construction, setting yourself apart from other companies can go a long way. Establishing a competitive advantage and solid reputation is key to not only winning business in the private sector, but in the governmental sector as well. Building a strong corporate resume is extremely important when submitting these types of bids.
As mentioned above, submitting the lowest bid is not the best strategy when bidding on governmental projects. Many times, when bids are being reviewed, the lowest bids are eliminated right away. Quality over quantity is a good motto for these types of projects. Your bid may be slightly higher than another, but your willingness and ability to award subcontracts to Minority and Women Business Entities (MWBE) might be a deciding factor. Many governmental contracts will require use of MWBE businesses, and some will go as far as to require a minimum percentage of awarded work being designated for such businesses.
Company reputation is another factor in bid reviews. Do you stand behind your work? What would your past clients say about the company? Have you established a solid book of business that will ensure the companies viability throughout the project? These are just some of the areas that bid reviewers will consider. Developing a business resume that emphasizes your strengths and provides evidence of having a solid reputation are much more valuable than submitting the lowest price.
Technology is your friend!
Of course, having a competitive price is also extremely important. Setting your estimating department up with the appropriate software streamlines the process from start to finish.
Cloud-based solutions store your data in a central location, accessible from anywhere your employees may be. Legacy systems that are generally set up on-premises can be costly to maintain and cause significant delays if there are any interruptions to the connection. Instead of wasting time collecting data from previous bids that may be saved in spreadsheets or having to access different databases to piece together old bid information, operating in a cloud-based solution makes it easy to review prior bids and projects as a reference point for your current bids.
The Entry Point
Jumping into the world of governmental projects may seem intimidating at first. As a smaller, or newly established company, you many think you are unable to compete with larger competitors who have more experience and more capital to work with. However, Quite the opposite is true. Government contracts have many provisions and requirements that target such companies. Some RFPs may be written to target minority businesses who may find it difficult to compete with larger, more established companies.
If your company is interested in pursuing governmental contracts, reaching out to your local governmental agency is the best place to start. Learning about incentives and programs that your local agencies offer to help companies segue into the governmental sector may open the door to opportunities not available to the public. Taking advantage of any and all resources available will help gain experience, build your reputation and lead to larger, more substantial projects down the road.
Let's get visual!
In addition to providing solid bid numbers, incorporating charts and graphs that lay out your proposal is also a good strategy. Visual data will not only display your companies advanced technical abilities but helps in understanding specific areas of your bid. For example, if you're bidding on a project that will be replacing streetlights, supplementing your bid with visual aids that show monetary savings for the municipality or decrease in energy consumption may help the person reviewing your bid better understand the positive impact that your company's proposal has.
Need help streamlining your governmental bidding practices? ProjectPro construction solution offer advanced estimating and project management capabilities. With over 20 years of experience in the construction industry, we can help you streamline your processes and set you up for bidding success.