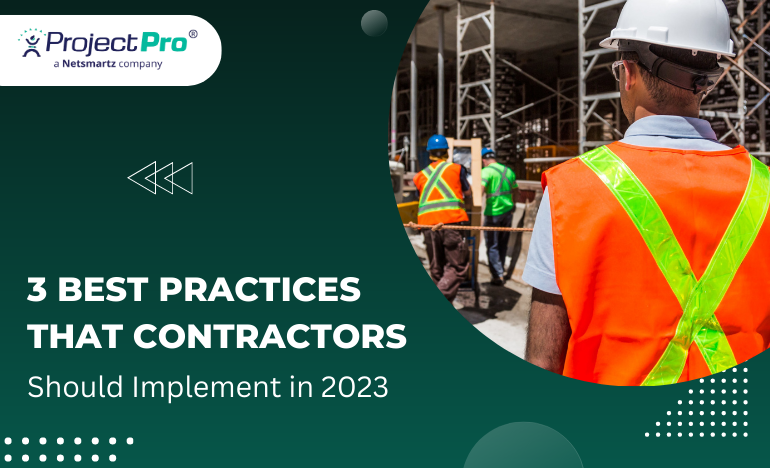 The construction industry is poised to witness the resumption of massive construction projects. This year is bound to be a roller coaster ride for contractors.
The sector is facing challenges such as increasing interest rates, accounting and taxes, volatility, high inflation, and the ongoing conflict between Russia and Ukraine, which is putting pressure on the industry worldwide.
We are anticipating tough times ahead, but 2023 could also be a prosperous year for construction companies and contractors. Contractors will prioritize sustainability, work more efficiently, and leverage the latest technologies to achieve more with fewer resources.
According to McKinsey & Company, 20 percent of construction technology companies now offer solution suites that address more than five operational use cases, compared with just 13 percent in the last decade.
1. Develop Strategies to Survive the Inflation and Supply Chain Issue
Increasing inflation and supply chain problems are imposing significant challenges to the industry in 2023. Last year's growing inflation rates have spiked iron, steel, lumber, and other vital materials costs.
However, few material costs have begun to settle down, but construction project budget apprehensions are still under headwinds in 2023.
Furthermore, shipping blockages and order lead times are expected to alleviate this year slightly, but unforeseen delays can lead to higher final costs and extended timelines.
Adapting crucial business practices may help construction contractors place themselves for success in 2023. For instance:
Revamp bidding strategies: Inflation and supply chain delays impact project schedule and final cost, deteriorating productivity performance and costs.

Modify contract terms: Many construction contractors negotiate contract changes with customers, partners, and project stakeholders.

Improve supply chain norms: Contractors can mitigate the risk of delays by functioning with multiple material suppliers under contingency or crisis agreements to ensure timely delivery.
2. Outreach to Overcome Labor Shortage
The constant labor shortage is nothing new. According to a study, 590,000 new skilled workers must fill construction jobs in 2023. Below are some suggestions to help your construction firm effectively fill positions.
It is crucial to diversify the workforce. According to a McKinsey study, companies are 35% more likely to have financial profits by diversifying their workforce.
In addition, diverse workforces have higher retention, innovation, and productivity levels, offering short- and long-term benefits. Thus, construction contractors should consider extending their Outreach to underrepresented groups in the industry. Those groups include:
Women

Minorities

Military Veterans
3. Prefabrication and Modular Construction: The Game-Changers
Modular construction involves constructing a significant portion, usually between 60-90%, of a building or structure offsite and bringing the components to the construction site for assembly.
Meanwhile, prefabrication entails building specific components at an offsite facility and preparing them for assembly or installation on-site. In 2020, the global modular construction market reached $82.3 billion, projected to grow to $108.8 billion by 2025.
While this represents a relatively small fraction of the entire construction industry, modular and prefabrication construction is rapidly gaining popularity as companies identify the opportunities presented by these specialty practices.
McKinsey reported a 51% increase in new permanent modular construction projects between 2015 and 2018, and the modular construction industry's total revenue doubled over the same period.
Other Construction Industry Trends
Several trends are currently shaping the construction industry. One of the most impressive ones is the growth of the 3D printing construction market, which is expected to have a CAGR of 100% until 2030.
This type of 3D printing can utilize different materials, such as concrete, geopolymers, fiber, sand, and others. Additionally, the use of cloud-computing construction accounting software to automate processes and enhance productivity.
It is anticipated that the market for construction robots will reach $359 million by 2031. A survey conducted by ABB last year found that over half of construction companies are using robots, and 81% of them plan to incorporate robots within the next ten years.
Another trend is the focus on green buildings, which involves constructing environmentally sustainable buildings that comply with government and regulatory requirements.
According to Dodge's World Green Building Report, almost half of all construction and design respondents expect most of their projects to be green by the end of the current year.
Conclusion
In the coming years, construction companies will have promising prospects to enhance their building capabilities with greater efficiency, effectiveness, and profitability.
The underlying concepts that bind these trends together are centered around adopting technology and creating client-focused services. What's noteworthy is that these themes will not only bring about cost savings but also expedite the adoption rate.