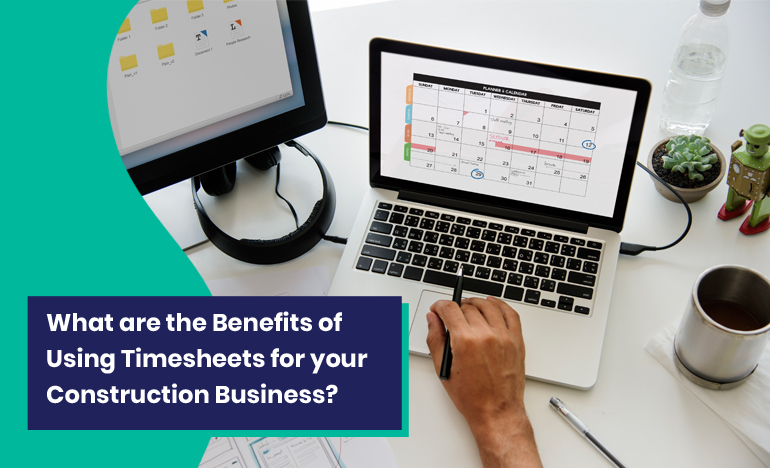 With the advent of new technologies, time tracking in the construction industry has become a cakewalk. Earlier, it was all about calculating hours for distributing wages among employees. However, things are different now.
Adopters of time tracking platforms like ProjectPro offer valuable insight into job progress and staff productivity and provide accurate costs in the current scenario. The timesheet capability of ProjectPro, enables it to stay ahead of competitors and deliver excellence.
What is a Timesheet?
"A timesheet is a data table that a construction business owner can use to track the time a particular employee has worked during a specific period." Several project managers and owners use timesheets to record time spent on jobs, projects, or clients.
Benefits of Timesheets
1. Boosts productivity
ProjectPro allows real-time monitoring and tracking of employees using this innovative platform, making the employees more intelligent and productive as it constantly tracks their working hours. It also helps to improve the workability of employees, which also enhances the work environment. Therefore, it has a flattering effect on the company.
2. Simplified Payroll
With daily timesheet maintenance, payroll processing has become streamlined. It helps employees' to track working hours daily without any hassle. ProjectPro enables employees to generate detailed working hours reports and allows the HR department to manage wages. It also reduces the error in the process if there's any problem.
3. Reduces Overtime Cost
A construction business owner can predict the project's needs using daily timesheets. It entitles them to save wages through enhanced productivity and reduced overtime costs. You can also maintain the budget for the project and reduce overall costs.
4. Improved Accuracy
These daily timesheets by ProjectPro offer accurate data with the power of Microsoft Dynamics Business Central. It ensures that no employee falsely claims that they have invested extra time even when they haven't in reality.
Hence, it saves the confidence of hard-working employees and boosts project working efficiency. Thus, there will be fewer possibilities for these situations if you use ProjectPro.
5. Get Estimate of Resource Requirement
When you have well-maintained daily timesheets, forecasting resource requirements becomes easy. Construction contractors can analyze the pattern of resources used in earlier projects and present them beforehand.
Daily timesheets give you the current picture of the ongoing project and hence allow the owner to check resource requirements for the non-disruptive functioning of the tasks.
6. Detect Improvement Areas
Timesheet maintenance improves work quality and boosts business productivity. It ensures business owners have a clear understanding of the daily activities of their employees. It quickly determines the improvement areas by doing tasks by evaluating the employees' skills, delivers an overview of team tasks and efforts, and eventually takes the essential steps to make progress.
7. Stay Focused
Daily timesheets help your employees focus on their job, reducing further distractions. This process is accomplished by calculating the employees' working hours through ProjectPro.
So now, the employees are being monitored daily and smartly. This is how employees are encouraged to complete their assigned tasks on time.
8. Track Billable Hours
Timesheet maintenance tracks project hours and makes billable hours easy for you. This is a significant benefit offered by ProjectPro tracking software, which is mainly loved by construction companies who manage labor and office staff assigned tasks on and off.
This ultimately ensures that you do not pay extra to your employees and clients. Also, you can leverage the benefits of progress billing to generate bills for your clients smartly. Hence, it gives satisfaction to both parties involved in the construction project.
9. Enhance Time Management Skills
With ProjectPro, you can maintain your timesheets efficiently and get a complete overview of the employees' working hours and the managers'. It also helps in enhancing your time management skills. As a contractor, staying aware of the number of hours spent on a specific task and thus managing your time accordingly is easier.
Also, you will see an increase in work efficiency. So it is an ideal solution to operating methodologies that check for its flaws and resolve them.
10. Efficiently Track Projects
With timesheet maintenance, construction professionals can keep track of all the project hours of all the teams. While tracking, it provides a total number of hours spent on a task and permits business owners to ask for any delaying elements in the system and do the needful.
So, taking practical steps against hindering factors improves the team's efficiency and enables you to deliver projects on time.
Conclusion
If you're willing to implement timesheets in your business, always remember to be straightforward and transparent with your employees and make it something they will want to use – only then will you see all of the advantages they offer.