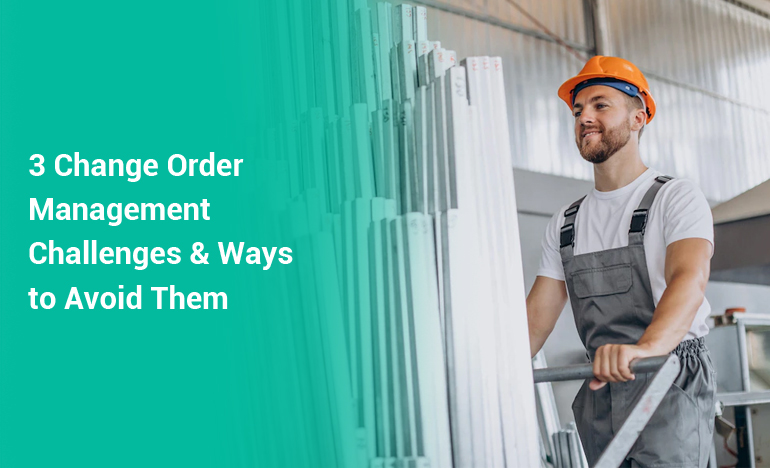 If you work under fixed-price contracts and take verbal change orders, the chances of getting into major legal disputes can increase. This could result in huge losses for both parties. So, when you do not have the change order in writing, it becomes hard to confirm that the change is not a fault and even more challenging to get paid for the work. A construction business owner who doesn't receive a request for a change order may be increasing the project costs.
Let's dive into this blog to explore the 3 major change order management challenges encountered by construction professionals:
1. Follow the Rule
Typically, construction contracts can be modified before the project is accomplished. According to a recent industry survey, the standard commercial project involves 56 change orders.
Most construction agreements require that all modifications or licenses for extras be put in writing, generally before the work is performed. In reality, the pace of work out in the field is usually so quick that, in the interest of finishing the project, change orders are consented to verbally, with the knowledge that someone will put them in writing when time allows.
There could be several reasons for conflict, may be unforeseen problems, progress on the plans, or planning hassles— can send a project in a new direction. In addition, techniques and specifications are complex, leaving the details to the subcontractor. It may seem like a deviation from the scope of the work, or the general contractor may fail to read the plans.
A subcontractor, in this case, faces a hard choice. They could either bear the risk of not getting paid for the losses caused due to change on paper or get called on the mat for not finishing work that the owner or contractor thinks was included in the bid. The owner and general contractor, too, are on moving sands. The project could be delayed if the subcontractor refuses to finish work without a change order, or the owner could pay more for some additional task.
2. Waivers
The writing requirement is waived when everyone settles on a written change order that is unnecessary, and the subcontractor will get paid for verbal change orders. No matter if the writing need was waived at the core of many change-order conflicts, you still need to keep everything documented efficiently.
Generally, there are two kinds of waivers for construction professionals— a documented or express statement. These waivers indicate that change orders don't need to be written and the writing requirement has been waived.
The first is pretty straightforward; the second is significantly darker and more challenging to prove.
Some contractors and subs have attempted to argue that waiving one contract condition creates confusion and causes the entire contract to be ineffective. That is not the issue. However, according to the top insurance company in America, "The waiver of one right under a contract does not necessarily waive other rights under the contract."
3. Incorrect Documentation
As you may have discovered the difficult way, change orders written after the fact – or not at all – that may lead to significant disputes, and both sides can lose vast amounts of money on change orders that lack adequate documentation.
As per experts, more change orders are implemented to fix faults in the initial contract than to achieve a fundamental change in the plan or design. Hence, several factors can raise the need for change orders.
These include rushed or flawed planning in designing the initial contract, an inadequately defined scope of work, compressed project schedules, unrealistic material changes, cost constraints, time and owner-directed acceleration.
How to Avoid these Conflicts in your Construction Business
Fortunately, detailed planning and commitment to sound business practices can minimize change order loopholes.
Setting the change order in documentation benefits all project players because proving oral change orders is often tricky. Moreover, you may sometimes not have enough time to sit down and draft a written document when change order work is needed immediately; significant changes to the contract should always be validated in writing before the work is done. The risk of payment disputes is too significant to proceed on a verbal change order alone.
Here are some proven, practical methods of evading conflicts over change orders and other documentation:
1. Run an in-house peer review of operating drawings, specifications, and other essential documents.

2. Survey the drawings closely from the project concept to the last stage and request outside review.

3. Organize a panel discussion of critical performers in advance, including the general contractor and subcontractor.

4. Keep communication open with on-site and ongoing project meetings.

5. Review and modify vital documents several times during the life of a project.

6. Develop and utilize functional checklists.

7. Participate in workshops and training associated with enhancing document quality.

8. Demonstrate accountability for everyone at every stage of document development.

9. Update any system that blocks the development of quality documents.

10. Carry out a convenient project post-mortem to determine problem areas.
Bottom Line
In the construction industry, verbal and handshake deals have been steadily moving out of practice. Construction business owners are ensuring that all the deal-related clauses are properly documented to avoid any type of legal trouble in the near future.