Interaction with Roger White to Understand Digital Transformation in Construction
Construction has an extensive history of innovation that has prompted remarkable advancements in the types of buildings we can build. And, innovative construction technology has proved to facilitate immense improvements in big and small construction projects in terms of efficiency, safety, and productivity.
After an excellent construction boom, the year following the pandemic was challenging for the construction industry as it toiled to safeguard its workers and reopen job sites. The industry reacted to this tough time with a raised focus on innovation.
To emphasize construction innovation, we interviewed Roger White to understand his perspective on growing construction technology.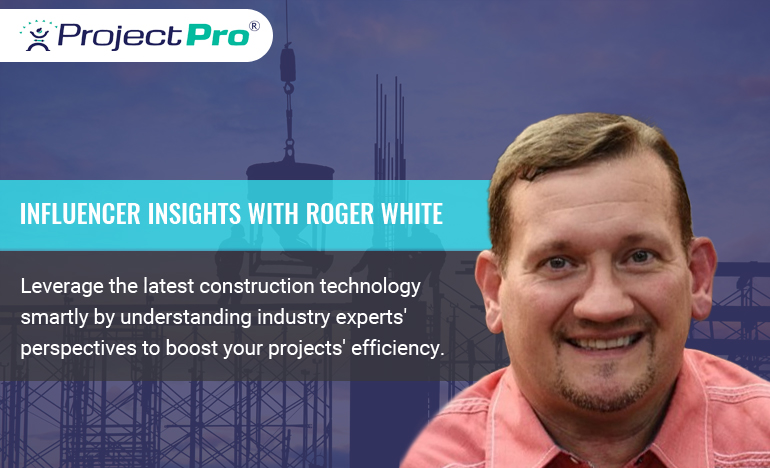 Who Did We Interview?
Roger White is the Key Customer Manager at a renowned roofing company. He is an award-winning speaker, author, and entrepreneur. As a customer manager, he aims to partner with general contractors and provide them with information, proposals, and bids to help them get their job done. Roger is also a servant leader who helps his clients flourish.
Let Us Quickly Get To Our Expert's Point Of View.
Question 1: In the age of COVID-19, how do you see the construction industry in the year 2022? Do you think this year will be a "digital year" for construction professionals?
In Nashville, market permits are still being issued at a rapid pace. Roofing prices continue to increase, but product availability seems to be getting somewhat better. As far as digitally, I have heard that some markets have moved to virtual inspections, which help to speed things along. If permits were 100% online, it would be helpful.
Question 2: The construction industry has undergone dynamic changes over the years. What do you consider as the biggest challenge for this industry now?
Supply chain issues, escalation and staffing.
Question 3: What potential do you see in the latest construction technology trends? Are they capable of boosting the productivity of construction professionals?
We should continue to look for ways to innovate. BIM modeling seems to be helping some trades move faster through the building process.
Question 4: Where do you see the construction industry in the next five years? Please share your valuable insights with our readers.
There will always be a need for construction. There will always be work, whether it's new ground-up buildings or remodeling or repairs. I feel that some markets will continue to be vibrant and grow.
Get to Know Our Influencer
Question 5: In four words or less, what's your prediction about the transforming construction industry?
Build more trade schools.
Question 6: What's your success mantra?
It's as easy as our ABCs. Always be learning. Be positive. Communicate. Share the knowledge you have.
More Details
He has participated in different training and conferences over the years, such as Dave Ramsey's Entreleadership One Day, Dan Miller's Coaching with Excellence, and more. He speaks to audiences and challenges them to change their perspective, get unstuck, and find inspiration in this sector.