Discussed the Latest Technology Trends in Construction with Industry Expert Perryn Olson
The construction industry has undergone significant changes in recent years due to the impact of technology. Technology such as drones and robotics, IOT, and software solutions are being utilized to the fullest to reduce the need for human labor and increase productivity.
The use of technology in construction has also led to the development of new materials and methods, such as 3D printing, prefabrication, and modular construction, which are faster, cheaper, and more environmentally friendly than traditional construction methods.
To understand the overall impact of construction technology on the industry, we interviewed Perryn Olson to bring expert insights to light.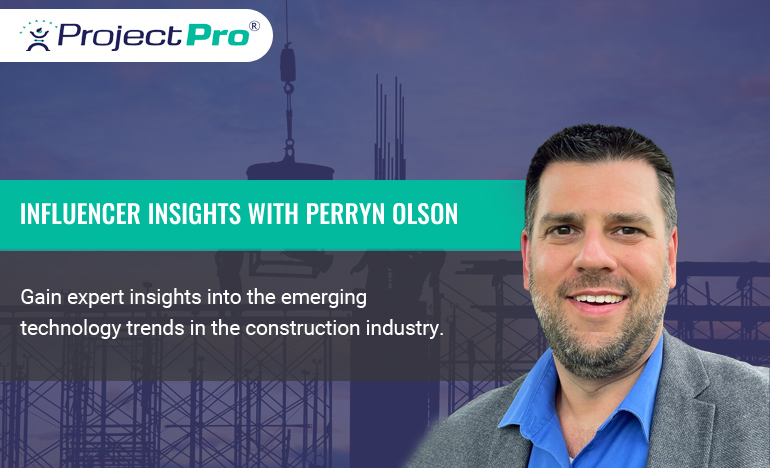 Who Did We Interview?
Perryn is a seasoned marketing strategist and business technologist aiming to drive your construction business's efficiency. He is a certified marketer with SMPS (Society of Marketing Professional Services) and the Construction Marketing Association. He currently leads the brand strategy and marketing team for a group of national companies that includes a construction company, an engineering firm, and a technology company that includes robotics.
Let Us Quickly Get To Our Expert's Point Of View.
Question 1: How do you see the construction industry in the year 2023? Do you think this year will be a "digital year" for construction professionals?
Construction will continue to ramp up in 2023 after multiple years of stalled projects due to the unknown future caused by the Covid restrictions in 2020 & 2021 and inflation in 2022.
We're in a "digital decade" as reality capture, digital twins, project management software, robots, and other ConTech services converge into integrated solutions.
Question 2: The construction industry has undergone dynamic changes over the years. What do you consider as the biggest challenge for this industry now?
The biggest challenge remains construction's race to the bottom with its low-bid pricing strategies. Construction leaders must embrace technology to overcome the worker shortage, improve efficiencies, and reduce risk to maintain a fair profit margin.
Question 3: What potential do you see in the latest construction technology trends? Are they capable of boosting the productivity of construction professionals?
Construction is one of the least efficient industries with so much untapped potential. To improve productivity and scheduling, we must look at useful technology as well as low-tech solutions like Scrum/Lean project planning.
Question 4: Where do you see the construction industry in the next five years? Please share your valuable insights with our readers.
We're going through a massive generational shift in construction in the field to executive leadership. We're losing decades of institutional knowledge and also a mentality of "it's always been done this way."
The future requires new ways of thinking because we have new technologies, new building materials, and new requirements from owners and users.
The construction job site of the future will look different with AR, robots, exoskeletons, telepresence, and digital planning tools.
Get to Know Our Influencer
Question 5: In four words or less, what's your prediction about the transforming construction industry?
Connected, integrated, & automated.
Question 6: What's your success mantra?
Be better than yesterday.
More Details
Perryn wrote the Construction Executives Guide to Brand Marketing and ghost wrote the CFO's Guide to Cybersecurity; wrote several articles for industry publications; spoke nationally; and is often quoted on topics pertaining to the marketing, construction, and technology industries.