In Discussion with Jeremy Owens on Digital Transformation in Construction
As the digital trends are dominating the construction industry, contractors are striving hard to embrace these technologies and improve their practices. Undoubtedly, these tools are designed to deliver excellence and streamline operational processes. However, still 35% of the construction companies are practicing traditional methods.
This is why we interviewed Jeremy Owens to understand his perspective on the digital trends in the construction industry and give our audience a better clarity.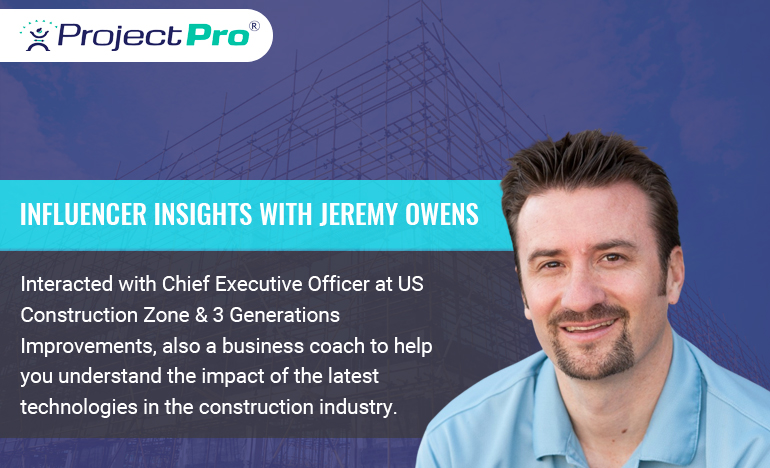 Who Did We Interview?
Jeremy Owens is the Chief Executive Officer at US Construction Zone & 3 Generations Improvements. He is also a construction business coach, assisting professionals to excel in this dynamic industry.
Let Us Quickly Get To Our Expert's Point Of View.
Question 1: In the age of COVID-19, how do you see the construction industry in the year 2022? Do you think this year will be a "digital year" for construction professionals?
Although the pandemic was challenging for the construction industry in many ways, we were fortunate to be deemed "essential," and that designation allowed us to not only stay busy and in person, but for most of us to see unprecedented demand.
However, this demand was different, the industry needed to learn how to bring more digital solutions to rapidly changing buying habits and preferences. I believe the digital golden era of construction is fully upon us and construction professionals who adapted through the pandemic and continue to stay on the cutting edge of new technologies will continue to see rapid growth and for those who want to get back to "business as usual" will be left behind.
Question 2: The construction industry has undergone dynamic changes over the years. What do you consider as the biggest challenge for this industry now?
Although demand remained strong and busy through the pandemic, this was not a "fun busy!" Everywhere we turned we found skyrocketing costs of material, labor and supply chain disasters that we have yet to ever see in our industry. In addition to rising costs, we also had to bring on new technologies to adapt to the changing market.
This has created an alarming problem in the construction industry - very low profit. The astronomical costs of doing business today can be very difficult to overcome for so many because our normal go-to-market strategy and pricing is unrecognizable to pre-pandemic levels.
For those who are not staying on top of the wildly fluctuating costs and passing those costs onto their clients, they are seeing their profits dwindle in an industry that did not have extra profit to spare. With historically high inflation, our industry is not alone in this fight, but construction itself is often complex and difficult to find correct upfront costs of completing a project.
As an industry, it is vital that we find a better, more sustainable and healthy profit margin otherwise any project that is met with unexpected challenges could break any construction company.
Question 3: What potential do you see in the latest construction technology trends? Are they capable of boosting the productivity of construction professionals?
As a business owner who loves to strategize and create new efficiencies for my team, I agree with where we are headed as an industry. Admittedly, we were slower than most in adopting new technologies as the "old school" ways of doing business often beat out the "new school." That ship has sailed, but the new school has two large challenges in front of them - which technology to adopt and can we measure its productivity?
With new software, apps, cameras, drones, AI, 3D printing and so many other technologies coming at us, we have to be measured and thorough in our research and make sure we do not bring on too many things and too many costs all at once.
It is tempting to say "yes" to so many of the new digital efficiency options, but without a way of measuring its efficiency, we will not know if we are achieving a R.O.I. and we also have to consider that the more we throw at our team, the more they have to learn and adapt quickly.
It will be vital to know the capabilities, strengths and weaknesses of your team before adopting a new technology and provide the needed training to give it a chance of succeeding.
Question 4: Where do you see the construction industry in the next five years? Please share your valuable insights with our readers.
I feel that we are at a crossroads in so many ways right now and now, more than ever, we have to collectively perform better than we ever have before in order to pull through some of these challenges.
We have an alarming labor shortage, lack of diversity in leadership positions, high suicide and addiction rate, high stress and burn-out, skyrocketing costs of doing business and not enough profit to investment back in the industry.
With all of these challenges, I am meeting so many inspiring and impressive leaders that are tackling these problems head on and it leaves me encouraged and proud to be part of this movement for the better! For many of these problems it starts with the knowledge that it is happening and the open conversation on how to solve them.
We need to move out of the lip service phase and into the action phase now, in order for the construction industry to remain sustainable and desirable. With these young and electrifying leaders in place and the collective knowledge that we need to make changes now in order to see the results often a generation away, I am confident that in 5 years we will be proud of our progress and I look forward to being a part of it!
Get to Know Our Influencer
In four words or less, what's your prediction about the transforming construction industry?
Ride the wave!
What's your success mantra?
You get what you give in life!
More Details
US Construction Zone is the newest venture started by Jeremy focusing on guiding construction professionals and delivering excellence to its clients. His ultimate goal is to do some exceptional work for the construction industry.