Cal Beyer Shares His Opinion on Digitalisation in Construction Sector
Digitalisation in the construction industry is at its peak after the pandemic hit in 2020. The least digital industry is now shifting to the digital world to fill the workflow gaps. Earlier, construction professionals have suffered a lot, which include labor shortage, data entry, poor management of inventory and more.
But the landscape of the construction industry has dramatically changed over the years. Today, as per researchers, 70% of the construction professionals are preferring technology over manual work. This is why we have interviewed the Vice President of Holmes Murphy,, Cal Beyer.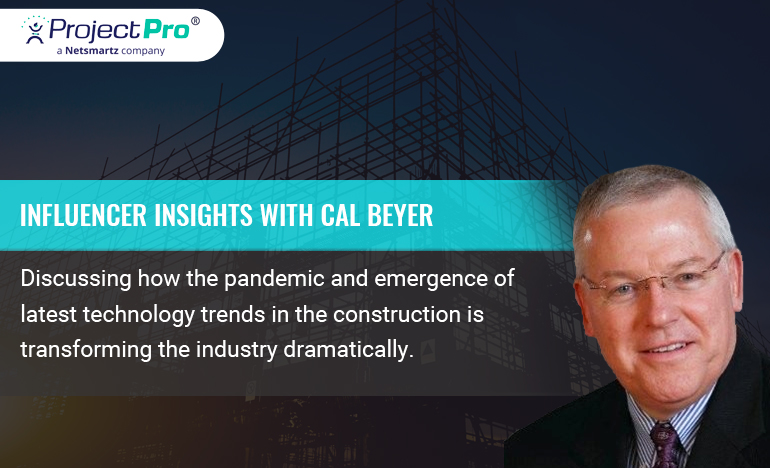 Who Did We Interview?
Cal Beyer is the Vice President of a renowned insurance and risk management broker in Holmes Murphy with 30 years of safety & insurance experience. His expertise as a multi-industry thought leader in construction & manufacturing industries has also empowered him to become a popular regional & national public speaker.
Let Us Quickly Dive into Our Expert's Point Of View
Question 1: In the age of COVID-19, how do you see the construction industry in the year 2022? Do you think this year will be a "digital year" for construction professionals?
I'm proud to see how our industry met the challenges of COVID-19 head-on. It is a tribute to leaders and workers alike (both in the field and office) to have maintained essential status despite the challenges of COVID. It is exciting to see how the construction industry is embracing technology more with each passing year.
Technology is a key driver of productivity and can significantly impact quality and safety as well. The level of digitization continues to expand with every year.
Many more companies are leveraging technology in the field for data collection and to improve collaboration among business partners to streamline and expedite processes. I think we're in the "digital decade" wherein technology adoption will become universally expected and accepted, if not embraced.
Question 2: The construction industry has undergone dynamic changes over the years. What do you consider as the biggest challenge for this industry now?
Workforce development continues to be a major challenge for the construction industry. Recruiting, onboarding, developing, and retaining skilled labor is of paramount importance for the short- and long-term success of the industry.
There has been success recruiting workers from non-traditional pre-apprenticeship programs and in secondary schools to interest students in careers in the trades.
Expanding commitment and investment in safety throughout our industry gives me hope that reducing musculoskeletal injuries among workers is attainable. This will reduce chronic pain, sleep deprivation and fatigue. It will also reduce the risk of prescription opioids and that will promote improved safety for workers and their families.
Question 3:What potential do you see in the latest construction technology trends? Are they capable of boosting productivity of construction professionals?
As a risk management and safety professional, I continue to be most interested in wearable technologies and devices to help protect the physical safety of the field workforce.
Leveraging such technologies to reduce incidents relating to safety and quality can boost productivity at the worker, crew, divisional, company, and industry level.
An area I wish to see even greater expansion and adoption of technology is smart work zones to improve traffic safety for workers and the general traveling public alike.
This technology is essential with the rapid emergence of autonomous vehicles and trucks. Technology drives innovation and this will create competitive advantages for the early adopters.
Question 4: Where do you see the construction industry in the next five years? Please share your valuable insights with our readers.
I see continued success for the construction industry over the next five years. The construction industry builds better tomorrows for all of us. I believe construction can close the workforce shortage and achieve increased productivity through safety and quality improvements.
I believe workers will benefit from technological advancements including the expanding use of robotics. I've learned so much from the leaders in the Construction Progress Coalition who are championing construction technology, including BIM, VR, AR, and AI.
Seeing the rapid expansion of technology in construction will bring exciting innovations for the betterment of the industry.
Get to Know Our Influencer
In this series of questions, Cal Beyer shares a bit more about himself.
In four words or less, what's your prediction about the transforming construction industry?
Four words is tough, so here it is: Built environment = healthier lifestyles. I read a lot about how the built environment can influence overall well-being.
There is ample -- and growing -- evidence that the built environment can positively impact both mental and physical wellbeing of tenants and workers. It is exciting to learn how innovative design strategies are being incorporated into the built environment, including how "fit cities" can improve health and close equity gaps due to Social Determinants of Health.
What's your success mantra?
When I was a young professional, a mentor shared invaluable advice to me about learning how to implement change effectively. The mentor cautioned me to learn both how to harness my passion and channel my energy by adopting a mindset of "gentle pressure relentlessly applied".
These words reflect the reality that one should not expect immediate adoption of change and that it is reasonable to expect change to occur over time. While a change agent can still have urgency and drive when advocating and implementing change, these words keep me focused on the importance of identifying early adopters and gaining a critical mass of supporters.
These words continue to be a mantra that have helped me to successfully lead change in my corner of our industry.
More Details
He is an experienced regional and national speaker and a regular contributor to various construction publications, including Construction Financial Management Association (CFMA) Building Profits, Construction Business Owner; Construction Executive and CE and this Week, AGC of America's Constructor, and the Construction User's Round Table's THE Voice.