Q&A Session with Senior Vice President & CFO - Bona Allen on construction technology
The Construction Industry is in a perfect storm where the broader ecosystem is changing radically. Construction companies that are willing to adopt technology stand to benefit while others relying on manual processes may struggle to survive.
In today's chapter, we will talk to Senior Vice-President and CFO, Bona Allen on how to make construction sites safer and workspace more efficient, leading to enhanced productivity and the future of construction technology.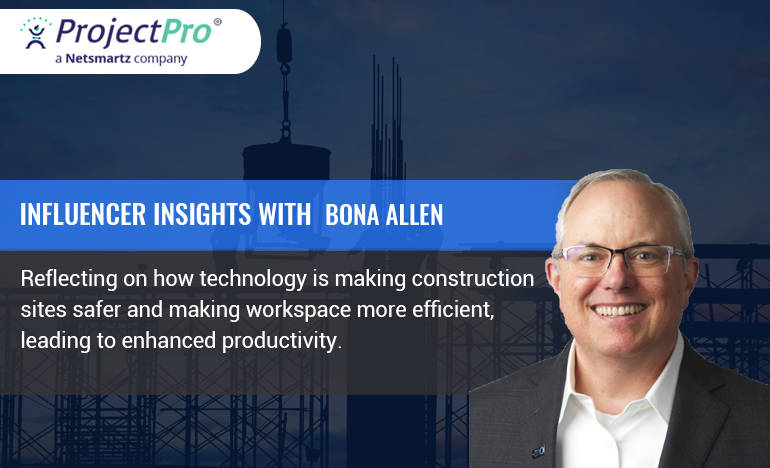 Who Did We Interview?
Bona Allen is a Senior Vice-President and CFO and has a vast experience in the field of global finance, development, hospitality and construction.
Let Us Quickly Get To Our Expert's Point Of View.
Question 1: What projects/initiatives are you working on at the moment?
Here at KBD Group, one of our Core Values is continuous improvement. To that end, we are currently implementing a tool to automate processing of subcontractor pay applications. We expect to realize significant time savings and enhanced accuracy through the reduction in manual processes. Because we pay, as much as possible, via electronic means (ACH/EFT), maintaining the security of banking information is paramount. This tool greatly enhances security of confidential information.
We are also focused on completing the implementation of a CPM (Corporate Performance Management)/financial reporting tool. The initial implementation has already streamlined our monthly reporting processes. As we complete the next phase, we will fully utilize all the capabilities of the robust product to generate information that will be used in short, medium and long term decision making for the Company.
Question 2: According to you, what Construction Technology and Management Trends could make the maximum Impact on the Industry in 2022? How Technology Will Enable Construction Continuity in 2022?
Technology is making construction sites safer and making workspace more efficient, leading to enhanced productivity. On-site security tools such as construction drones continue to be one of the fastest-growing trends in 2021 and into the future.
Use of Artificial Intelligence ("AI"), Robotic Process Automation (RPA) and other advanced tools are becoming more widely available as pricing trends downward. These tools will continue to be impactful throughout the design, construction, and administrative processes for the foreseeable future.
Construction firms that are keen on technology uptake will be better positioned to meet construction-specific challenges that are emerging in 2021 and beyond. By embracing the digital future, it will make construction businesses more competitive and agile in difficult times.
Question 3: What potential do you see in construction technology for leveraging overall business productivity with construction projects, especially when we talk about recovery and growth after the pandemic?
When we talk about recovery and growth while the pandemic continues to ebb and flow, construction technology has ensured that businesses do not come to a standstill. Firms are increasingly relying heavily on digital collaboration tools such as building information modeling (BIM). And contractors are looking for digital means for monitoring their employees' safety through apps, relying on construction software for ordering construction materials, managing and maintaining cash flow to stay afloat.
The pandemic has been instrumental in laying emphasis on the need for digital workflow management, advanced schedule optimization, and real-time progress tracking for leveraging overall business productivity with construction projects.
Question 4: Do you believe COVID-19 has turned out to be the Catalyst for Digital Adoption? Do you think the trend will sustain once the pandemic ends?
Prior to the pandemic, the KBD Group, and all of Kajima, globally, were pursuing digital solutions to everyday processes. So, from a cultural standpoint, "going digital" was not that big a jump for Kajima.
Once the pandemic hit, we found that further adoption, then broader implementation, utilization, and now, refinement of the digital tools, accelerated greatly.
Construction technology is the order of the day. No firm can scale and navigate construction-specific challenges if it is not keen on digitalization. COVID-19 has been a catalyst for digital adoption in the industry and we are likely to see more players investing in purpose-built solutions and leaning towards automation of on-site and back-office processes.
Also, it is becoming clear that the world will look different as we move beyond the coronavirus crisis and embrace the next normal. To thrive in the industry, further investments in construction technology will help contractors chart the next course.
More Details
Bona Allen is a CFO and Senior Vice President, with a stellar background in construction companies and is engaged in designing and building projects for clients.
He has been instrumental in raising the finance function to a higher level of operational excellence for this design/build contractor with annual revenues in the $600 million range.
In the past, he has managed accounting staff, designed and implemented cost controls, refined purchase order systems, along with handling the balance of the company's financial needs and real estate transactions.