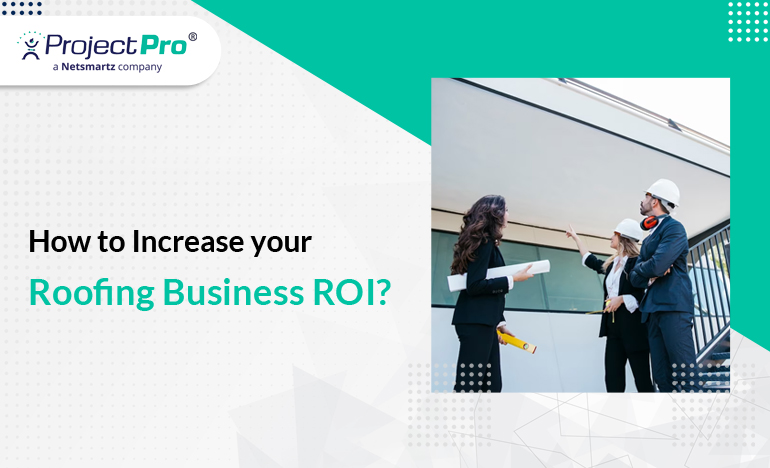 Roofing contractors need to understand how their business is doing in the competitive market. That being said, you need to keep a hawk eye on your business's ROI to identify what strategies are currently working for you and where you need to adapt.
Start by determining how you manage order materials, create estimates, and price your roofing services. Analyze how you order your materials and keep track of every activity, such as job profitability, price negotiation with your supplier, and upselling your customers on products and services.
However, with emerging digital technologies in the roofing industry, using the right software can help you track all the tasks on an integrated platform.Roofing company software can help you keep tabs on material and labor information on a centralized database that can be retrieved anytime, anywhere.
According to a CAGR report, the roofing market size was valued at $102.4 billion in 2020 and is projected to reach $156.0 billion by 2030.
So, this blog will provide some practical ways for roofers to help them increase their ROI. Also, you will be able to create more accurate estimates, better predict profitability on your jobs, and track material spending:
1. Refine your estimation process
To increase your roofing business ROI, start by evaluating the efficiency and accuracy of your processes. Is your roofing team still spending hours evaluating, calculating the right amount of materials, ordering, or creating estimates? It's time to save significant time and cost by using the right tool that can improve efficiency.
Roofing construction accounting software, like ProjectPro, powered by Microsoft Dynamics Business Central, can reduce the hours of your sales process and create more accurate estimates.
Companies that use ProjectPro, on average, experience a 50% reduction in their workload.
Our all-in-one construction accounting software is equipped with exceptional features and multiple integrations that accelerate your sales process so you can take on more jobs in less time with fewer resources.
2. Create the right version of quote
Roofing companies should look for an easy way to improve ROI by upselling their services right from the beginning of the sales process.
Rather than providing your client with a single quote, give them a few options at various levels with different prices during the sales process. This approach is termed the "good, better, best" system that offers your customers choices while potentially improving your company's ROI.
With the best roofing contractor software, you can efficiently create numerous estimates for one job. ProjectPro provides real-time pricing and data accessibility at your fingertips.
Hence, you can quickly create estimates with the essential products based on customer requirements. Add at least two estimates with upgraded products or upgraded benefits, such as a more extended warranty period or higher quality shingles.
This will help your customers choose the right option and avoid back and forth of estimates, ultimately saving you time.
3. Identify the trends in roofing materials
When tracking specific areas of your business, having the correct material reports can help you seamlessly understand your roofing profitability or employee efficiency.
There are several benefits to using materials reports, including increasing your ROI. To generate these reports, you need to analyze the materials, orders, spending, and popularity.
That being said, adopt a robust software system to identify material trends and determine ways to negotiate better prices with your suppliers.
The materials report in ProjectPro shows an overview of everything related to your material usage and expenses. Keep track of materials quantities, cost totals, and the number of jobs that are used precisely. Moreover, you can accomplish your project by staying within the budget and accomplishing projects within the agreed time frame without any hassle.
Bottom Line
Choosing the right roofing software can make a difference in your roofing business. This is why ProjectPro, a business software, works as an all-in-one solution for roofing contractors.
From creating job quotes and material planning to tracking subcontractors and project management—manage everything efficiently. ProjectPro is a cloud-based platform allowing roofing contractors to take care of their projects professionally. For a guided tour, schedule a demo today.