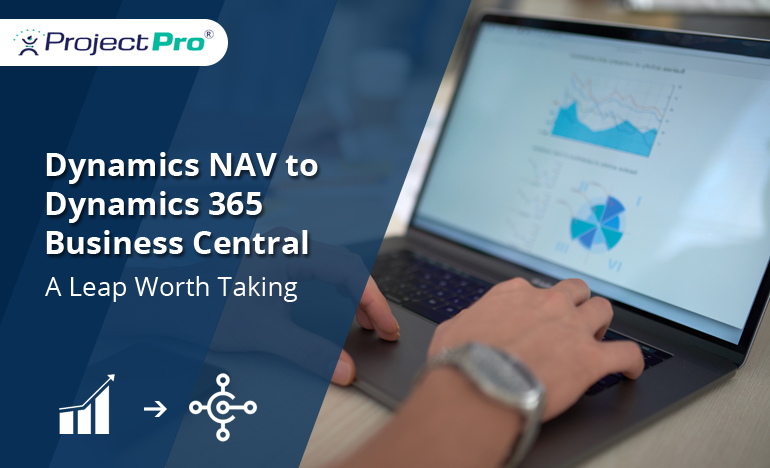 The migration of ProjectPro from Microsoft Dynamics Navision to Dynamics 365 Business Central was one of the most significant decisions we have ever made in the history of our product.
Though it is believed that Dynamics 365 Business Central is just another name for Dynamics NAV, it is the evolution of an already existing flagship of rich application code. ProjectPro with this migration has chosen a deep and logical DNA that delivers the extreme functionalities empowering business across the world. Let us explore why Dynamics 365 Business Central was our choice in this dilemma of Dynamics NAV vs Business Central.
It's an Evolution!
The migration of ProjectPro to Dynamics 365 Business Central can be considered as turning great software into more superior.

Thanks to the reformed core of the product into the cloud which enables users to achieve desired frequency in scaling organizations. In other words, the upgrade is not just a new name but the countless functionalities and features that make it perfect for our services to construction accounting and management.
Here we have a quick list of reasons that make ProjectPro on Dynamics 365 Business Central, a suitable fit for ERP needs of the construction business.
Public Cloud Hosting
This is one of the most significant advances in Microsoft Dynamics ERP Software. The access to Microsoft Public Cloud made it easy to work on software as a service concept and if you have some great development team, the extension could help you customize the functionalities as per your needs. This means you could run your ERP solution using the On-premise, public cloud, private cloud, or even dedicated hosting.
Diving into the Coding
The older version of Dynamics 365 or which we know as NAV had all its development and modifications integrated to the core and they were all created using C/AL language.This could come out as a hectic task to understand and review the entire system whenever any upgrade is available and redevelopment is required. The introduction of Dynamics 365 Business Central brought the fundamental change with all modifications defined in extensions based on AL language. In other words, dropping the C/AL language made it easy to cast customizations from the outside without getting into core.
Inexpensive Updates & Upgrades
Another good reason to was reducing the expense on the client end. Upgrades in the Dynamics NAV was expensive because it needs alterations with the core code. On the other hand, Dynamics 365 Business Central has made it easy to keep ProjectPro up to date and economical at the same time with easy to make upgrades and updates. Moreover, the solution that runs on the on-premise or public cloud could be easily controlled for the upgrade and you can take the benefit of Microsoft technology at your convenience.
Integrations & Extensions
At ProjectPro, we work with an objective and it is only about simplifying the idea of complex and consuming construction accounting needs. With ProjectPro moving to Dynamics 365 Business Central, we have access to all the extensions and integrations that can help boost productivity. This means now ProjectPro solutions could be easily modified to client requirements and better customizations could be ensured.
Better & Improved Web Client
With the upgrades made to web clients on Dynamics 365 Business Central, ProjectPro services could be accessed with a better interface. The replacement of the window client by the new web client brings more defined access to information with better fonts and highlights. Moreover, the latest role centre is designed for more pleasing user experience with navigation making ProjectPro more user-friendly. Also, the latest solution feels more sorted when it comes to features as the screen has been designed for quicker access to data, files, and essential functions.
The Design & Usage Improvements
The upgrade of Dynamics NAV to Dynamics Business Central has amended the functionalities but keeping the good things the same. With Dynamics 365 Business Central, ProjectPro has been upgraded to make it easy for a new user when it is necessary to work on data changes, adding new fields, and working on the results.
Filtering Data, Limit Totals, and Shortcuts
The migration of ProjectPro has also made it more polished to work on filtering requirements. Now, it has become easier for the user to apply filters and explore the data as per their needs. Moreover, the user on returning to the data could easily recall the past data since the system remembers the filters in the business centre which was not possible with Dynamics NAV. This has also provided an added advantage to compute accounting data and values more easily using our accounting software for construction industry.
With Dynamics 365 Business Central as a migration platform to ProjectPro, clients could easily access data with mouse free experience due to keyboard shortcuts introduced with it. For instance, you can simply go for the Alt+F3 command to check current value while working on accounts. Also, a user can now easily create a compound filter when needed to avoid navigation through cells and reach a particular value.
Conclusion
The reason why ProjectPro migrated to Dynamics 365 Business Central is keeping up with the latest technology while delivering the best experience to the users. With the functionalities of Dynamics 365 Business central, ProjectPro could now be used to handle any tasks related to construction accounting and generating business in the long term.
ProjectPro as an enterprise construction software solution could now be used to explore intense construction capabilities including project management, resource management, contract management, billing, payroll, change orders, job quoting, and more. Also, the Microsoft Dynamics 365 Business Central features like keeping track of performance indicators, mobile service technician app, contracts, time quoting, etc. makes it a perfect tool to lead the construction industry and add value to the business.
For more information or queries, give a quick call to our support team.