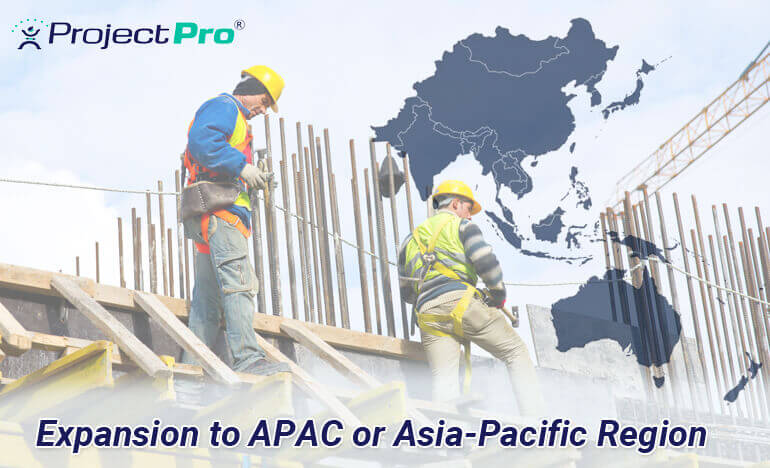 The Proliferation of Construction Accounting and Project Management Software
When it comes to finding a region that can be a perfect fit for running your business operations overseas, it is always an exciting task to start.
This becomes more fun when you are about to hit a market like APAC or Asia-Pacific where the demand for construction and infrastructure is growing at a very fast pace. It was one of the most significant reasons why ProjectPro has been expanded over the region.
Asia-Pacific is defined as the region close to the western Pacific Ocean which includes the land from East Asia, South Asia, Southeast Asia, and Oceania comprising 22 percent of the total land on earth.
Designed specifically for construction firms, ProjectPro is a powerful business software that has the capabilities of Microsoft Dynamics NAV and Dynamics 365 Business Central. Built with an objective to create a streamlined business management process, the software aims to work on essentials like cost control, time management, data management, resource management, and all other needs that can help sustain a construction business.
It all started with Netsmartz acquiring the Microsoft Dynamics practice of Gemko Information Group, LLC, headquartered in Buffalo, NY. Post this merger of Gemko ProjectPro into Netsmartz, LLC made Edward Williams, the original founder of ProjectProjoined the DynamicsSmartz leadership team to help support the specialized construction vertical accounting software division.
This made ProjectPro an entity of Netsmartz Global Group of Companies. Netsmartz is a brand headquartered in Pittsford, NY, and has an expansion across 8 global locations with a total team of 1000+ professionals. Over the years, Netsmartz has built its legacy over IT services and the introduction of ProjectPro made the company expand its branches into the ERP software industry and that too with the power of Microsoft Dynamics.
How can ProjectPro Contribute to the Construction Industry in the Asia-Pacific region?
ProjectPro is a smartly customized and advanced construction business accounting software that has proven to be of great benefit in managing an organization's accounting process.
ProjectPro is a software that brings ample business possibilities through its features like data integration, analytics capabilities, and reporting advantage. It is perfectly crafted for all mid-sized construction business firms that need to keep track of time, expenses, and resources with valuable business planning with day to day monitoring.
Integrated with all the functionalities of Microsoft Dynamics, it is a complete construction project management software that will help construction companies in better project management, activity tracking, resource planning, contact management, billing, quote management, payroll integrations, material planning, service planning board, and anything that is essential for the control and revenue generation.
Why have we chosen Asia-Pacific?
When we were planning on the expansion of ProjectPro service reach, Asia-Pacific was the first region that came into our mind. The primary reason for the expansion was an already established brand name of Netsmartz, LLC in the region.
Though headquartered in New York City, a major part of operations at Netsmartz is operated from the Asia Pacific region and this signalled us of the new and skilled talent which we could discover in the region apart from the service opportunities for the construction businesses in the region.
We were fascinated by the talent pool since we have millions of skilled workers in the APAC region who could be of great business advantage by turning chances into opportunities. Since it is an essential business need for setting a foreign business operation in other regions, we considered this expansion to be a chance to introduce ProjectPro to a new audience.
Moreover, the expansion to the Asia-Pacific region has turned to be a profitable business decision for Netsmartz, LLC as the idea of a Foreign Subsidiary as a Service promotes the flow of services with an easier approach to startup operations and growth strategy.
With over two decades of experience in Netsmartz and the extensive capabilities of ProjectPro, we are aiming to deliver valuable solutions to the existing as well as new clients. With simplified business operations and consistent checks through cloud and business intelligence, ProjectPro will emerge as essential to business decisions keeping every construction brand covered.
Need a better software solution that can align with your construction accounting and management needs?
Call our experts and schedule a quick ProjectPro demo today!