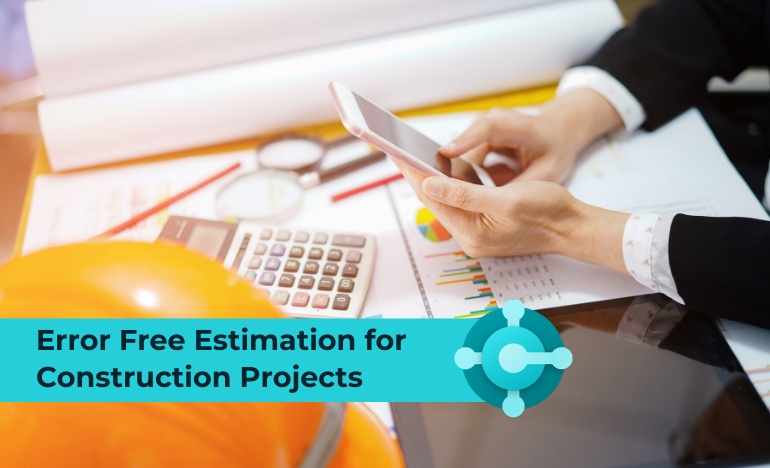 5 Mistakes That Contractors Need To Avoid When Estimating A Construction Project
One of the most significant causes of concern for contractors and construction firms is the inefficiency and suffering due to estimation errors. Though it is very natural when contractors estimate complex projects, the concern is related to the management of resources and parties involved with the project.
However, to keep things in the right condition, it becomes necessary to have complete visibility when it comes to estimation and management. Also, precise estimation serves as a pre-requisite for the contractors who need to grow their project pipeline ensuring maximum productivity and efficiency. Simply put precise estimation as a critical aspect of the construction industry as it helps to secure the ROI within the defined limits of budget and deadlines for deliverables. But still, using professional accounting software for construction contractors could be of great help in managing things.
Even if it looks very challenging to have the exact idea of estimates, missing this component during project development could turn to be a huge problem with cost overruns, late deliveries, and payment overdue to bear. Here we have a list of 5 most common mistakes which contractors make while creating estimates of the construction projects.
Jumping to Conclusions
When there is large pressure of work and limited time available with the contractor, the situation becomes too overwhelming to manage. It can be the existing deadlines as well as reporting to the stakeholders that leads to rapid conclusions.
However, it may turn the circumstances drastically, and to control the situation, the contractors need to ensure that all decisions are made wisely. Doing this can help to prevent mistakes, look for flaws in the current plan, and avoid error rate in the long term.
Unreliable Suppositions
Business is all about systematic decisions especially when it is about building projects and construction. Careful planning helps to ensure that all the false assumptions are identified and a clear forecast can be developed.
Also, to simplify all the processes for estimation and decision making, you can simply turn to technology, i.e. best construction management software designed to make you stick with construction best practices. Moreover, it helps to eliminate all the possible guesswork and make decisions that are based on facts.
Understanding the Need for Change
Most people have a theory of working on their future projects which utilizes reference points from past data. However, it is very important to understand that a particular strategy that worked for one project may not work for all. This is because every project has its requirements which involve different challenges and opportunities.
Hence it is essential to identify the current trends and estimate the discrete chunks of the project. This may require separating the factors like costs, labor, material, electrical, plumbing, and all the essentials related to estimates using a potential tool like Microsoft Dynamics Solutions.
Unverified Estimations
Over the years, the parameters of construction have changed and become more time-consuming. Therefore, it becomes necessary to understand the need for solid grounds when leading a construction project. Also, to generate the profits and drive revenue, it is essential to look for project details and review the project requirements for accurate forecasting.
This can be done with ease when you have Microsoft Dynamics 365 Construction solution that can work on creating project quotes in detail. Furthermore, using such software enables cross-checking and verification before the final estimates are handed to the project owner.
Estimation and Procurement
Estimating a construction project is not only the first step of starting the building process, it is most important step. The inability create accurate estimates may cause major loss to you and bring you overruns. But still, procurement could work as a way to avoid unnecessary loss by spotting the materials and equipment which can help control the delay and cost overruns.
The Crux
Inaccuracy with the estimates is no less than a risk to the business when you need to sustain your construction business. Even if you are making the most with time management and defining priorities, estimation is a task that must be done precisely in the first place.
Also, to ensure the best decision with the estimation of quantities and material, make sure you reach a supplier who is trusted and could help you with the most accurate prices. For this reason, most construction firms are relying on estimating software that can help to improve the overall cash flow and save time for maximum productivity.
So if you are planning to lead your business towards greater prosperity and increasing the project pipeline for optimum growth, make sure you work on the estimation part prudently.
Good Luck!
Find a way to lead your construction business towards prosperity with our construction business accounting software that lets you manage all your needs related to scheduling, estimation, and more. Schedule your free demo today!