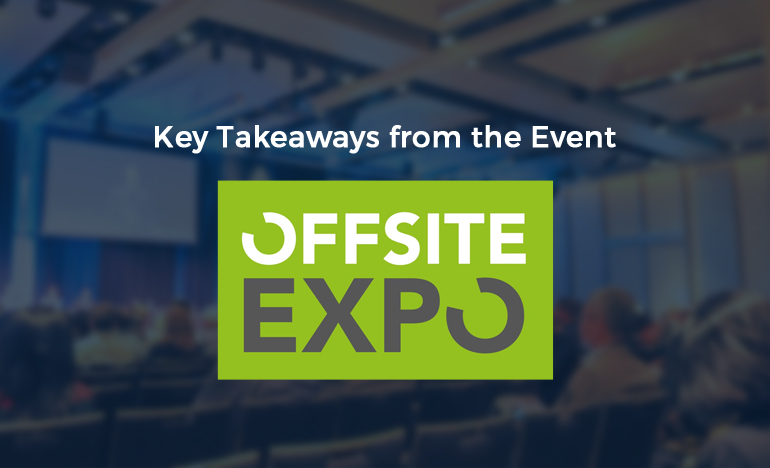 Offsite Expo 2022 has ended, leaving its spark all over the industry. The event welcomed a host of leading international offsite manufacturers and component suppliers that are the driving forces of the construction industry to the United Kingdom.
This two-day event showcased comprehensive technological solutions such as volumetric modular solutions, pods, and prefabricated MEP solutions, as well as the latest innovations in digital and BIM.
The event was organized by leading offsite specialists, focusing on crucial industry innovations to provide a meticulous and balanced outlook on this rapidly growing sector. And it welcomed over 4,000 visitors; hosted over 100 exhibition stands and 100 speakers; and facilitated over 300 meetings in the buyers' and specifiers' lounge.
To provide you with glimpses of the exhibition, agenda, and speakers, continue reading the blog below:
1. John Porter, Area Sales Manager in Rock Panel
John has 15 years of experience working with various facade manufacturers, including fiber cement, insulated render, and compressed mineral wool cladding products.
He discussed ventilated facades for offsite construction. His presentation included a detailed overview of rainscreen cladding, its use, installation requirements, and some key examples of the best use of rainscreen optimization.
2. Muthar Al-Salloum, Managing Director in Mas Architecture
Muthar is a RIBA chartered architect and the founder and managing director of MAS Architecture Ltd, an award-winning practice. He has developed a unique style based on creativity and service in his architectural approach.
He efficiently discussed designing several large and small-scale commercial, education, residential, mixed-use, master-planning, student accommodations, and retail projects.
3. Victoria Moore, Business Development Manager in Volumetric Modular
Victoria is a Business Development Manager from Volumetric Modular, with a strong history in construction and development.
She discussed how professionals could cope with key industry innovations to supply emergency accommodation up and down the country using volumetric modular technology.
4. Paul Whittall, Business Development Manager MMC in Uponor
Paul has worked in the construction industry for over two decades now. He has in-depth knowledge of offsite construction consulting on massive MMC projects across the United Kingdom.
He discussed why you don't need to compromise on pipework design in MMC and the importance of innovation.
5. Alan Robb, Group Chairman in Benx
For over 30 years, Alan has been actively supplying, designing, and testing many lightweight cladding systems, along with a range of building boards that are widely used on both offsite and more traditional onsite construction.
He discussed cladding systems migrating from onsite build to offsite production as well as challenges and opportunities.
ProjectPro covered this event blog to help our audience understand various innovations in technology and their introduction to the construction industry. We hope that these aspects will transform your existing strategies and help you stay competitive in an agile market.