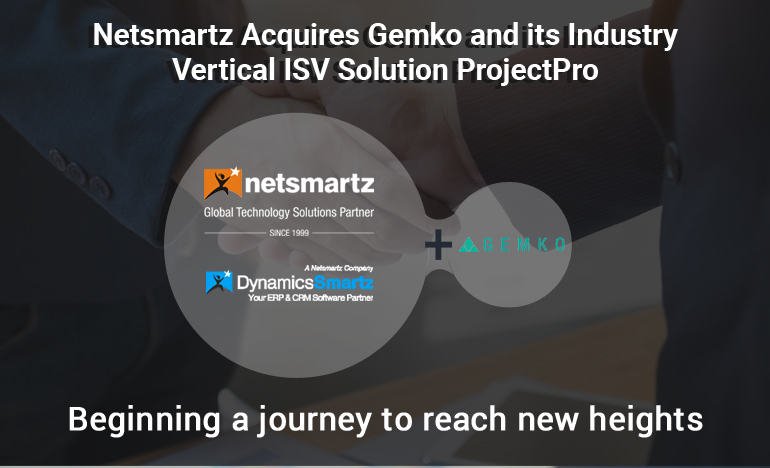 Expanding its Microsoft Dynamics practice, Netsmartz, LLC completes a strategic acquisition to expand the diverse portfolio of customers and technology solutions built on the Microsoft Dynamics 365 framework. The recent acquisition of the Microsoft Dynamics practice of the Gemko Information Group, LLC and industry-leading construction ERP software 'ProjectPro' provides a promising opportunity to Netsmartz LLC to provide top-notch service to existing and new clients.
DynamicsSmartz, a division of Netsmartz, LLC that specializes in providing Microsoft Dynamics software solutions across various industry verticals using Dynamics 365 Business Central, NAV, D365, Field Service/CRM and Azure, will continue to serve the existing client base of Gemko through its efficient global delivery model. Shawn Sauve, VP Operations and Channel Sales at DynamicsSmartz, said – "This new relationship will further extend our commitment to Microsoft Corporate and the Dynamics community to provide industry-leading vertical software solutions powered by Microsoft Dynamics."
Headquartered in Buffalo, NY, Gemko has been providing cutting-edge business and technology solutions and empowering its clients for over 28 years across North America. The popular 'ProjectPro' vertical software has been a game-changer by integrating and streamlining crucial aspects of a construction business. ProjectPro allows businesses to leverage the benefits of the most powerful and user-friendly construction accounting system that is built by using the latest Microsoft technologies.
Manipal Dhariwal, Co-Founder and CEO of Netsmartz, said – "The acquisition of Gemko Microsoft Dynamics practice and its Microsoft Dynamics 365 Business Central/NAV powered solution 'ProjectPro' is significant in exploring new possibilities to contribute in the new era of smarter business solutions. We are committed to the Microsoft Dynamics space, excel in providing high-quality service and solutions, and our vision is to continue to expand our practice organically and through acquisitions".
Post this merger, Edward Williams, the founder of ProjectPro, joined the DynamicsSmartz leadership team to help lead and support the ProjectPro construction vertical software. "With the launch of ProjectPro on D365 Business Central, this will provide our existing and new clients a roadmap into the future. With over 15 years of product innovation, we are excited about future investments Netsmartz is making into ProjectPro to continue to be the leading construction ISV solution for mid-market companies" says Edward Williams.
DynamicsSmartz is a division of Netsmartz, LLC. DynamicsSmartz is a team of highly qualified professionals with an impeccable track record of servicing SMB/Mid-Market businesses to Fortune 1000 companies. The team consists of Functional Consultants (CPA and Industry Experts), Technical Consultants, Microsoft Certified Professionals, and Project Managers (PMP and PMI-ACP). The versatility of Dynamics NAV/D365 Business Central team at Netsmartz has written many success stories which have added to the growth of the company.
About Netsmartz, LLC
With a history of two decades of building and delivering software solutions, with a global presence and 1000+ staff and with over 2000 successful projects, Netsmartz, LLC has been consistently delivering valuable solutions to its clients. Netsmartz has presence in 8 global locations and is headquartered in Pittsford, NY.
Learn more about the companies by visiting their websites-
https://www.netsmartz.com
https://www.dynamicssmartz.com
https://www.gemko.com
https://www.projectpro365.com
News Source:
https://www.prweb.com/releases/netsmartz_acquires_gemko_microsoft_dynamics_practice_and_industry_leading_construction_erp_projectpro_solution/prweb16557334.htm