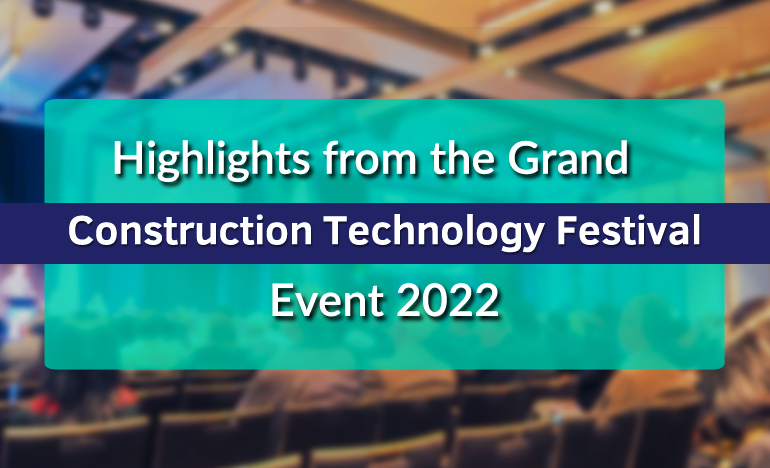 Construction Technology Festival is one of the biggest events that happened in Dubai, from 7-8 June 2022. This event gathered AEC Companies that included construction, architecture and other fabrication industries from all over the world.
After the pandemic, this festival witnessed around 400+ attendees around the globe and 30+ top industry speakers. This platform introduced an additional PROPTECH for bringing together the entire value chain. In this way, the AEC community can understand how technology is scaled across each discipline to extract more value from an asset's whole life cycle.
The Agenda of Construction Technology Festival included:
Rethinking industry processes to enable digital transformation

Embracing ERP transformation, IOT and connected devices, cloud

Emphasizing the growing usage of 3D Printing, green building materials

Building environment using digital twins
Let's dive into the highlights of the key sessions of CTF event by top industry speakers:
1. Colin Dowall, Director Head of Property & Asset Management Services MENA
Colin is a chartered surveyor with over 24 years' experience across 3 continents providing guidance to developers, investors and landlords for mall developments and large-scale mixed-use developments. He discussed key trends and tenant priorities impacting the sector and how digitisation can help address these demands.
2. Taranjot Gulati, Head of Investor Sales APAC & Middle East
With two decades of overall experience, he is renowned for building effective strategies for business development, improving client strategy, customer acquisition & client engagement. He shed some light on creating and curating spaces where people thrive and requires the seamless integration of experience, community and digital.
And also how to ensure that your customer's experience is seamless across all assets in your development, and consistently exceeding the expectations of your clients and visitors.
3. Hanife Ymer, Head of Sustainability Services, MENA JLL
She heads JLL's Sustainability Consulting Services practice across MENA. She brings extensive experience and knowledge in sustainability, with 20 years of experience across the full suite of sustainability services.
In the event, she was interviewed to make the attendees understand what needs to be considered in a decarbonisation strategy, what scope 1, scope 2 and scope 3 are, their importance and how to tackle each smartly.
4. Anthony Tuffour, Director - Global Lead GIS and Digital Twins
Anthony Tuffour is an enthusiastic and expert Geospatial Data Science and Digital Twins professional with over 18 years of experience. He is currently a Director at BuroHappold Engineering, leading its global GIS and Digital Twins consulting service and solutions delivery to clients across the globe.
He spoke about sustainable construction practices and mentioned that they aren't just good for the planet - they're also good for business. According to him, general contractors can make a big change by choosing better materials and adopting leaner processes that are more responsible and efficient.
ProjectPro was indeed greatful to be a part of this grand event in Dubai. Kapil Sharma, VP of Global Operations, and Sachin Sehgal, AVP Production, attended the event from ProjectPro. It was indeed a great experience and knowledge-sharing festival for our team.
We're looking forward to the Construction Technology Festival next year and meeting everyone again.